Sales and conversions are two important metrics that define a company's success, in proportion to its profitability. In eCommerce, acquiring leads, engaging them, and facilitating their journey is as important as prompting the visitor to buy your product and convert them into a customer.
To overcome the complexity of sales and conversions, several businesses use various methods and strategies to bring about these actions. One such approach is the usage of chatbots. AI chatbots are a great way to automate a variety of processes, and that includes sales and conversions.
According to Juniper Research, 47% of people would buy from chatbots, and chatbot eCommerce transactions are estimated to reach a whopping $112 in revenue by the end of 2023. 
AI chatbots, in addition to playing a pivotal role in facilitating customer communication and helping with lead generation, play a significantly important role in marketing strategies and enhancing sales. Along with direct contributions to sales generation, AI chatbots also help build customer relationships and trust, establish brand identity, and create a loyal customer base, contributing to the conversion rate.
In this article, let us specifically focus on the different ways AI chatbots can be used to enhance sales in eCommerce stores.
Different Ways to Use AI Chatbots for Sales in Ecommerce
Conversational AI chatbots have proven to provide plenty of benefits to eCommerce stores. They help a business connect with customers at every step of their buying journey, facilitating their queries and providing support until conversions are made. Innovations, benefits, and usage of AI chatbots are increasingly vital to all businesses, and these tools will only get better.
Page Targeting
Page targeting is one of the notable attributes of Ochatbot. Using page targeting, you can engage and target users with appropriate prompts and personalized messages that convince the user to take action. This is possible with the help of AI and ML technologies like Natural Language Understanding (NLU) which helps the chatbot understand the intent of the user and then send a specific prompt message.
For example, when a user is browsing through a product page, the AI chatbot can target the user with similar products that might be suitable to them. When they near the checkout page, the chatbot can target the user with discounts, offers, or coupons that can make them complete their conversion. 
Help Find the Right Products
eCommerce inventories can be quite excessive and large, and customers might have a hard time finding the right product without a powerful search engine or a relevant keyword. 
Oftentimes, when a customer comes to purchase from your eCommerce store, one reason they might bounce out is that they may not be able to find the right product they were looking for in the first place.  
AI chatbots help customers find the right products by keeping a distinguished repository of goods in the inventory and by understanding search intent. They can also provide personalized recommendations based on the user behavior and browsing patterns, by monitoring their data and tracking their observed needs. 
Read More: 8 Ways AI Chatbots Help In Inventory Management for eCommerce
Reduce Shopping Cart Abandonment
According to a study by Baymard Institute, about 70% percent of people abandon their shopping cart without checking out. That's close to two-thirds of the people visiting your website. However, a healthy conversion results only when the shopping cart is pushed to purchase.
AI chatbots can easily help overcome this issue of shopping cart abandonment. They can provide prompts to the customer and provide a reminder that can make them rethink their decision to abandon. In a better way, AI chatbots can even address the issue by providing resolutions that might enable the customer to make a conversion.
Drive the User Through the Sales Funnel
When a customer lands on your eCommerce site, they might not be swayed right away to buy a product. A visitor might need a proper understanding of the product or service before they become a customer.
This is possible by guiding the user through what is known as the sales funnel. The sales funnel is a marketing approach that deals with driving the audience through different stages of the funnel, from being a casual observer to an interested potential to becoming a customer. This is done by raising awareness (top-of-the-funnel), piquing their interest (middle-of-the-funnel), and eventually, them taking action (bottom-of-the-funnel).
AI chatbots can easily drive the user through the sales funnel by showing prompts and messages, and by conversationally building a rapport and trust, enough to make conversions.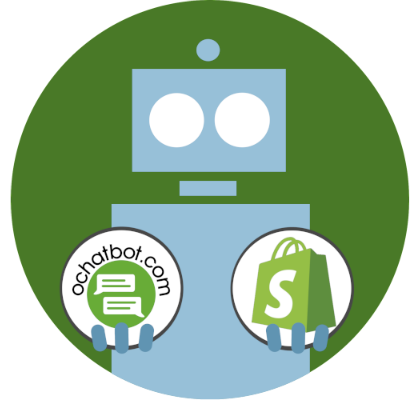 True AI to engage shoppers in conversational eCommerce. Create happy customers while growing your business!
5% to 35% Increase in AOV*

20% to 40% Increase in Revenue*

25% to 45% Reduction in Support Tickets
WE GUARANTEE RESULTS!
*When shoppers engage with Ochatbot®
Guiding the Customer Using CTAs
Call-to-Actions (CTAs) are a common way of guiding the user or making them take a particular action, effectively in a direction that benefits both the business and customers.
By using various metrics when designing your CTAs, you can guide the user to take appropriate action by eliminating decision fatigue and in turn propel them towards the point of conversion. 
CTAs are not only limited to the website or the webpage. Sometimes, you can even design the chatbot to provide CTA options to search for the product, learn more about it, add a product to the cart, and even, pay and checkout, all from the chat window. 
This way of chatbots providing prompts, which act as CTAs, can in turn help in enhancing conversions and sales.  
Help Upsell and Cross Sell 
The best course of action to enhance the profitability of your eCommerce store and deliver the right products to your customers would be to upsell and cross-sell the products and services to existing customers. 
Upselling refers to selling a product or service with better features or functionality, or additional products, usually at a higher price. Cross-selling refers to selling a different product or service to an existing customer. In an eCommerce store, these actions inherently increase the average order value (AOV) of your business.
Incorporating AI chatbots in your eCommerce store can be a great addition that can help you upsell and cross-sell. One of the best ways to do this is to use chatbots on product pages, plan pages, and checkout pages. 
AI chatbots can understand the customer's needs, wants, and expectations by analyzing the acquired data, monitoring their browsing and buying patterns, and can even inquire what the user wants, conversationally. They can suggest better products, and better pricing plans with better features, that might better suit the customer's desires. AI chatbots also help convey the trending or hottest products in your store and aim to sell them to existing customers. 
Give Product Recommendations

When a customer lands on your eCommerce store just to browse your product, it would be better to have someone (or) "something" to facilitate their buying journey by adhering to their needs and suggesting products they are looking for. 
AI chatbots have successfully replaced the role of a salesperson in an eCommerce store. They can give personalized product recommendations by remembering users' browsing behavior and buying patterns. In case of a new customer, eCommerce AI chatbots can automatically build conversations and ask questions that help the bot find and suggest the right product to the customer, building information on the customer along the way. 
In addition to suggesting products, AI chatbots can also help by prompting appropriate call-to-action, enhancing the upselling and cross-selling aspect of your store, and leading to more conversions.
Provide Proactive Customer Service
Even though there might be psychologically based sales metrics that can bring about results in sales and conversion, nothing beats a customer's trust in your business, the value provided, and the support delivered.
Providing proactive customer service helps customers gain clarity and confidence in your product or service. AI chatbots can enhance customer service by answering questions, providing faster replies, being available 24/7, and providing personalized solutions to queries.
This builds a sense of trust, contributes to a loyal customer base, and builds recurring customers, which helps you stay above the competition in the long run. 
Choose the Best Time and Place for Chatbots to Appear
The placement and timing when the chatbot appears can also influence the customer's intent to buy your product or service. 
When designing a AI chatbot, you can decide when and where you want the chatbot to appear. They can be designed and prompted to appear depending on the user's needs and behavior, the subsequent amount of time the user spends on a particular page, the bounce rate, user feedback, and the user's intent to exit the page.  
Additionally, placing the chatbot on the landing pages, in the product or service pages, in the payment processing and FAQ pages helps facilitate the user journey, clarify their doubts, and in turn, aids in conversion. 
It is also necessary to note that when designing the appearance of a chatbot, it is important to strike a balance between the proactiveness of its appearance and its idleness. This helps the chatbots assist the user without being too spammy or affecting the user experience. 
Simplify Checkout Processes
After a customer lands on your site, finds suitable products, and adds them to their cart, their next step would be to pay and check out and place an order.
According to Shopify, about 7% of shoppers abandon their carts without checking out due to a lack of payment options and in some cases, due to the lack of trust in digital methods of payment. 
AI chatbots can provide ways to pay and check out, all from the chat window. They can also help the customer choose their desired payment gateway/path, show offers or discounts, and provide multiple payment options such as Pay Later, Cash On Delivery, and No Cost EMI options that help enhance conversions.
Frequently Asked Questions
What are some common reasons for shopping cart abandonment?
Some common reasons for shopping cart abandonment include: high unestimated payment costs, added shipping costs, lack of trust in digital payment methods, website performance issues, lack of confidence in the company, and better competitive pricing.
Are digital methods of payment safe?
Yes, with recent advancements in technologies like AI, ML, and Blockchain, that add up to the security of payments, digital methods of payments are becoming more secure than ever. However, basic precautions have to be taken to enhance security standards from both the customer and storefront to safeguard them from security breaches.
What are some methods of retaining customers?
Providing returning bonuses, presenting coupons, offers, and discounts via memberships, providing better pre-sales and post-sales support, and enhanced customer service are some ways to maintain loyal and recurring customers. 
Enhance Sales Using AI Chatbots
Ecommerce chatbots greatly enhance the customer experience by facilitating their buying journey from the moment they land on your page till the checkout. And, a positive customer experience always leads to better sales, conversion, and brand visibility. 
Conversational AI chatbots are a great way for ecommerce stores to not just connect with customers on a buyer level, but also act as a means of sales enhancement and conversion gains. Leveraging AI chatbots effectively can skyrocket customer loyalty, which can, in turn, profit your business and make you stand out from the competition. 

Latest posts by Greg Ahern
(see all)