Are you struggling to choose between a Live Chat and Shopify bot? Shopify merchants use Live Chat and chatbots for solving customer service requests and handling customer conversations. Online business owners don't have to rely on a customer service team to answer questions and enhance customer engagement. Shopify store owners know about the difference between a live chat and chatbots to choose the best for their Shopify stores.
If you are planning to set up an online store on eCommerce platforms like Shopify, Magento, BigCommerce, and WooCommerce, you should give customer support like a physical store. Customers get instant answers while searching for a product in a physical store. In the same way, an online store should support customers and enhance customer journeys through online stores.
Overview of the Content
What is a Shopify Chatbot?
A chatbot is computer software that talks with people like a real person, via text in a popup window. Many online sites use chatbots to enhance conversation and give instant replies to website visitors. A Shopify chatbot should integrate with the Shopify store. There are two types of chatbots: rule-based chatbots, and chatbots with Artificial Intelligence. AI chatbots replicate human conversation and do several tasks.
What is a Live Chat?
Live chat is one of the online apps that allow people to talk with human agents. The support team behind live chat will talk with customers and resolve their queries.
How do Chatbots Differ from a Live Chat System?
A live chat system connects customers to real-life agents. The real-life human agents will converse with customers and understand their issues. On the other hand, chatbots offer customer support by automating conversations. When online business owners use AI chatbots, it offers customer support and talks with customers like a real person.
Many online business owners use AI chatbots to provide high-quality customer support with instant replies and solutions. Online business owners don't have to worry about customers leaving their website with a conversational AI chatbot.
What Live Chats Can't Do?
Shopify merchants often get confused between choosing the best online shopping bots App and live chat for their online stores. Choosing an AI chatbot for customers is the best option compared to the live chat system. In this article, let us look into the tasks that a live chat can't do, but AI chatbots can.
Immediate Response
Online stores use live chat for supporting customers and resolving their problems. Online shoppers expect an immediate response to their questions while purchasing products on the website. If the website looks dead, the customers will leave the website and buy the products from another site.
Live chat can handle different questions and understand the user intent behind them. But giving an immediate response to customers is a difficult task! This is the reason why you need an AI chatbot to handle multiple questions of customers. The predefined intents inside a Shopify bot will understand the purchase intent of a customer and answer questions instantly without any delay.
Time Zone Issues
If you are setting up an online store on Shopify, you will be having website visitors from different time zones. An eCommerce site should have seamless customer interaction from different time zones. Having support tickets from different time zones is a challenging task for eCommerce business sites.
Live chat doesn't respond to customers 24/7. On the other hand, AI chatbots don't have time zone issues. Your website visitors will get answers to different questions 24/7. Online business owners will easily resolve time zone issues with AI chatbots.
Cannot Do Repetitive Tasks
Sometimes, customers on eCommerce websites will ask repetitive questions to the live chat agents. Handling repetitive questions is a challenging task for human agents.
An AI chatbot learns from previous conversations through Machine Learning technology and answers common questions instantly. Automating responses and repetitive tasks will enhance the customer journey on the eCommerce website. The sales process of an eCommerce site will grow exponentially with AI chatbots' automated responses.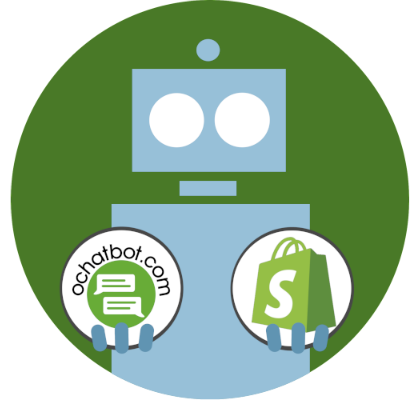 True AI to engage shoppers in conversational eCommerce. Create happy customers while growing your business!
5% to 35% Increase in AOV*

20% to 40% Increase is Revenue*

25% to 45% Reduction in Support Tickets
*When shoppers engage with Ochatbot®
A Live Chat doesn't Scale Conversation like an AI Bot
An AI chatbot has pre-defined intents but human workers can train the bot with human agents constantly to rectify errors. Because a chatbot is always available, it can better ensure that the customer will not leave the website. The AI chatbots can also understand customer emotive questions: With Natural Language Processing (NLP), a chatbot will understand human language and replicate human conversations.
On the other hand, a live chat doesn't scale conversations like an AI chatbot.  A live chat agent cannot remember every previous conversation, but a Shopify bot can! A Shopify bot will collect customer data through the conversations, and the eCommerce site owners can understand customer preferences through the previous conversations. To automate repetitive tasks and understand user intent, an AI chatbot is the best choice.
Automated Conversations
Doing repetitive tasks is one of the significant factors to determine that an AI chatbot is generally a better choice for eCommerce owners. In the same way, automated conversations will help customers save time and purchase products quickly.
When a customer asks common questions about products, chatbots will answer the questions quickly. If a customer wants to talk to a human agent, an AI chatbot will redirect them to the live chat agents. With automated conversations, chatbots save time for both online business owners and customers.
Best Chatbot Platform for Shopify
A Shopify chatbot should integrate with eCommerce sites and connect to all social media platforms like Facebook Messenger. If you are planning to give customer support and boost sales of your business, an AI chatbot is the best choice.
Ochatbot integrates with multiple channels and messaging apps. This AI chatbot is also code-free and allows online business owners to build their own AI chatbots on their eCommerce sites. Ochatbot also recommends products using cross-sell and up-sell strategies and makes the customers find products without any difficulty. If your website visitors want to talk with human agents, Ochatbot redirects them to the live chat agents.
Final Word: Shopify Bot > Live Chat
As mentioned above, An AI chatbot handles multiple tasks and converts website visitors into potential customers efficiently. An online business owner can reduce support tickets cost exponentially with the Shopify bot.
AI chatbots make the buying process fast and enhance the customer experience for online websites. Your online shoppers need instant replies and product recommendations on the Shopify store.  Implementing an advanced AI chatbot will boost sales for your Shopify store.
Suggested Reads
Frequently Asked Questions
How to build a Shopify bot?
Online business owners can build an automated Shopping bot on their website using Ochatbot, which features custom AI using different pricing plans. Ochatbot is a no-code free chatbot App that integrates with Shopify, Magento, BigCommerce, Woocommerce, and Facebook messenger.
What is Shopify Captcha?
Shopify captcha eliminates scams. Online business owners can add captcha to their Shopify stores by enabling them in the 'online store' option. By selecting 'Preferences', you can set your captcha on your online store.
What are the most popular Shopify bots?
Ochatbot, Chat fuel, Flow XO, and Octane AI are the best Shopify bots that increase the sales of an eCommerce website. These Shopify bots have their own pros and cons, and online business owners should check the advantages and disadvantages before integrating them into their websites.
How to Purchase a bot for an eCommerce website?
Ochatbot has different pricing plans for entrepreneurs, small business owners, and startups. E-commerce site owners can also make use of 45 days free trial plan of Ochatbot.
What is an auto check-out bot?
Automatic check-out bots have become popular during the pandemic. In simple words, these bots automate the purchasing process and help you buy high-demand products. These bots find the products using the keywords on product pages.

Latest posts by Greg Ahern
(see all)