Are you an e-commerce site owner? Do you know how e-commerce sales funnels help you increase your online store's sales?
Every online business owner implements various strategies to convert casual website visitors into actual buyers. Effective e-commerce sales will help you achieve your goals organically.
The sales funnel will formulate and organize your strategies from the brand awareness stage to the conversion stage. If you are an e-commerce store owner, you should first understand the tactics of your customer journey and build a successful e-commerce sales funnel. This blog will enumerate simple strategies to build e-commerce sales funnels.
What is an E-commerce Sales Funnel?
The e-commerce sales funnel maps out the customer journey in an online store. Every e-commerce sales funnel has three stages: Awareness, Consideration, and Conversion.
Sales funnels attract your website visitors and turn them into potential customers. Not every website visitor knows about your brand and its features. The stages in an e-commerce sales funnel will help them understand your products and how they solve their pain points leading to a successful conversion.
Three Stages in E-commerce Sales Funnel
The brand awareness stage in the sales funnel will help them understand your products and features. In the consideration stage, the buyers already showcase their pain points, all you must do is resolve their problems by bringing up the best solutions that you can offer.
The final stage is conversion, your website visitors will make the right decision and buy your products. This is where online business owners achieve their goals.
Why eCommerce Sales Funnel is Important?
eCommerce sales funnel is important for a business to identify its target customers and drive down sales. One of the main objectives of a business is to find who is interested in its service and products. At times, customers might search for your services, however, they would not have got an awareness of your products.  In this scenario, an eCommerce sales funnel will help in creating brand awareness for a wider audience. Here are a few important reasons why should you need eCommerce sales to funnel for your business,
eCommerce store owners will understand how their marketing activities impact sales. 

It is effective for upselling, cross-selling, and down selling sales activities. 

If you want to formulate a strategy for customer retention, the eCommerce sales funnel will help you do that effectively.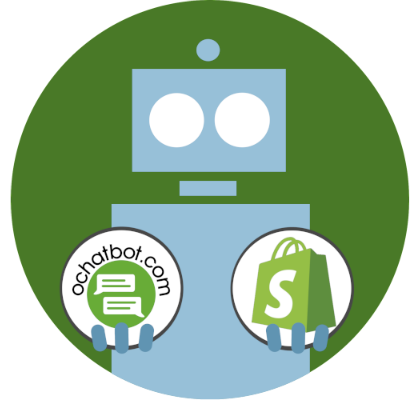 True AI to engage shoppers in conversational eCommerce. Create happy customers while growing your business!
5% to 35% Increase in AOV*

20% to 40% Increase in Revenue*

25% to 45% Reduction in Support Tickets
WE GUARANTEE RESULTS!
*When shoppers engage with Ochatbot®
How to Build an E-commerce Sales Funnel for Your Business
Building an e-commerce sales funnel is not a challenging task. Nevertheless, you should do in-depth research on your industry and its target audience to create an effective sales funnel. It's best to understand these eight effective ways to create a marketing funnel for your business.
1. Who is Your Target Audience?
Understanding the target audience is the first step in any e-commerce business. Your marketing efforts will provide desirable results if you understand your target market.
While building an e-commerce sales funnel for your business, you should understand how to approach your audience. Knowing your target audience's pain points and creating a funnel to resolve them should be the main objective for e-commerce site owners. Consequently, "Who is my target audience?" is the first question you should ask yourself when building a funnel.
2. Optimize Landing Pages
A landing page has a high value compared to the other pages in e-commerce stores. This also serves as one of the best strategies to educate your website visitors about your products and services.
Online business owners can create a more effective funnel using landing pages. Adding catchy headlines, and converting CTA buttons, images, crisp information, etc. are the best features of a landing page in the e-commerce store. The purpose of building a better sales funnel landing page is to attract your website visitors, engage with them, and convert them. Hence, you must eliminate too much information or additional buttons that distract your customers.
3. Add an AI Chatbot to Your E-commerce Website
Customer communication paves the right path for you to understand your customers' pain points. In a physical store, a sales rep will ask about customers' preferences and understand their pain points. Face-to-face customer communication in the online store will provide more value effortlessly.
In the same way, an online store should also be an effective communication channel for online shoppers. Have you heard of Live chat for customer communication? Live chat was acing e-commerce customer communication previously.
Gradually, customers started expecting more instant responses and solutions. For all these above requirements, AI (Artificial Intelligence) chatbots serve as the best solution. With the help of an AI chatbot, online business owners can build a sales funnel effortlessly. An AI chatbot communicates with customers, understands their preferences, and recommends them the right products. Additionally, achieving upsell and cross-sells in the sales funnel is an easy task when you implement an artificial intelligence-powered chatbot.
4. Curate Content For Sales Funnels
Do you know how content plays an important role in creating brand awareness and converting your customers? E-commerce businesses should curate promotional content to sell their products. Well-curated content in an e-commerce store will increase your website traffic. For instance, not every website visitor will know your product. Therefore, you should write content for the top (brand awareness), middle (consideration), and bottom (conversion) of the sales funnel.
Updating informational content on your e-commerce website will invite more potential customers to your store and help them understand what they're looking for. Driving your potential buyers through the three stages of e-commerce sales funnels is an easy task with content marketing.
5. Functional Checkout Page
Now that you have finally driven your customers down to the conversion stage. What is the next step? If your online shoppers face any problems in completing the order, they will leave your website and abandon their carts.
Once you identify your potential customers and push them to the last stage of the funnel, you should also create a seamless purchase process. Hence, optimizing your checkout page is significant to achieve your goal in the marketing funnel. You should always analyze the payment modes, glitches in the process, and better navigation on the checkout pages.
6. Social Proof in the Online Store
Social proof is significant for both the conversion and retention of your customers. Customers should first trust your website and its credibility before buying products. As an e-commerce store owner, you should certainly focus on social proof, customer reviews, and testimonials.
In every product page and collection page, you should have proper reviews to build trust with your customers. When you build a sales funnel for your e-commerce store, you should also create a way to generate customer loyalty. Customers will convert more when they understand how the products are useful based on previous customers' reviews.
7. Product Discovery Strategy
Product discovery is one of the ways to understand what is working or not working for your customers. Product discovery is a challenging sales process since you must gain a profound understanding of your customers.
In this strategy, online business owners will understand the pain points of customers and design their services/products accordingly. Product discovery strategy will help you in the first and second stages. By implementing this strategy, you will not only increase sales of your online store but also create a great impact among your customers.
8. Social Media Advertising
Social media ads will help you create brand awareness and widen your audience base on various social media platforms. Social media is one of the effective tools to market your products to different types of customer bases.
It is easy for online business owners to build awareness through social media channels. However, you should know the major presence of your target audience and reach out to them effectively. For instance, analyze whether Facebook ads or Instagram ads create a great impact on your sales and where your target audience is more active. Advertising through the right platforms will generate more repeat customers and sales for e-commerce store owners.
Frequently Asked Questions
1. Do e-commerce businesses need a sales funnel?
Yes, every e-commerce business should have a sales funnel to enhance the customer journey in their online store. Building e-commerce sales funnels will help them divide customer journeys into three stages and achieve their goals.
2. What is the first stage in e-commerce sales funnels?
Brand Awareness is the first stage in e-commerce sales funnels.
3. What is the consideration stage in the sales funnel?
The consideration stage is the second stage where you provide more information about your product and tell them how it resolves their pain points.
4. What are the benefits of building an eCommerce sales funnel?
There are several benefits for eCommerce store owners in building a sales funnel. You can enhance significant sales activities such as upselling, cross-selling, and down-selling. It is also easy to create brand awareness for potential customers using an eCommerce sales funnel. 
5. What are the important factors to consider when building an eCommerce sales funnel?
If your niche is competitive or saturated, the eCommerce sales funnel will help your target audience to discover your online presence organically. You don't have to spend more money to strategize marketing campaigns, eCommerce sales funnel is highly beneficial. 
Summing Up
More than generating new customers for e-commerce stores, online business owners should engage with their existing customers to avoid the possibility of losing them. Implementing the sales funnel strategies will help e-commerce store owners to generate both new website visitors and repeat buyers.
This blog has formulated eight different strategies for building an e-commerce funnel effectively. Implement the above ideas to generate more paying customers for your online store. Enhance your customers' journey and increase sales organically!
Read More:

Latest posts by Greg Ahern
(see all)