Although the tech for chatbots has been around for several decades, the interest in AI chatbots for eCommerce continues to grow, especially with the prediction that artificial intelligence marketing is expected to grow to $48.91 billion by 2026. Even with this rapid growth, there are still several pervasive myths floating around online, mostly thanks to the clunky rule-based bots that have become mainstream.
In this article, we debunk five common myths about chatbots to help you determine whether or not chatbots are the next step for your company. 
Myth #1: People Hate Talking To Chatbots
On the contrary, more than 62% of people prefer resolving issues through a chatbot rather than a live agent. For many shoppers, speed and efficiency are the things they consider integral to good customer service. If a question can be answered quickly, it makes no difference if it came from a chatbot or a human. The chatbots of today do an excellent job of mimicking human speech, leading to a more natural conversation. As long as consumers know they're speaking to chatbots, they do not feel misled or angered by the experience. 
Myth #2: Chatbots Steal Jobs
As with any new technology that crops up, there are fears that chatbots will steal jobs away from humans. This fear comes from many chatbots promising to reduce support tickets and call volume, leading many to assume that in the future, support and customer services teams will be done away with entirely. However, this couldn't be further from the truth.
An ideal support team sees human agents and chatbots working in tandem. By automating answers to repetitive queries, a chatbot helps reduce the workload of a human team, allowing those workers to focus on more intensive issues and complicated support tickets. Rather than thinking of a chatbot as a replacement, imagine them as tireless workers who will be available when your support team is asleep or away on holiday. Chatbots ensure that someone is always available to help the customer.
Moreover, a chatbot can be fully integrated into a live chat system, ensuring that a human agent is ready to intervene when needed. Some issues require human intervention, so a support team will always be necessary.
Myth #3: Facebook Messenger is the Best Platform For Chatbots
With the waning popularity of Meta, it's understandable that many companies are hesitant to employ chatbots due to the prolific nature of Facebook Messenger bots. For businesses and consumers alike, concern over Meta's handling of privacy continues to grow. Although Facebook Messenger contains more than 300,000 chatbots, it is by no means the only chatbot platform in existence. There are numerous startups offering chatbot services for affordable prices. Tools like Ochatbot® operate fully on their own server and are capable of being integrated into numerous eCommerce platforms, like Shopify, WooCommerce, BigCommerce, and Magento. Opting for a third-party chatbot system allows businesses to better protect their customers' privacy. Furthermore, it eliminates unnecessary steps like requiring the user to have a FaceBook account to engage the chatbot.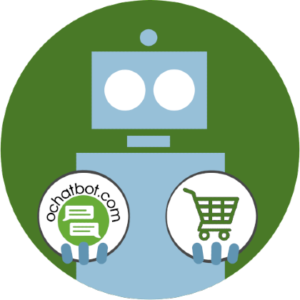 True AI to engage shoppers in conversational eCommerce. Create happy customers while growing your business!
5% to 35% Increase in AOV*

20% to 40% Increase in Revenue*

25% to 45% Reduction in Support Tickets
WE GUARANTEE RESULTS!
*When shoppers engage with Ochatbot®
Myth #4: Chatbots are Expensive and Take too Much Time to Develop
A common myth surrounding chatbots is that they are time and money-sinks. Many people believe that developing a fully functional bot requires a large IT department at the ready as well as months of developmental work. This might be the case if you're building your own custom chatbot, especially if you have no prior experience. However, when outsourcing to the right company, implementing a chatbot can be done in a matter of days for small businesses to a few weeks for large enterprises. Some companies, like Ometrics, offer easy-to-use no-coding features such as prebuilt FAQs that allow you to easily create natural conversational flows. They also offer an affordable plan to enterprise businesses.
The other great thing about a chatbot is that its value is apparent right from launch. As soon as a chatbot is live on your website, you are already providing 24/7 customer service, and the bot quickly learns and grows from your customers. 
Myth #5: Chatbots are Useless if you Have an FAQ Page
Many practical people wonder about the usefulness of a bot when there is already an FAQ page on the site. There are a couple of counterpoints here. The first one is: Certain websites can be vast and difficult to navigate. Even if there is an FAQ page somewhere, site users are unlikely to find it easily. Younger consumers expect information to be readily available, and a lack of answers will only cause them to click away. By engaging with an AI chatbot, users are able to get their questions answered quickly. 
The second is this: AI chatbots are capable of providing deeper engagement that a static page cannot offer. Users can ask more complicated questions that aren't readily available on the FAQ page. Customers might not even know what question they want to ask, but a bot can find out more about them and their needs to guide them to the right answer. The response from the chatbot will feel more personalized, leading to a great interaction from the customer's perspective.
Chatbots can also be trained to offer other support services, such as appointment scheduling, lead generation, and technological troubleshooting
Bottom Line
The significance of chatbot technology can't be denied when considering the cost-saving as well as efficiency benefits it offers eCommerce businesses. While not all chatbots are created equal, a well-managed chatbot platform is a powerful tool capable of increasing customer engagement and improving conversion rates. 
Frequently Asked Questions
What are the best chatbot platforms?
Ochatbot, Botisfy, and Tidio are the three of the best AI-powered chatbots.
What differentiates a rule-based bot from an AI chatbot? 
Rule-based bots do not use artificial intelligence or machine learning to improve. They are only capable of answering specific questions and have poor decision-making skills. 
What is chatbot page targeting?
A page-targeted chatbot uses advanced learning to target site visitors on specific webpages. Customers are engaged at the right moment in their shopping journey, leading to better engagement and rapport. 
Latest posts by Lashanah Tillar
(see all)