Do you want to know about the free chatbot for the Shopify store? Adding a Shopify chatbot to your online store will increase the revenue of your business conversationally. To enhance customer satisfaction in your online stores, you should choose the best Shopify chatbot app.
This article compares the five best chatbot apps and the free trials for your Shopify store.
What are Chatbot Apps?
A chatbot app platform is where online business owners can build their own chatbot and get a free trial of the best Shopify chatbot apps. A chatbot is computer software that replicates human conversation with advanced technologies such as artificial intelligence, and machine learning technologies.
What is a Free Plan in the Shopify Chatbot Apps?
In many chatbot apps, you will have a free trial that will help users analyze and monitor the benefits. A free plan or free trial will make online shoppers feel more valued and your product will get more exposure among the target audience. As a Shopify store owner, you will enhance the customer experience with a free plan in Shopify chatbot apps.
Free plans in the Shopify store will provide significant benefits to the Shopify store owners. since they have indeterminate utilization of your service.
What is a Shopify Chatbot App?
A Shopify chatbot app is exclusively developed for the Shopify platform that provides personalized service to Shopify store owners.
With these chatbot apps, you can effectively target your audience through conversation. The Shopify app store will provide you with a list of Shopify chatbots that are easy to install and implement in Shopify stores.
Why Does Your Shopify Store Need a Chatbot?
If you have an online store on the Shopify platform, you need customer support to assist website visitors and help them find the right products for them all 24/7.
Chatbot apps for Shopify are significant to understand what your customer base wants and which strategy will convert more of them into buyers. Read our comparison of Shopify chatbot apps to add the best custom e-commerce chatbot for your Shopify store.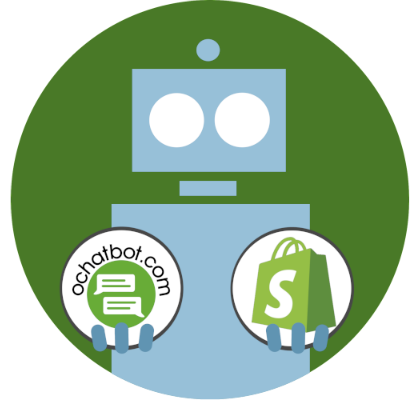 True AI to engage shoppers in conversational eCommerce. Create happy customers while growing your business!
5% to 35% Increase in AOV*

20% to 40% Increase in Revenue*

25% to 45% Reduction in Support Tickets
WE GUARANTEE RESULTS!
*When shoppers engage with Ochatbot®
Free Chatbot Apps For Shopify – 5 Free Trial Examples
What are the Best Features?
Increases conversion rate.
Reduces support ticket cost.
Adds upsell and cross-sell strategies.
Recovers abandoned carts.
Talks like a real human and is fully customizable.
Free Plan For Ochatbot
Ochatbot's free plan is exclusively for start-ups and small businesses to add free chatbots for their stores. The free plan comes with a 45-day trial of all the revenue-boosting e-commerce features.
What are the best features?
Targeted messages and triggers.
Free plan for Chatra
Chatra comes with a forever-free plan that includes live chat and most of its features. app will increase your store's conversion rate and reduce the load on your customer support team. 
What are the best features?
Personalized product recommendations.
Automated replies for website visitors.
Increase your subscription list.
Conversational skills like a human.
Redirect the conversation to the live chat agents.
Free Plan For Maisie AI
Maisie AI chatbot will provide a 14-day free trial.

What are the best features?
Intelligent chatbot that automates conversation.
You will get basic and detailed information.
Integrations on the other e-commerce chatbots such as WooCommerce, Bigcommerce, slack, and Zapier.
You will get targeted messages and triggers.
You will get real-time visitor information.
Free Plan For Relish AI
You will get a permanent free agent in the free plan.

What are the best features?
Smarter discounting strategy in this chat app.
Mitigate cart abandonment.
Instant automated replies.
Free Plan for Nibble
Nibble free plan is exclusive to the Shopify app. Negotiations in the Nibble app are for both single products and the whole store. The customizable button is exclusive in the Nibble app, and will help you personalize the bot that aligns with your brand, and this free plan is for one month.
What is the Difference Between Live Chat Apps and Chatbot Apps for Shopify?
Live chat and chatbots are the two prominent software that online business owners use for increasing sales in their stores. The main purpose of using live chat and chatbots for e-commerce stores is to engage website visitors.
Live chat is software where human agents reply to customers directly and encourage them to purchase products. Conversely, chatbot apps give customers automated replies with a computer program.
AI-powered chatbots are better than live chat apps since they reply to customers instantly and collect their insights through conversation. AI technology helps in collecting customer data and it is beneficial in future business conversations. 
AI chatbots can respond to multiple customers. 
Live chat agents will not be available for online shoppers from different time zones, but AI chatbot apps work 24/7.
Advanced technologies will help in processing customer insights and improving business interactions.
Humanized chatbots replicate a human conversation. 
Can You Create Custom Chatbots on Your Website?
A custom chatbot is nothing but creating a chatbot that aligns with your business needs and preferences.
You can build your own chatbot on the AI chatbot platforms to personalize the ongoing conversation. Ochatbot is one of the best Shopify chatbot apps that will allow you to build custom chatbots with no coding. This chatbot platform works for start-ups, small businesses,  and large businesses. This custom chatbot will also improve the sales cycle by analyzing customer needs effectively. Click here to learn more!
Bottom Line
Now that you know the best Shopify chatbot apps that have free plans for you to analyze their effectiveness, you can make the best decision for your business. A splendid chatbot functionality is necessary to elevate your business and stand out from your competitors.
A Shopify chatbot will engage your customers like a real-life sales representative in online stores. If you are looking for different ways to increase customer experience in your e-commerce store, then you should choose an AI-powered Shopify chatbot. 
Read Our Latest Posts
Frequently Asked Questions
1. Can we integrate chatbots into Facebook Messenger?
Ochatbot easily integrates with social platforms such as Facebook Messenger and e-commerce platforms like Shopify, Woocommerce, Bigcommerce, and Magento. 
2. What is Ochatbot?
Ochatbot is an e-commerce chatbot app that automates your replies to customers and converses with them like human agents. This AI-powered app will increase your store's conversion rate and reduce the load on your customer support team. 
3. Which is the best chatbot app for Shopify?
Ochatbot provides real-time solutions to customers' problems. This chatbot app is on the Shopify app marketplace which is customizable and user-friendly. 

Latest posts by Greg Ahern
(see all)