When building a chatbot, you want it to be as simple as possible, so adding statements like "I'm a chatbot" helps clarify. Also, including a button to connect to a live representative is helpful for customers to get information if they do not want to communicate with the chatbot. Sometimes it is hard to tell the difference between a live chat and an AI chatbot without these features. If you have been to a website recently, you may have noticed a chat slider at the bottom of the page that asks you a question. You click on the icon to open the chat window and you start a conversation. How do you know if you're talking with a human or a chatbot? 
There are two types of website chats – an automated chat (chatbot) and a live chat. An automated chat or chatbot is when your responses are being answered by a computer, not by a human. The responses are automatically generated based on the keywords and phrases you enter in the chat window. A live chat is a real human being on the other side of the chat window typing on a keyboard to answer your questions.  
Taking to a chatbot will be similar to a human, but chatbots are powered by artificial intelligence with logical rules. They are made with frequently asked questions and answers, so they can have a natural unrestricted conversation. Chat bots are made to provide information to reduce live calls and providing eCommerce product assistance to quickly get the product that best suits the user. 
Users can enter any question, but the responses are limited to the answers that are programmed into the chatbot. The chatbot searches the user's question and the programmed keywords to find a match in order to provide the correct response. If the chatbot does not find a keyword in the user's response it will not be able to give a relevant answer. In this case, the chatbot "hits the rails" and provides a "fallback" response explaining to the user that it does not understand the question asked. This "fallback" provides some options to either retry typing the question in a different way or selecting a button option to connect to a live chat, or a phone and email contact. 
Chatbots are only able to understand the words that are programmed into its system, so misspelled words are often not picked up by the chatbot unless it is added. The chat bot will then respond with the "fallback" response.  If you see this response you are most likely talking with a chatbot.
Live chats are human-powered by the company's customer support team. Typically, when connecting with a live chat, the user has to enter their name and the response are more delayed. With this chat there humans on the other side answering the questions that you enter. When asking a live chat a question they may not know the answer to, they will say something similar to, "give me a moment to check on that". Live chats are needed in more complex situations where a chatbot may not be able to give a sufficient answer. 
In many cases, if the chat user asks if the chatbot is a bot, the response should acknowledge that it is. If it is a live chat, they will reassure the chat user that they are a human representative.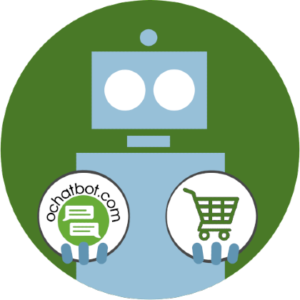 True AI to engage shoppers in conversational eCommerce. Create happy customers while growing your business!
5% to 35% Increase in AOV*

20% to 40% Increase in Revenue*

25% to 45% Reduction in Support Tickets
WE GUARANTEE RESULTS!
*When shoppers engage with Ochatbot®
Chatbot Features
| | | |
| --- | --- | --- |
| Features | Ochatbot | ManyChat |
| Independent from FB (FB not required) | Yes | No |
| Integrate to all eCommerce platforms | Yes | No |
| Search product database | Yes | No |
| Add to cart from chat window | Yes | Yes |
| View product details from chat window | Yes | Yes |
| Order status and tracking | Yes | Yes |
| Recommend products (cross-sell) | Yes | No |
| Abandoned cart | Yes | Yes |
| Page targeting | Yes | No |
| Zapier integration | Yes | Yes |
| SMS integration | No | Yes |
| AI training | Yes | No |
| AI ability to switch conversation topics in real-time | Yes | No |
| AI conversational eCommerce (typed, without buttons) | Yes | No |
| NLP (Natural Language Processing) | Yes | No |
| Live chat built-in | Yes | Yes |
| Integrate with 3rd party live chat platforms | Yes | No |
| Unlimited SKU's | Yes | No |
| Unlimited conversations | Yes | No |
| Unlimited Interactions | Yes | No |
| Saved Conversations | Yes | No |
| Prebuilt standard intents | Yes | No |
Pricing Comparison
Ochatbot

ManyChat

 

Free plan

Yes,  

up to 1k visitors

Free Plan

Yes

Leadbot 

$35/month, 

up to 10k visitors

Pro-plan 

Ranging from $10/month  to $435/month
Based on the number of contacts on your list


Basic 

$35/month, 

up to 10k visitors

Business Plan 

Not Provided


Plus Plan 

$109/month, 

up to 30k visitors

 
 

 

Pro-Plan

$495/month, 

up to 30k visitors

 
 
 

Unlimited contacts and leads for all plans. 

Additional plans are available depending on the number of visitors for Plus and Pro plans. See pricing

 
 
How to Build an AI Chatbot Free Course Signup

Latest posts by Greg Ahern
(see all)