Do you want to know the exceptional strategies of successful eCommerce companies? Are you an upcoming eCommerce store owner? Then, this article is for you!
ECommerce platforms started flourishing in the early 1990s and many advanced technologies are improving the functionality of eCommerce stores today, and thousands of companies are now selling their products online. We are focusing on the top eCommerce platforms and companies flourishing in 2023 to provide business strategies for budding online business owners.
Overview of the Content
What is an eCommerce Company?
An eCommerce company allows business owners to sell their products online, reach out to their audience and sell digital and physical products on an eCommerce site. ECommerce businesses have traditional markets to sell their products and services such as:
B2C (Business to Customer) – B2C eCommerce service sells the products directly to the customers without any retailers in between.
B2B (Business to Business) – B2B sells services between one online business owner to another. Lead generation is one of the strategies to acquire prospective clients in the B2B strategy.
C2B (Customer to Business) – If a customer provides value for a business, it is a C2B business. C2B businesses give products and services to the organization.
C2C (Customer to Customer) – This type of market will allow trading between one customer to another. A third-party business platform helps customers interact with each other and sell their products.
What is an eCommerce Platform?
An eCommerce platform is an application that delivers a functional solution for consumers and online merchants. An online merchant may reach out to their potential customers on eCommerce platforms and online shoppers purchase different products and discover services.
The commercial transaction in eCommerce also reduces the fixed costs in traditional stores. Here are the key benefits of eCommerce platforms for both online shoppers and merchants,
Online business owners may reach out to the target audience.
The logistics in eCommerce are flexible and easy because collecting customer data insights in an eCommerce platform is easier and more helpful for online merchants.
The 24/7 availability of an online store is one of the best advantages for eCommerce merchants.
The SEO tools in an eCommerce platform help in the store ranking.
The inventory management in eCommerce platforms is helpful for product sourcing, order tracking, storing, and shipping.
How Do You Start an eCommerce Business?
If you plan to start an online store, you should select an eCommerce platform and understand the market size of your niche before reaching out to your potential customers by listing different strategies.
Online business owners use advanced technologies like Artificial Intelligence to streamline the customer experience, eg: Adding AI-induced chatbots will recommend products to customers. Advanced technologies like Chatbot and LiveChat on the eCommerce store will provide better customer support.
Related: Humanity and Chatbots: Boost Your Online Sales
An eCommerce site owner should ask the following questions before selling their products on the eCommerce store:
How are you going to source your products?
What are the successful eCommerce companies in your industry?
What is the market size of your eCommerce business?
Which is the best platform for your business?
What are the multi-channel selling strategies for your site?
What are the Best eCommerce Platforms for Online Business Owners?
Many eCommerce platforms allow online business owners to create strong business foundations and eCommerce platforms enhance the buying process with customized collection pages and product pages. A website visitor may find what they are looking for in a well-optimized eCommerce platform. The best four eCommerce platforms are:
Shopify
BigCommerce
WooCommerce
Magento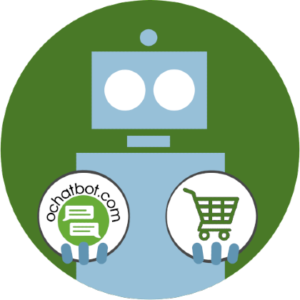 True AI to engage shoppers in conversational eCommerce. Create happy customers while growing your business!
5% to 35% Increase in AOV*

20% to 40% Increase in Revenue*

25% to 45% Reduction in Support Tickets
WE GUARANTEE RESULTS!
*When shoppers engage with Ochatbot®
Shopify
Shopify is one of the best eCommerce platforms that allow business owners to start and grow their online business and is also famous for dropshipping.
The website builder doesn't have a complicated website builder, so even if you don't have technical skills, you can set up an online store on this eCommerce platform. A Shopify merchant gains customer insights and works towards the customer-centric approach in this eCommerce platform.
Related: Shopify Filters & 5 Site Best Practices
Bigcommerce
The Bigcommerce platform provides decent scalability for online business owners to set up an online store. The key benefits of Bigcommerce include the advanced SEO website builder, multi-channel integrations, a built-in blog, web hosting, online store setup, and marketing for all business types.
Woocommerce
Woocommerce is another eCommerce platform that makes the task of creating an online store easy for online merchants and has an eCommerce plugin for WordPress. Online business owners have many benefits from this eCommerce platform, including tracking their orders, viewing updates, and optimizing their online store with SEO.
Woocommerce also has several plugins for its online store to enhance the eCommerce functionality and is available for both digital and physical products to sell. The CMS (Content Management System) in Woocommerce is best for email marketing, creating landing pages, and adding blogs.
If you can't code, it might be worth checking out Elementor. This web creation platform boasts a powerful, code-free WooCommerce website builder and built-in hosting features.
Magento
Magento is one of the popular eCommerce platforms for B2B eCommerce. One of the unique features of Magento is that it is a self-hosting eCommerce platform. Magento also has different themes for eCommerce stores to grow and stand out. The extensions of the Magento platform are payment, security, marketing, and customer service.
Apart from the basic online store and free themes, Magento has various plugins and extensions and allows the use of web apps. These features help eCommerce site owners to improve the site experience and enhance mobile usability.
5 Top eCommerce Companies in 2023
Have you decided on the eCommerce platform for setting up your online store? After deciding on an eCommerce platform, you should check your market size and successful eCommerce companies to optimize your store effectively.
Every eCommerce company has its strategy and marketing skills, and it's important to know the top eCommerce company and their strategies in 2023.
1. Amazon
Amazon is one of the most popular eCommerce companies that reach out to customers worldwide. It sells different types of products on its platform and has personalized services for the customers by asking them for feedback and addressing them by name. In a 2019 survey, 89% of customers responded that they like to buy products more on Amazon than on other eCommerce platforms.
The uniqueness of this eCommerce company is its customer-centric approach. This eCommerce company understands the needs of a customer and recommends relevant products to them.
Amazon started its journey by selling books and now it is famous for digital and physical products. With advanced technology, this eCommerce company provides personalized services to its customers. The range of tools on this eCommerce company is useful for online shoppers to track their orders and return items.
This eCommerce company introduced the humanized AI chatbot Alexa on its platform in 2013 to provide customer support. Alexa answers the user's questions to get answers about products.
Amazon handles leveraging the product distribution around the different countries efficiently.
The effective UX and conversion funnel strategies are one of the reasons why Amazon is popular in so many countries.
The payment gateways in Amazon are secure and legitimate.
2. eBay
eBay has a defined business plan to sell products on its site that enhances both C2C and B2C eCommerce services online.
Customers prefer eBay because of its lower shipping costs and trigger notifications for relevant product searches. eBay also has a diverse community of sellers on its platform with efficient marketing tools.
In 2002, eBay started its transactions with Paypal to secure transactions and built trust among potential buyers.
eBay also has the popularity of introducing its application in the Apple store. It is one of the few apps that was first introduced in the apple store.
The business plan of eBay allows every individual to participate in auctions with low fees.
3. Best Buy
Best Buy is one of the most promising eCommerce electronic retailers in the global market. It ranks 53rd in the Fortune 500 rankings. This eCommerce company's effective marketing strategy also revolves around price decisions for the products. This eCommerce store compares the price of its products with every retailer and comes up with affordable price decisions for online shoppers.
Best Buy concentrates on customer satisfaction with speedy delivery. This eCommerce company also provides top-rated products and sells its services through popular channels.
The business model of best buy is very clear and concentrates only on selling electronic products to the customers.
It also uses advanced technologies with a human touch for customer satisfaction in the eCommerce space.
This eCommerce company highlights its new releases, best deals, and discounts to help customers purchase the products instantly.
In the 2021 report, Best Buy had a 37% increase in its sales during the pandemic.
4. Walmart
Walmart provides multiple services for customers on its platform. It is best known for providing a one-stop shopping experience and its low prices.
The prices are so low in Walmart compared to the competitor's sites. This eCommerce company has done a lot of product upgrades to captivate the customers. According to the recent report by the Miami times, Walmart has had an increase in regional sales in both Doral and Florida.
Walmart has a single focus on its business plan, which is to reduce the price of products, which is why they have a strong customer base.
Walmart took advantage of the technologies in eCommerce, such as scanning barcodes.
The Culinary & Innovative Food Center in Walmart introduces new food items for their customers. The organic food items are there on the list and it is one of the best grocery store upgrades compared to the many eCommerce stores.
The free shipping offers in Walmart invite more potential buyers to the online store. The additional savings options like the Coupon cabin in this online store are also an advantage for shoppers.
5. Etsy
Etsy is one of the fastest-growing eCommerce companies in the United States and is best known for its craft products by independent artists. The products on this platform are mostly craft supplies and captivate aesthetic products lovers.
Etsy brought creativity and advanced technologies together to benefit both online merchants and shoppers. Etsy is also an eCommerce platform that allows online business owners to build their stores with advanced SEO techniques on the site.
Personalization is one of the main objectives of Etsy. Online shoppers will find personalized products in online stores with the evolving technology of A.I. and M.L. technologies.
Reducing the distribution costs is one of the added advantages of this eCommerce company.
Social media promotion is one of the effective strategies of Etsy to sell its products online.
Final Word
Many eCommerce companies are using advanced technologies and marketing strategies to drive more potential customers to their websites.
Are you interested in starting an eCommerce store? Find the latest trends and optimize your store with the latest technologies to reach out to your target audience.
Latest Posts
Frequently Asked Questions
What are the best drop shipping companies in eCommerce?
Importify, Shopify, Worldwide Brands, and Oberlo are the best drop shopping companies in the industry.
How many eCommerce companies are there in the United States?
The United States has almost 250,000 eCommerce companies excluding marketplace sellers.
Why do people fail in the eCommerce business?
People fail in the eCommerce business is because of three major reasons, lack of marketing strategies, poor SEO techniques, and complex navigation in online stores.

Latest posts by Greg Ahern
(see all)