Artificial Intelligence (AI) customer service chatbots allow businesses to offer a better customer service experience to their online consumer base. 
As e-commerce continues to grow in popularity and more consumers opt to complete their purchases online, the need for stronger customer service teams has risen. However, often due to the sheer volume of customer queries, it is not possible to handle every customer issue in a timely manner, especially during regular business hours. 
This is where an AI chatbot can be a huge benefit to your support team. AI chatbots operate 24/7, solving the most repetitive queries promptly and efficiently. Unlike human agents, chatbots are capable of handling multiple customers at once without compromising on quality. 
Outside of business hours, a company can rest easy knowing that its customers are still being attended to.
Let's take a look at five common customer service issues your chatbot should be able to answer while your support team is asleep.
1. Where is my order?"
The most common e-commerce site queries people have when ordering online revolve around order tracking. Unlike a physical store, where they can take a product home immediately, online ordering and shipping leave many people in limbo. Since 2020 and the onset of the COVID-19 pandemic, businesses are still dealing with a global shipping crisis. As a consequence, the fallout lands on the customer.
 A lost or delayed order can be emotionally taxing for customers, especially if they're waiting for something special, like a gift or medically necessary item. The best way to resolve this issue is to keep customers updated with their order status and tracking, while also providing customers with all the tools they need to track their purchases.
 An AI chatbot is one such tool. Combining your business's order tracking API with a chatbot allows customers to keep up-to-date on the status of their orders without waiting for a human agent.
 In the event of an error within the system, it's important to program an appropriate and empathetic response as a fallback, so customers aren't left in the lurch. Below is an example of Ometrics' Ochatbot handling an error tracking order:
The important takeaways in this example are twofold: The first is the apologetic tone of the bot's response. Like how you would train a customer service agent to respond with empathy and kindness, the bot needs to be trained to exhibit that same behavior. When crafting your bot's response, focus on using keywords that alert the customer that their concerns are being carefully considered.
The second part of the bot's response is the solution. There have been too many times when I've received similar errors from e-commerce chatbots that simply tell me my order was not found without providing any other solutions. When there's an error, it's important to give customers an easy way out. Making it impossible for customers to bypass the bot to speak with a human to resolve an issue only serves to sour a customer's view of the brand.
The solution offered by a chatbot will be highly dependent on your business. Ochatbot makes it easy to connect to third-party live chats. If live chat is not available for your business, showcasing all of the methods of communication is essential, whether that is by phone, email, or contact form. Leaving a customer high and dry will only drive shoppers elsewhere.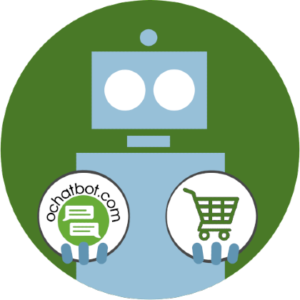 True AI to engage shoppers in conversational eCommerce. Create happy customers while growing your business!
5% to 35% Increase in AOV*

20% to 40% Increase in Revenue*

25% to 45% Reduction in Support Tickets
WE GUARANTEE RESULTS!
*When shoppers engage with Ochatbot®
2. "How do I return an item?"
While it's common for this question to be asked after a product has been tried and tested, it is equally common for shoppers to want to understand the return policy before they even place anything in their cart. In 2022, many online retailers offer a free, simple, and painless return process. While this should ideally be easy to locate on the website, some shoppers find it hard to locate a company's return policy and practice.
Ensuring that a chatbot is able to answer this will not only eliminate a sales obstacle for those hesitating at checkout, but it will also win you future sales.
3. "Why is my coupon code not working?"
Sales and coupons are a great way to gain new customers, but nothing halts a checkout process faster than a faulty code. Even if it's not necessarily a faulty code (i.e. promo exclusions), shoppers who are unable to resolve this quickly may choose to shop somewhere else for a better deal. 
Programming your chatbot to handle these discount errors is a great way to save the sale. Consider adding a one-time use code into the bot. Customers will appreciate the quick solution and your support team will appreciate it too. In the above example, Ochatbot not only provides the discount code, but it cites the most common reason for discount code errors, empowering customers in the future with this knowledge. It also offers to get the customer in contact with support. These three prompt solutions demonstrate a willingness to take customer service seriously.
4. "I don't see my payment method at checkout."
It's important for online retailers to accept most major credit cards for a seamless checkout experience. However, online payment services like PayPal, Apple Pay, and Google Pay have become the go-to for many people when ordering online. Another popular method is Buy Now, Pay Later apps such as Klarna, Sezzle, and Affirm. When preferred payment methods aren't accepted by a retailer, it's important to state this clearly in order to recover abandoned carts. Adding a section to your chatbot detailing ways to pay will easily solve this simple customer query
5. "Where are your products made?"
A surprisingly common thing many shoppers want to know is where products are being manufactured. Consumers are more conscious than ever about how over-consumption impacts our planet, and many people are eager to reduce their carbon footprint. That includes ordering products made locally within their own country. Current research indicates that many shoppers are willing to pay 2% to 10% more for brands with a transparent manufacturing process. At Ometrics, our in-house Natural Language Processing (NLP) engineers for our pro and enterprise clients have also noticed an uptick in people demanding product transparency. 
Final Thoughts
While programming a bot to respond efficiently is only half of what goes into building a chatbot, it's still important to ensure your chatbot is able to efficiently answer these base-level questions. When encountering sales obstacles, the chatbot should be able to offer customers a way out, not a cop-out. The functionality of your bot will be crucial to your brand's image and reflective of your customer service philosophy. 
Frequently Asked Questions
1. What is the best chatbot for eCommerce?
Ochatbot is one of the best AI chatbots for online businesses. The no-code and free chatbot can be integrated into FaceBook Messenger, Shopify, BigCommerce, Woocommerce, and Magento. It also comes with several premium features, such as abandoned cart recovery, product recommendations, and built-in live chat.
2. What are the benefits of AI chatbots?
Online retailers see a large boost in revenue when customers engage with a chatbot. The 24/7 coverage means your customers are never left waiting for a response, ensuring that they will not default to another retailer.
3. Can chatbots replace a human team?
While machine learning has advanced to a large degree, most chatbots still require HITL (Human-in-the-Loop) to streamline conversations. An ideal support team sees human agents and chatbots working in tandem. By automating answers to repetitive queries, a chatbot helps reduce the workload of a human team, allowing those workers to focus on more intensive issues and complicated support tickets.
Latest posts by Lashanah Tillar
(see all)