Are you looking for the best AI chatbot for e-commerce?
If you are an e-commerce website owner, you should look into the benefits of Artificial Intelligence induced chatbots in e-commerce.
Online shopping is more functional for both customers and sellers with good customer support. Enhancing customer experience in your e-commerce website will help you create a loyal customer base and boost your sales. Your customers should understand more about your products and your website.
A Live Chat system can resolve customer questions, but AI chatbots will stand out from the live chat system with their 24/7 availability and instant replies. This article discusses the unique features of AI chatbots and how they enhance sales in the e-commerce business.
Jump to the Content
Reduce Tasks for E-commerce Site Owners
Engages Customer At the Right Time
Instant Support and Availability
CRM(Customer Relationship Management) Integration
What is an E-commerce Chatbot?
E-commerce chatbots are AI-induced chatbots that talk with customers like a real person. e-commerce chatbots handle multiple tasks on the website and boost customer navigation on the website.
Conversational commerce is one of the best ways to engage your potential customers in a conversation. With conversational commerce, e-commerce site owners will understand more about their target audience's preferences. If you have any discounts or offers on your website, e-commerce chatbots will alert your customers, which improves their experience.
Conversational e-commerce bots will also provide relevant answers to customers' questions. Your target audience will not leave the website if an e-commerce AI chatbot provides personalized service and resolves their issues.
Which is the Best Chatbot for E-commerce?
Before implementing an e-commerce chatbot on your website, you should analyze its features. A code-free chatbot platform is the best choice to implement on your website since an e-commerce business owner need not worry about coding skills.
The pricing plans are a significant factor to select the best e-commerce chatbots. If you are a small business owner, you should select a plan that is affordable for your business.
The best e-commerce chatbot should integrate with multiple platforms, for instance, Facebook Messenger integration will help e-commerce business owners to reach more audiences.
Check out the best e-commerce chatbot comparison in our latest article.
AI and Machine Learning in E-Commerce Chatbots
AI and Machine Learning in e-commerce chatbots will help you understand the complex questions of your customers. If you are choosing a rule-based chatbot or a flow chatbot, the bots will only answer common questions.
On the other hand, AI and Machine Learning technology behind e-commerce chatbots will help in decision-making and enhance the customer journey on your website. Natural Language Processing technology in AI chatbots will help bots understand the natural conversation of a customer.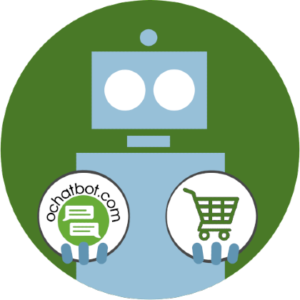 True AI to engage shoppers in conversational eCommerce. Create happy customers while growing your business!
5% to 35% Increase in AOV*

20% to 40% Increase in Revenue*

25% to 45% Reduction in Support Tickets
WE GUARANTEE RESULTS!
*When shoppers engage with Ochatbot®
E-Commerce Integrations
An e-commerce chatbot should integrate into all e-commerce platforms. If a customer migrates to another e-commerce platform, the chatbot platform should integrate easily. It is always wise to choose an AI chatbot that integrates with two or three e-commerce platforms. If your AI chatbot is not limited to certain platforms, then it is an added advantage for e-commerce business owners.
Conversational E-commerce Bots Benefits
E-commerce chatbots on a website will encourage customers to complete a purchase through various marketing strategies. Many e-commerce websites can also reduce support tickets cost by implementing a conversational AI on the website.
It's best to understand the significant benefits of AI chatbots on and e-commerce websites.
Reduce Tasks for E-commerce Site Owners
An AI chatbot will handle multiple tasks through the chat window. If a customer wants to view related products, e-commerce chatbots will provide relevant recommendations and increase sales.
Ochatbot helps customers search product databases through keywords, SKUs, and tags. If your customers want to add products to their cart, they can easily add products without leaving the chat window. E-commerce chatbots will also help customers track their product and order status after completing the purchase.
Online business owners don't have to worry about collecting feedback from customers. Efficient e-commerce will collect feedback from customers and help online business owners understand customers' problems.
Multiple Platform Support
An E-commerce chatbot will not only support your customer on one platform. Chatbots with omnichannel and e-commerce platform support will help you find more audiences from different channels.
Social media integration will create brand awareness and boost your sales organically. Chatbot integration in popular e-commerce platforms such as Shopify, BigCommerce, WooCommerce, etc is an added advantage for e-commerce site owners to migrate to different platforms.
Engages Customer At the Right Time
An e-commerce chatbot should engage your customer at right time during their sales journey. Page targeting strategy with e-commerce chatbots will help you initiate a conversation with customers using various triggers.
For instance, if your customers navigate through the product pages, your chatbot will recommend new arrivals with the conversation such as 'Are you looking for this product?'. Engaging your website visitors at the right time in their sales journey will help you increase your sales organically.
Reduced Abandoned Carts
Abandoned carts are one of the common problems that every e-commerce owner faces. If your website visitors receive no response on your website, they might leave your website.
E-commerce chatbots are available on your website 24/7. Your website visitors will receive answers to their questions instantly. With e-commerce chatbots, online business owners will reduce the abandoned cart rate exponentially. E-commerce chatbots will remind customers about their carts when they add products and prompt them toward the checkout.
Personalized Conversations
Personalized conversations are one of the effective marketing strategies to captivate your target audience.
An e-commerce store owner should understand their customers' preferences and backgrounds to personalize the conversation. The authentic conversation with customers will make your brand unique and help your marketing message reach more audiences.
Overcoming Sales Objections
When a shopper has a question that they can't find the answer to on static website pages themselves they are more likely to not proceed with a purchase. A bot will answer their question quickly which builds more trust that they are making the right decision in purchasing.
Instant Support and Availability
Many popular e-commerce companies use AI chatbots on their websites for instant customer support and 24/7 availability, so your customers won't wait for their answers.
Since AI chatbots remember past conversations, they will answer common questions instantly. Regarding availability, chatbots are better than live chat agents, especially for customers from different time zones.
CRM(Customer Relationship Management) Integration
Chatbots that integrate with customer relationship management systems will send customer support tickets straight into CRM systems.
Online business owners don't have to manually enter the data since chatbots with CRM integration will send an email list to the CRM system in real-time. When choosing an e-commerce chatbot on your website, make sure to select the CRM-integrated chatbots to enhance e-commerce functionality.
Reports and Analytics
When it comes to reports and analytics, Ochatbot stands out from other e-commerce bots. Ochatbot efficiently tracks conversions, revenue, and order status requests to provide more business insights to customers.
The reports such as fallback reports, page engagement reports, and user response reports will be more beneficial for the e-commerce site owners. E-commerce businesses flourish by boosting their revenue with the proper reports and analytics.
Connects to Human Agent
At times, online shoppers will look forward to talking with a human agent. An e-commerce chatbot should know the right time to connect with a live chat agent.
E-commerce chatbots should not make customers wait on their website. If chatbots don't have answers to customers' questions, they should connect them to a live chat agent.
Chatbots without AI technology will provide the same answers to customers without redirecting them to a live chat agent which might exasperate your customers. Connecting to a live chat system is the best way to provide seamless customer support for your website visitors.
Final Thoughts
Conversational e-commerce is proving personalized experience for online shoppers. Many e-commerce companies are trying hard to be unique with different strategies. Nevertheless, improving customer service is always the best way to boost revenue and create brand awareness.
Now, AI chatbots for e-commerce help you create a unique identity for your brand. All you must do is, analyze basic features and choose the e-commerce chatbot that will improve the functionality of your store.
Frequently Asked Questions
What are the best chatbots for e-commerce?
Ochatbot, Tidio, and Drift are the three best chatbots for your e-commerce business.
What is NLP in the chatbot?
Natural language processing technology in chatbots will help chatbots understand human language and answer the questions in real-time.
Does it cost too much to develop a chatbot?
The cost of AI chatbots depends on the development and integration processes. Nevertheless, AI chatbots are cost-efficient since it does several other tasks for e-commerce business owners.

Latest posts by Greg Ahern
(see all)