Do you want to develop a customer experience strategy for your e-commerce store? Enhancing customer experience is vital in developing a loyal customer base for your business. If you are an e-commerce store owner, then you should develop a CX strategy to increase customer satisfaction in your online store.
A customer support team will devise multiple strategies to meet customer expectations successfully. However, a group of human agents cannot handle multiple support requests from website visitors. This is the reason why your e-commerce website needs an AI chatbot.
AI chatbots play a vital role in increasing customer loyalty to an e-commerce store. This blog post sees how to devise an effective customer experience strategy for your e-commerce website.
Jump to the Content
Clear Customer Experience Vision
What is Digital CX?
Digital customer experience is the total interactions of your customers through all social platforms. This CX is developing your business goals and reaching them by understanding the perspective of your customers.
CX involves engaging customers in a conversation and understanding their preferences. Many online business owners engage with customers from various social platforms. The central focus of an e-commerce business owner is the target audience and their interactions with your brand.
What is the Main Goal of Digital Customer Experience Strategy?
The main goal of a digital customer experience strategy is to analyze the personas of your audience. An online business owner will get a common pattern in the characteristics of customers.
It is easy to enhance a customer's journey by analyzing common patterns and providing a personalized customer experience. Customer personas differ greatly, but there is a common point where your customers meet. This is where an online business owner should focus on their customer journey map.
What is a Successful Digital Customer Experience Strategy?
A successful customer experience strategy is turning more casual website visitors into potential customers. If a customer is staying loyal to a brand, there is a lesser chance of them switching to another brand. A successful customer experience strategy depends on the experience of customers on an online website.
How does an online business owner know whether the customers are satisfied with your service? This is why most online business owners collect customer feedback. If a customer has a poor experience in your online store, they will immediately switch to another brand. Personalized service in your online store will improve customer satisfaction.
A successful CX strategy should start by collecting customer feedback, analyzing any mistakes, and providing personalized service for customers around their preferences.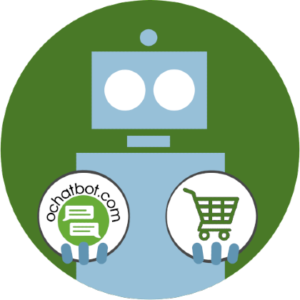 True AI to engage shoppers in conversational eCommerce. Create happy customers while growing your business!
5% to 35% Increase in AOV*

20% to 40% Increase in Revenue*

25% to 45% Reduction in Support Tickets
WE GUARANTEE RESULTS!
*When shoppers engage with Ochatbot®
How to Boost Customer Satisfaction in an Online Store?
Customers need immediate attention to their issues. If an online shopper is asking about your products or having issues with service, then online business owners should respond immediately.
Recent research implies that nearly 61% of customers will switch from one brand to another if they have a poor customer experience once. Hence, immediate assistance will boost customer satisfaction in an online store. However, do you think it is possible to answer the questions of multiple customers? A human agent can handle complex questions, but they cannot handle multiple customers. Automated responses will help online business owners boost customer satisfaction.
Customer Experience Management – Why It Is Significant?
Customer experience strategy (CMX) will help you understand the preferences of your customer base. An online business should understand its customers' desired products to devise strategies around them. One of the main objectives of customer experience management is to reduce website abandonment and create a loyal customer base.
Customer experience management is significant to increase customer lifetime value and achieve business goals instantly. The e-commerce industry is extremely competitive, so an online business owner should improve customer interactions to reduce the customer churn rate. A unique approach to customer service will increase customer satisfaction scores on an e-commerce website. Many online business owners also generate share-worthy content on their websites to captivate customers. 
What is an AI Chatbot?
AI chatbots are artificial intelligence-powered chatbots. Artificial intelligence-powered chatbots have pre-determined scenarios to converse with customers, whereas rule-based chatbots use automated responses that might exasperate your customer base. 
However, an AI-powered chatbot converses like a human agent and their AI induces decision-making skills to deliver a great customer experience to online shoppers. AI chatbots will reduce multiple tasks of customer service teams and enhance the customer journey.
AI Chatbots – Measuring Customer Experience
Traditionally, an online business provides forms for the customers to record their opinion about products and services. AI chatbots outpace traditional feedback collection forms and gather customer feedback in an automated way.
Measuring customer experience through an AI chatbot is flexible and easy to develop your online business. Chatbot analytics help online business owners understand both negative and positive customer experiences.
Role of AI Chatbots to Achieve the Goals in Customer Experience Strategy
Clear Customer Experience Vision
An online business owner will get a clear customer experience vision through AI chatbots as they provide customer feedback through conversational forms.
Hence, an online business owner will get a clear CX vision and realize where they went wrong and where they hit the goals. This information is vital to the success and growth of your business.
Develop Customer Interactions
Popular virtual assistants such as Alexa and Siri captivate customers through conversations. Humanized conversational AI will interact with customers and respond to their questions instantly.
AI chatbots pop up asking "How can I help you?" when customers navigate through your website. Customers can ask them about the products and services that they want from your business. AI technology behind chatbots will provide answers immediately and help them choose relevant products.
Related: Chatbot Scripts: How do AI Chatbots Engage Properly?
Engage in Conversations
If an online shopper gets immediate answers on an online website, they will engage in conversations. AI chatbots engage customers through various conversational elements such as videos and images.
AI chatbots also engage customers by recommending them relevant products and directing customers to blog posts. Upsell and cross-sell strategies from an AI chatbot will help online business owners sell their products effortlessly.
Gain Brand Equity
Online business owners can have the best products on their websites but, customer loyalty and brand awareness will help them increase their sales. Brand equity is developing a quality of service and products through the perception of online shoppers.
If your brand has a decent reputation, you can sell products without devising multiple strategies. Humanized chatbots in online stores will engage with customers and enhance their purchase process. Hence, gaining brand equity is not a challenging task for online business owners with artificial intelligence-powered chatbots.
Pre-determined Scenario
An AI chatbot will determine a purchasing scenario on e-commerce websites and there are many instances where an online shopper will leave the website without purchasing products.
AI chatbots converse with customers and understand their pain points. Through the conversation, bots can also analyze patterns. When an AI chatbot converses with a customer, it will hold the interactions in many scenarios. Predetermined scenarios will help online business owners handle complex conversations and encourage shoppers to complete a purchase.
Customer Behavior
At a certain point of time in the conversation, your customers will purchase products. When this pattern is similar to most customers, online business owners will record them. Hence, online business owners know where a customer may leave the website or purchase products.
Analyzing customer behavior is necessary to develop your business around them. A customer service team can assist online shoppers and respond to their questions.
However, they can't record previous conversation history. This is where AI chatbots come into the picture and change the e-commerce game. Chatbots with AI technology behind them will have previous conversation history and predict user intent in the conversation.
Competitive Advantage
Implementing a chatbot on your website is a competitive advantage for e-commerce store owners to help your online website will stand out and look more unique to the customers.
Not all your competitors assist their customers with chatbots. If you have a chatbot on your website, your customer service will create a unique impact. For instance, humanized chatbots such as Alexa and Siri captivate customers greatly. Ultimately, your target audience will also identify your brand with your humanized chatbot. Chatbots are also one of the great ways to gain a competitive advantage and stand out from your competitors.
Customer Satisfaction Score
E-commerce store owners can measure their customers' satisfaction with various factors. For instance, if your potential customer is happy with the assistance you provide on your website, it can boost your customer satisfaction score.
Chatbots determine customer satisfaction scores through sentiment analysis technology. With sentiment analysis technology, chatbots will record customers' opinions about your products. In this way, an online business owner can determine where your customer received satisfaction with your products.
The reasons can vary like purchase process, products, quality of service and interactions, etc. If your customer satisfaction score is low, you can identify where you lack and make improvements accordingly.
Create Buyer Personas
An AI chatbot can create user intent by determining scenarios with previous conversations. AI chatbots also use global intents to jump from one conversation to another.
Creating buyer personas and user intent is one of the time-consuming tasks for online business owners. However, buyer personas will help you boost business growth and brand loyalty because they will identify your target audience. An AI chatbot creates buyer personas with previous conversation history.
Using AI chatbots to identify buyer persona will not make you waste time in targeting everyone. Artificial intelligence-powered chatbots will reduce various time-consuming research while creating buyer personas.
Bottom Line
A customer experience strategy is essential to develop a customer-centric business and increase sales. AI chatbots are one of the easiest ways to gain more customers and engage them in an effective conversation.
The benefits of implementing a chatbot on your website are more apparent than ever, so researching the functionalities of the best chatbot platforms to provide a positive experience to your customers is imperative for your business.
Latest Posts
Role of AI Chatbots in Online Marketing
Chatbot Vs. Virtual Assistant: An Ongoing Battle
6 Ways to Gather Feedback With AI chatbots: Chatbot Feedback
What is HITL (Human-in-the-Loop) in Chatbots?
6 Strategies: Conversational Chatbots Transform Sales Funnel

Frequently Asked Questions
Why is customer perception significant for business growth?
An e-commerce site owner should know what their customers think about the products. Customer perception will help online business owners rectify mistakes and enhance positives in a buyer's journey.
What are the examples of customer experience strategy?
Digital personalization is one of the best examples to develop a customer experience strategy. A personalized service will help many online business owners increase sales.
What are the two important parts of customer service?
Availability and personalization are the two important parts of customer service.

Latest posts by Greg Ahern
(see all)