Conversational chatbots play a vital role in transforming the market funnel. An online business owner can get traffic and increase conversion rates with content and website optimization.
It is not necessary that an online website will enhance customer satisfaction if there is marketable content and beneficial products. An e-commerce website should engage its website visitors in the conversation to help the target audience learn more about its brand. AI-powered chatbots help online business owners develop the conversational flow in e-commerce stores. This blog post focuses on the benefits of conventional chatbots and how they are transforming the marketing funnel.
Overview of the Content
Natural Language Processing Capabilities
Conversational AI Solutions in the E-commerce Industry
Analyzing Customer Pain Points
What is a Marketing Funnel?
E-commerce store owners devise a marketing funnel to enhance customer experience. A market funnel formulates the customer journey from understanding your brand to purchasing products.
A marketing funnel will help online business owners captivate their target audience through the conversation. The next step in the marketing funnel is creating brand awareness and analyzing customers' pain points. The final step in the marketing funnel is to make website visitors purchase their desired products. Online business owners use various marketing strategies to bring customers to the final step in the marketing funnel.
What is Conversational AI?
Conversational AI technology in an e-commerce store has artificial intelligence technology to converse with customers. With AI and machine learning technology, conversational AI replicates human agents and the conversation is natural without sounding mechanical.
If you are an e-commerce store owner, you must already know about chatbots. However,, it is important to know the difference between chatbots and conversational AI. There are two types of chatbots on the website. A rule-based chatbot without AI technology doesn't converse with customers like a real-life agent. Rule-based chatbots or flow bots are outdated in the e-commerce industry and conversational AI is changing the game and outpacing live chat and bots without artificial intelligence.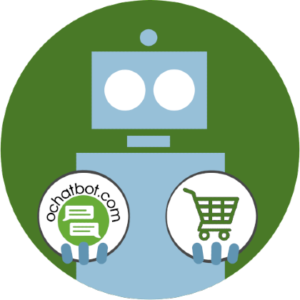 True AI to engage shoppers in conversational eCommerce. Create happy customers while growing your business!
5% to 35% Increase in AOV*

20% to 40% Increase in Revenue*

25% to 45% Reduction in Support Tickets
WE GUARANTEE RESULTS!
*When shoppers engage with Ochatbot®
Natural Language Processing Capabilities
Natural language processing, (NLP) technology help chatbots develop a conversational flow and replicate human conversations.
Conversational AI application is more effective with natural language processing technology. Not all chatbots understand human conversations like AI chatbots. Some basic chatbots like rule-based chatbots can only answer predefined questions. Natural language processing capabilities will help online business owners understand customers' needs and make chatbots engage in natural conversation.
Conversational AI Solutions in the E-commerce Industry
Conversational AI is transforming the conventional customer experience in an online store. A live chat agent cannot handle conversations of multiple customers. But, a conversational AI does that seamlessly. Alexa and Siri are the best conversational AI solutions that witness success in conversing with customers.
Ochatbot, Tidio, Drift, Chatfuel, etc. are conversational AI chatbots that understand human language through natural language understanding and drive sales on e-commerce websites. With natural language processing, these conversational AI chatbots can analyze textual messages and provide customer support effortlessly.
How Conversational AI Chatbots are Transforming Marketing Funnel – 6 Strategies
It is important to see how chatbots formulate strategies and encourage customers to reach the final step in the sales funnel.
1. Engaging Customers
Engaging customers in a conversation is not a challenging task. However, if there are so many casual website visitors on your website, then you should try to build a conversation with them. Conversational AI platforms build chatbots for e-commerce websites that will capture the attention of website visitors through conversations.
A conversational AI will pop up and welcome website visitors like human agents. Conversational chatbots' flow will not encourage customers to buy products in the first step as the initial conversation will help them understand more about the brand. In the conversational flow, chatbots will learn customers' preferences.
2. Creating Product Awareness
A website visitor should gain trust in your brand to make the purchase. A chatbot conversation with conversational elements like video and images will help your customers understand your service.
Conversational chatbots don't induce product awareness in a conversation. Instead, the conversation flows naturally with automated responses. Conversational AI applications create product awareness by understanding the pain points of your website visitors.
3. Analyzing Customer Pain Points
Every online business owner should know customers' pain points and sell them relevant products. A chatbot will help online business owners understand the pain points of customers.
If a customer has persisting issues with your product or service, an online business owner should resolve them. At times, the non-availability of a customer service team is one of the common pain points in an online store, and a chatbot will resolve the non-availability issue and answer customers' questions instantly without making them wait. If a customer has issues with products, they can also send their feedback in a conversational chatbot survey.
4. Desired Products
The fourth step of the sales funnel is understanding what the customers desire. Chatbots will converse with customers and send questions such as "What are you looking for?" to understand their preferences.
Understanding user intent is necessary to recommend products. When an online business understands desired products on a website, it will benefit them in the long term. A similar pattern in desired products will help online business owners in product marketing. Usually, a human agent in an e-commerce store will help online business owners collect patterns in desirable products. Conversational chatbots do that task effortlessly and help in the sales process.
5. Recommend Products
A conversational chatbot knows your customers' desired products. The next step is recommending products to the customers. Conversational AI chatbots use upselling and cross-selling strategies to recommend products.
When your customers cannot find their desired products on the website, there is a chance of leaving the website without purchasing products and chatbots recommend relevant products if customers cannot find their desired products and reduce the risk of abandoning their cart.
6. Take Action
The final step is encouraging your website visitors to make purchases on your website. Your chatbots recommend relevant products to your customers and the next step is making their purchase process easy.
A customer can purchase products from the chat window without leaving the website. A conversational chatbot makes customers add the products to the cart and notify them during the checkout process. Eventually, your customers will purchase products on your website and leave their feedback in the chat window. Feedback through chatbots is also an easy process since there are no traditional forms for collecting customers' opinions.
Bottom Line
An AI chatbot replicates a human representative and handles customers' questions with predictive intelligence. A conversational chatbot's role in the marketing funnel is extensive and beneficial for e-commerce industry owners.
This article looked over the customer support solutions of a conversational AI chatbot. Why should you devise time-consuming strategies to captivate your customers, if you can add a conversational chatbot and engage them in a better way? Click here to add the best conversational chatbot for your e-commerce website.
Latest Posts
Frequently Asked Questions
1. Can chatbots collect customer feedback?
Yes, chatbots can collect customer feedback in a conversational manner. Conversational forms are more effective than traditional survey forms.
2. What is automatic speech recognition in ai chatbots?
Voice chatbots are the latest development/trend in the chatbot industry. Voice chatbots can recognize speech and understand users' needs with advanced technologies.
3. What is the difference between basic chatbots and conversational chatbots?
The main difference between basic chatbots and conversational chatbots is artificial intelligence technology. Ai and machine learning technology will streamline conversation and replicate the natural conversations of human agents.
4. Is Alexa conversational ai?
Alexa is an advanced conversational ai chatbot that recognizes human conversation through speech.

Latest posts by Greg Ahern
(see all)