Are you an e-commerce site owner? Do you wonder how to formulate chatbot scripts for your customers? This article focuses on the different ways to write chatbot scripts for your target audience.
Jump to the Content
What Your Chatbots Shouldn't Say?
Think from the User's Perspective
Enhance Conversational Ability
What is a Chatbot Script?
Good customer support is significant to enhancing the brand awareness and sales of your e-commerce website. Many online business owners use artificial intelligence (AI) chatbots to converse with their target audience naturally.
AI chatbots converse like humans and excel in natural-feeling conversations as opposed to rule-based chatbots. Chatbot scripts are dialogues in conversational language for your target audience.
Online business owners can think from the perspective of the target audience to answer commonly asked questions about their business. If the conversations are too mechanical, there is a chance of customers leaving the website, so the human touch in writing chatbot scripts engages customers more effectively.
How do Chatbots Enhance Brand Loyalty?
If your customer support team is active and resolves user requests immediately, then you will enhance customer satisfaction. AI chatbots are available 24/7 and provide relevant answers to customers instantly.
Even if your customers ask complex questions, chatbots will reply with conversational messages. Good communication and customer support in an e-commerce store will create a loyal customer base. Your potential customers will know more about your products and service with conversational chat scripts.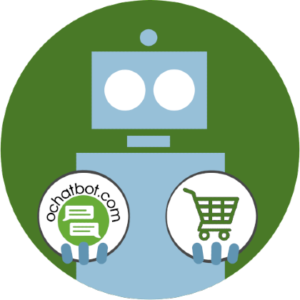 True AI to engage shoppers in conversational eCommerce. Create happy customers while growing your business!
5% to 35% Increase in AOV*

20% to 40% Increase in Revenue*

25% to 45% Reduction in Support Tickets
WE GUARANTEE RESULTS!
*When shoppers engage with Ochatbot®
What is a Good Chatbot Script?
A good chatbot script should answer user questions immediately without any delay. Rule-based chatbots will only answer the frequently asked questions on an e-commerce website. If your chatbot response is irrelevant and mechanical, your website visitors may abandon the website immediately.
Scripts should have an inviting welcome message, so the chatbot's greetings should feel more natural. It's vital for the chatbot script to have a personal touch and brand voice in it. For instance, if a customer is complaining about a product, chatbots should respond empathetically. There are seven chatbot script ideas to engage your AI chatbot properly that you must keep in consideration.
7 Chatbot Script Ideas – Create an Engaging Chatbot for E-commerce
1. What Shouldn't Your Chatbots Say?
Natural conversation and relevant responses will enhance the user experience of your e-commerce site. Before looking into the things that your chatbot should say to the customers, it's best to know what your chatbots should not tell your website visitors.
Machine learning in AI chatbots without any human assistance might provide a rude response to customers. Many chatbots can offer inappropriate and offensive responses if there is no human intervention. While formulating a chatbot script, make sure you define the questions properly with the UX writer and content designer. Human in-the-loop technology will also help many e-commerce owners in training, tuning, and testing AI.
2. Think From a User Perspective
An e-commerce business owner should know the frequently asked questions of their target audience. Competitor analysis and in-depth analysis of the niche will help you identify your target audience's questions.
When you think from the perspective of your target audience, you may write a chatbot script that resolves your website visitors' questions and it is not a challenging task if an e-commerce site owner understands their potential customers.
3. Create a Scenario
A chatbot should not only resolve the commonly asked questions if your customer faces any problem on the website, but chatbots should also solve them immediately. You must create different scenarios in the chatbot conversation to solve complex problems.
If a customer is facing problems with your service, the chatbot conversation should be empathetic. For instance, chatbots can respond as 'We are sorry that you experienced these problems". Identifying pain points is one of the best ways to create scenarios and write scripts. Online business owners should take user sentiment into consideration while writing chatbot scripts. Ochatbot creates new intents and questions by duplicating the other intents.
When your customers ask different questions, Ochatbot jump from one conversation to another using global intents.
4. Focus on Your Bot Persona
Bot persona is another effective way to make your chatbots more effective and engaging. If your chatbots have a unique name and personality, your customers will feel more comfortable like they are talking to a real person.
Many e-commerce site owners curate bot scripts by providing a human name to the chatbots. For instance, chatbots can introduce themselves as "Hi, I am (name), how can I help you today?" and then in other conversations, the bot can add some humor surrounding it being a chatbot. Chatbot messages like this will make your conversation more natural and provide the human touch your customers appreciate.
5. Set Your Business Goals
What are your business goals? If a chatbot converses with shoppers without any business goals baked into the script you are less likely to convert your shoppers into customers. AI chatbots need to speak to shoppers with business objectives as the predominant factor in scripts.
For instance, if your website visitors cannot find their desired products on the website, AI chatbots can recommend relevant products. Chatbots can also talk about the promo codes and latest offers on your website. Many AI chatbots convert casual website visitors into buyers by engaging them in a conversation and selling products through upselling and cross-selling. When you define your business goals successfully, you will increase the conversion rate in your e-commerce store with AI chatbots.
6. Enhance Conversational Ability
Chatbots come in two types: Rule-based chatbots and AI-based chatbots. Rule-based chatbots present options to customers and make them choose from a limited set. With rule-based chatbots, e-commerce site owners cannot answer every question their customers have.
If you want to enhance the conversational ability of a chatbot, then it is wise to choose the best chatbot platforms. An e-commerce site owner should check the features of every chatbot platform to choose the best one for their needs. Choosing the AI chatbot platform will reduce multiple tasks of an online business owner and enhance customer experience exponentially.
Read More: Rule Based Chatbots vs AI Chatbots: Which is the Best for E-commerce?
7. Sentiment Analysis
It is significant to understand users' problems in an empathetic way. Natural language processing and machine learning in sentiment analysis will help chatbots understand the emotive language of a website visitor.
Sentiment analysis in chatbots will help e-commerce site owners to understand customers' feedback about products. Online business owners will easily understand their customers' preferences through sentiment analysis. A real conversation through a chatbot's script creates a loyal customer base for an e-commerce site.
Frequently Asked Questions
What are the two types of chatbots?
Rule-based chatbots and AI chatbots are the two prominent types of chatbots.
How can a chatbot help your online business?
A salesperson in a physical store will help customers by resolving their questions about products and services. Similarly, the AI chatbot acts as a sales rep, greets customers, and solves their problems.
How does an AI chatbot generate leads?
Getting the lead information, scheduling appointments, guiding customers, and qualifying them are the four significant processes in lead generation. With LeadBot, it is quick and easy to generate leads for websites.
What is a Facebook Messenger chatbot?
Chatbots that integrate with social channels will help e-commerce site owners find their target audience effectively. AI chatbots like Ochatbot integrate on Facebook Messenger.
Final Thoughts
Chatbots are intriguing many online shoppers to develop conversations. Chatbots with Artificial Intelligence technology are humanized bots that enhance customer service on an e-commerce site.
In this article, we have looked into the 7 chatbot script ideas to engage with your users properly. Choose the best strategies and create your loyal customer base with AI-powered chatbots!
Check Out Our Latest Posts!

Latest posts by Greg Ahern
(see all)