Are you looking for an Enterprise AI chatbot solution for your eCommerce store to manage and aid processes that occur in your enterprise? 
AI chatbots have revolutionized almost every sector and the concept of conversational commerce has made sales and conversions as easy as a breeze. Research by Gartner shows that incorporating an AI chatbot into your business model increases your operational efficiency by 25%. This could save thousands of hours, reduce errors and guarantee a better customer experience. 
In an enterprise consisting of multiple domains and hundreds of processes, it'd be hard to manage, streamline and optimize them. In such cases, introducing an AI chatbot into your enterprise workflows will help both the business and customers in a more satisfactory way.
In this guide, let us see some key features of an enterprise AI chatbot solution and the benefits it offers for your eCommerce business. 
What is an Enterprise AI Chatbot?
Before we see the benefits that AI chatbots offer for your eCommerce store, let us take a quick look at what enterprise AI chatbots are. 
Usually, when we hear the word "chatbot", we think of a virtual assistant that helps customers by facilitating their buying journey and answering questions. An enterprise chatbot is also similar to a conversational AI chatbot. In addition to focusing on customers or external users, an enterprise chatbot supports employees and stakeholders of your company by solving problems at an enterprise level.
To define it, an enterprise AI chatbot is a virtual assistant within a business application that can facilitate customer and internal communication by answering queries, guiding them in case of mishaps, and supporting other services. To make the most of the enterprise chatbot, they can be tailored to certain common or most-used use cases.
When it comes to an eCommerce enterprise, there will be several processes involved from aligning goals and refining marketing strategy to identifying customers and creating a service plan.
Some additional areas where Enterprise chatbots can help employees, stakeholders, and customers are:
Enterprise chatbots can assist employees or customers with certain procedures and trouble-shooting mechanisms, rather than awaiting the need for a support person. 

They can be made to employ a variety of tools and applications to create fully functioning chatbots that focus and deliver results on their particular domain. 

These chatbots can assist the team, stakeholders, or management with certain data, figures, stats, and details of employees or the organization when needed.

Helps create a better employee experience by keeping them informed about the events happening inside the company.

Keep track of inventory and notify the company when products go out of stock and also notify the customers awaiting to buy the product once the products are back in stock.
Key Features of an Enterprise AI Chabot
Enterprise AI chatbots will have to focus on a variety of aspects and handle different use cases from aiding customers with their queries to supporting employees. However, enterprise chatbots need not function on cutting-edge technology with thousands of features to offer. There are some key features that make a chatbot qualified for an enterprise. 
Some of these features are
Faster and More Relevant Responses
Chatbots in an enterprise work on multiple tasks under different domains involving a huge amount of data. With so much data, the response time and accuracy might take a hit, leaving the customer and employee dissatisfied. To overcome this, enterprise chatbots are designed to be faster and provide more relevant responses to user queries compared to common conversational AI chatbots.
 
Handle Multiple User Requests 
Enterprise chatbots can handle and resolve queries better than normal chatbots. They will also be able to handle queries from customers or employees over multiple domains. Using Artificial Intelligence (AI) techniques and with the data acquired, these chatbots can learn to handle multiple requests over time with better accuracy and efficiency than traditional chatbots. 
Multilingual Conversations
An enterprise involves employees and customers from various parts of the world. An enterprise chatbot can comprehend user queries and converse with the users in their preferred language.
Ability to Integrate With Multiple Tools
Since enterprise chatbots will be working on a massive scale, they'd need additional software and third-party programs to facilitate individual processes. An enterprise chatbot can integrate with multiple tools and applications and keep track of the data over individual tools and the data can be retrieved by any internal staff for marketing and analysis purposes.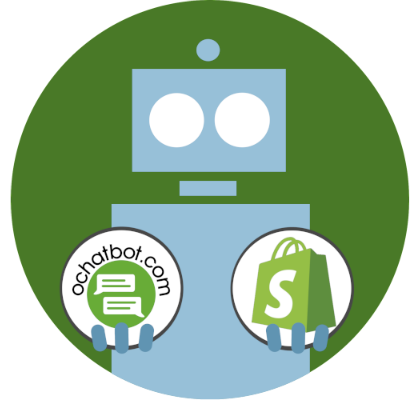 True AI to engage shoppers in conversational eCommerce. Create happy customers while growing your business!
5% to 35% Increase in AOV*

20% to 40% Increase in Revenue*

25% to 45% Reduction in Support Tickets
WE GUARANTEE RESULTS!
*When shoppers engage with Ochatbot®
Benefits of Using an Enterprise AI Chatbot Solution for eCommerce

There are a variety of benefits a chatbot can offer to your eCommerce store on an enterprise level. Using enterprise AI chatbots, you can build better customer service to drive sales and traffic and also maintain better employee relationships by making their queries easier.
There are other important benefits that an enterprise AI chatbot can offer. Some of them are:

Cost Reductions
According to a study conducted by Chatbots Magazine, it is estimated that utilizing a chatbot reduces the overall operational cost by 30%. This is a huge advantage for enterprises where they can direct that cost involved in another part of the company. 
These chatbots are available all around the clock and can be accessed anywhere. Additionally, using a chatbot throughout your enterprise can reduce the cost of manual labor employed for certain simple repetitive tasks. A human agent can be deployed to solve support tickets involving more complex queries in required areas.
Facilitates Customer Engagement
Customer engagement is integral in driving sales and making conversions. Enterprise chatbots are used as a medium to simplify this part. 
Conversational AI chatbots can facilitate the customer's buying journey by answering queries and making their shopping experience more personalized. With the data from the user, the chatbot can deliver rapid and relevant contextual answers to satisfy the customer. This is made possible by incorporating Machine Learning techniques like Natural Language Processing (NLP) and Natural Language Understanding (NLU) techniques within the chatbot.
Switch to Live Chat When Needed
Most chatbots can handle certain user requests and other simple support tickets. But, in some cases, complex tickets might be involved or the user might want to talk to a live agent. In such cases, the enterprise chatbot knows when and how to transfer the case to human support so that they can deliver better solutions to the user. If not, the chatbot will create a ticket for the support person to resolve once they are available.
Better Lead Generation
Deploying AI chatbots automatically helps to qualify leads by guiding viewers through various stages of the sales funnel. 
The chatbot monitors user behavior and shows them appropriate prompts depending on where they spend their time. If a viewer is often visiting a certain product page, the chatbot can show preferences and better offers regarding that particular product. Or, if the user is switching back and forth on the pricing page, the chatbot can prompt pricing offers to drive conversions. This helps the company to segregate and qualify leads. 
Gather Customer Insights
Enterprise chatbots gather valuable insights from customers. This data can be collected by tracking customer behaviors, analyzing the customers' viewing or buying patterns, prompting certain messages to see the viewer's response, and using polls or surveys in an engaging conversational manner to know the user's perception. Using the acquired data, the chatbot can personalize the user's buying journey.
This data can also be effectively presented in the form of dashboards which can be easily ascertained by the company's employees and other stakeholders. This data can be used to review their marketing strategy and analyze their areas of strengths and weaknesses. 
Provide Multichannel Solutions
Deploying a chatbot over multiple channels has a great impact on your marketing strategy, benefitting both the customers and the company. 
The chatbot will be able to converse with the user over a variety of channels and show them preferences. Likewise, the company can keep track of user data and insights from each channel and helps them integrate it into their marketing strategy. 
Related: What is the Role of AI Chatbots in Marketing? 7 Benefits 
Frequently Asked Questions
Can chatbots be used for eCommerce stores?
Yes, Chatbots are a valuable addition to eCommerce stores. They are used to increase customer engagement and make more conversions. This aids in reducing the operational costs involved, thereby increasing profits. 
What are enterprise chatbots?

Enterprise chatbots are similar to conversational AI chatbots. They help automate tasks, streamline workflows, and solve the queries of customers and employees throughout the organization. 
What are some characteristics of an enterprise chatbot?
Enterprise chatbots are characterized by their faster, more relevant responses to user queries, their ability to converse in multiple languages, and their ability to handle multiple user requests. 
Wrapping Up
Technology continues to grow at an ever-increasing rate. Businesses and enterprises are adopting avant-garde techniques to make themselves stand out from the competition and chatbots are becoming a necessary addition among them. 
AI chatbots help scale your enterprises' growth in every possible way. From improving your customer experience to reducing the repetitive process of employees and facilitating their doubts, enterprise chatbots can be implemented across various domains and verticals of your enterprise. 

Latest posts by Greg Ahern
(see all)