Product reviews on Shopify play a vital role in building the credibility of your online store because customer reviews on the Shopify store increase website visitors and sales. Online reviews on eCommerce sites are significant in gaining the trust of customers and reviews are the best way to know what customers think about your stores and products.
Many online business owners use the Shopify product review app to add reviews on the online store. This article covers the benefits of product reviews and how it generates new website visitors for an eCommerce site
Overview of the Content
Why Adding Product Reviews on Shopify is Important?
Steps to Add Product Reviews on Shopify
5 Benefits of Adding Product Reviews on Shopify
Why Adding Product Reviews on Shopify is Important?
Product reviews are important because it generates revenue for your business without any huge investment.
Have you heard about Word of Mouth Marketing? Word of mouth marketing works well because customers believe the reviews from their friends, family, and neighbors. f you are looking for various products on an eCommerce site,  An online shopper compares product prices to other eCommerce stores.
The online shopper will also read the product reviews. Adding product reviews on Shopify stores is effective because it resembles the product recommendations from our friends and neighbors.
When an online store has good reviews for its products, it may increase conversions. Product reviews are personal recommendations from one customer to another and the average order value also increases with product reviews.
What is a Shopify Product Reviews App
A Shopify product reviews app is an effective way to encourage your customers to add reviews for your products. If you are an online business owner, you should integrate a product reviews app to send review requests to the customers because more reviews mean more revenue. 
Steps to Add Product Reviews on Shopify
Choose a product review app from the Shopify app store and add a review app to your Shopify theme.
Integrate the review app on the product pages of your Shopify store since conversions happen in the product pages of Shopify.
The product reviews app sends review requests to your customers who have already finished the purchase process.
The review app adds reviews on your Shopify and does multiple tasks (such as?) to enhance brand awareness among your customers.
If you want recommendations to choose product review apps, click here to view our list of top five Shopify product review apps.
5 Exceptional Benefits of Adding Product Reviews on Shopify
1. SEO Friendly Review Scores
While your customers are adding reviews on different platforms, it helps your store rank on the Google search results page. Google wants to see how customers feel about your store and your products and adding good reviews to your Shopify store helps in search engine optimization.
An eCommerce site owner should encourage customers to add reviews on different platforms to increase ranking on websites. Online reviews are one of the most effective strategies for boosting your SEO score on search engines.
2. Formulate Strategies for Getting Online Reviews
A recent report says that globally 89% of customers read through product reviews before completing a purchase so an online business owner should formulate various strategies to encourage customers to add reviews to their online stores. Some ideas to ask customers to write reviews for the products include:
Notify customers via email and ensure that customers finished the purchase process and received the products.
Don't send numerous reminders because it will exasperate your buyers.
Create a contest on social media channels to post photo reviews and video reviews. Photos and videos add authenticity.
 Incentivizing customers after they leave reviews. This act will encourage your customers and make them feel valued for their feedback.
3. Loyalty Points
Many eCommerce platforms offer incentives and loyalty points for customers to build good customer relationships. However, it is illegal in the United States if the reviewer does not state that it is a paid review.
When you offer loyalty points to your customers for adding reviews, you must ensure they mention that it is a paid review. Online business owners should identify their customers who bring profit to their online stores and reward their contributions.
4. Social Proof
Product reviews act as one of the strong social proof for your online store. If your customers give mostly five-star reviews for your products, it will improve the overall rating of your store and boost conversions.
ECommerce business has to set benchmarks and stand out from other online stores. Reviews act as a vital part of making your online store unique and credible. When a customer posts detailed reviews on the review section, it intrigues your website visitors to purchase your products.
5. Product Descriptions on Reviews
Happy customers are an encouragement to eCommerce site owners. Many times, when your website visitors read product descriptions on reviews, they will get to know more about your products.
When your happy customers leave reviews by describing the exceptional features of your products, this will convert your casual visitors into potential buyers and extensive Shopify product reviews stand out from other reviews in your reviews section. This shows how customers may get excited about the good quality of your products.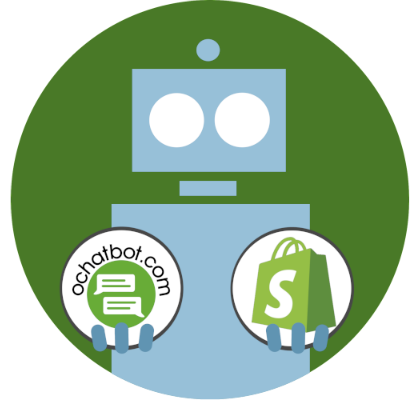 True AI to engage shoppers in conversational eCommerce. Create happy customers while growing your business!
5% to 35% Increase in AOV*

20% to 40% Increase in Revenue*

25% to 45% Reduction in Support Tickets
WE GUARANTEE RESULTS!
*When shoppers engage with Ochatbot®
How to Deal with Bad Reviews?
Oops! That definitely hurts. But, the good news is an online business owner learns more about their customers' preferences through bad reviews. It is common that some customers have a bad experience with the customer service of your store and dislike your products. Here are some steps to consider when you get a bad review:
First, don't react immediately and read the review.
If your customer's opinion sounds genuine, then reply to them with a solution.
After rectifying their issues, send gentle reminders to update reviews.
Identifying the root cause of the problem is a necessary step to resolving it.
Always remember that Shopify product reviews need not be positive every time. You won't please every customer, so it's best to learn to deal with customers' negative reviews of your products.
Closing Thoughts
Shopify is an amazing eCommerce platform that allows every eCommerce business owner to set up an online store. One of the main challenges of eCommerce site owners is to make their site look unique and credible. User-generated content, personalizing messages, and easing the navigation are a few strategies that every successful Shopify store owner follows.
If you are done and dusted with the above strategies, customer reviews will increase your conversion rate. We hope our article helped you understand the steps to add product reviews to your Shopify store and their benefits. Check our latest posts to know more about Shopify!
Latest Posts
Frequently Asked Questions
1. Can I add a Comment Section on Shopify?
Yes, Shopify store owners can add a comment section. Here are the steps as follows:
Select 'Store' from the Shopify admin and click the 'Sales Channel' section.
Click 'Blog Posts' and select the 'Manage Comments' option.
2. How to Change Product Type on the Shopify Store?
Select a product from your Shopify store and under the product organization section, you can change the standardized type of the products.
3. What is an Affiliate Product Review?
Affiliate product review articles write about your products extensively. The articles highlight both advantages and disadvantages of a product. With a well-optimized affiliated product review, an eCommerce site owner will generate leads organically to their eCommerce site.

Latest posts by Greg Ahern
(see all)