Do you want to know what Shopify bots are? As the use of eCommerce chatbots continues to rise, Shopify store owners face a challenging question: "Which Shopify bot is best for my store?"
The answer depends on what Shopify problems you are looking to solve: Need more high-touch, personalized engagement? Overwhelmed by repetitive questions?
Shoppers can't find exactly what they are looking for? Need 24/7 customer support?
Some chatbots are built to handle a combination of all these problems while others are designed to address a specific task or function.
Let's take a look at all the types of Shopify bots on the market to find the best one for your Shopify store.
What are Shopify Bots?
Shopify bots are the advanced Artificial Intelligence technology used in the Shopify store to automate tasks. If you set up an online store on the Shopify platform, you need to optimize the features and automate tasks. E-commerce site owners use different chatbots for different purposes. Here are a few tasks that a Shopify bot will do better in your Shopify store,
Lead generation
Marketing messages with Shopify chatbot
Marketing campaigns automation
Customer service bots to know the user preferences
3 Top Shopify Chatbot Apps
An online business owner should check the specifications of Shopify chatbots to add them to their eCommerce stores. A Shopify chatbot should have social media and eCommerce integration. Having a Facebook Messenger integration will help eCommerce business owners reach out to even more targeted audiences with their personalized messages.
Here are the three best Shopify Chatbot Apps with advanced technology and specifications:
Ochatbot
Ochatbot is one of the best eCommerce chatbots that help eCommerce site owners integrate their chatbots on Facebook, Shopify, WooCommerce, Magento, and BigCommerce.
This chatbot creates new intents and questions with advanced Artificial Intelligence technology.
Online shoppers will add products to the cart without leaving the chat window.
Ochatbot connects with thousands of CRM(Customer Relationship Management Systems) with Zapier Integration.
Ochatbot repeat customers buy and reduce abandoned shopping carts.
Apart from that, Ochatbot provides very powerful and in-depth analytics, reporting, and insights about your business and customer experience. Reports on your customer activities and feedback can be a great opportunity to improve your overall customer experience on your website and ultimately increase your business visibility online. Ochatbot includes two crucial features for any eCommerce business: lead generation and appointment-setting capabilities.
You can easily customize or create your lead generation settings with the help of user-intuitive menus. Or, if you prefer a readily available lead bot for your lead generation, you can take advantage of 80+ preloaded lead bots.
Another important factor for any eCommerce business would be customer service. Customers are always looking for a quick response to their queries. Ochatbot has excellent response support and has a proven track record of reducing customer support tickets from 25% to 45% and sometimes even more.
Tidio
Tidio is a combination of LiveChat and Chatbot and provides customer service on different platforms.
Customers will know the availability of products in Shopify with this chatbot.
Building the chatbots with the automated flow is complicated with Tidio. But, the communication sequences after the setup is feasible.
The widget design is suitable for every eCommerce website.
Tidio live chat can customize the live chat based on your brand, which helps you to stand among the competitors by creating a memorable customer experience. With Tidio live chat, you can track whoever visits your website, and you can reach out to them and may convert them into potential customers. You can also monitor the results with the help of deep learning AI
Gobot Chatbot
Gobot chatbot has shoppable quizzes for online shoppers and converts casual website visitors into online shoppers.
This chatbot provides personalized responses to online shoppers.
Gobot doesn't give post-purchase feedback to the Shopify merchant.
Shopify merchants will reduce support ticket costs with CRM integration.
What is a Sneaker bot?
Sneaker bots are also known as 'Shoe bots'. The main purpose of sneaker bots is to accelerate the purchase of online shoppers. If a store has a limited edition of sneakers, the sneaker bots will automate the purchase process. An online store owner will get support for auto-checkout and auto shopping.
Sneaker bots are illegal if they go against the terms and conditions of the site. The professionally-made bots with fair transactions are not illegal in the US.
The sneaker bots add items to the shopping cart.
These auto-checkout bots help online business owners and provide insights into customer behavior
3 Top Shopify Sneaker Bots
Nike Bot
Nike bot is a well-known sneaker bot that allows customers to resolve captchas. Even if you are not tech-savvy, you can add a Nike bot to your website.
Shopify merchants have to pay $499 dollars per year to install Nike bots on the website.
Online business owners can use NSB bots on any site on the Shopify platform.
The Nike bot is user-friendly and has a dark neon theme.
AIO Bot
AIO bot is a user-friendly and efficient bot that will increase the chance for online business owners on 200-plus websites.
This sneaker bot costs $325.
Supports more than 200 plus websites.
It supports 100 tasks and has auto-checkout support.
Customer support is available 24/7.
Supercop Bot
Supercop bot has many features and it is also a Shopify auto-checkout bot that provides worldwide support to the users.
Supercop bot has multiple keyword finders on the website.
The antibot measures and restocks monitor will extensively help Shopify merchants.
The add-to-cart feature is one of the effective features of this sneaker bot.
Shopify merchants can install the Supercop bot on their websites for $29.99.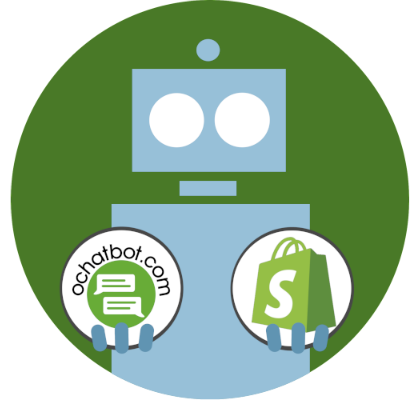 True AI to engage shoppers in conversational eCommerce. Create happy customers while growing your business!
5% to 35% Increase in AOV*

20% to 40% Increase in Revenue*

25% to 45% Reduction in Support Tickets
WE GUARANTEE RESULTS!
*When shoppers engage with Ochatbot®
5 Types of Shopify Bots to Grow Your Store
In the introduction, we have looked into the differentiation between Shopify eCommerce bots and Shopify sneaker bots. Let us now look into the five Shopify bots that boost the revenue of your eCommerce store.
1. Conversational AI Chatbot – Built for eCommerce, Always Live Sales Assistant
Conversational AI chatbots are designed to mimic a human conversation creating a more engaging experience for shoppers.
These Shopify chatbots offer shoppers a button-click journey to help guide them to the right product or information. They also possess the ability to switch topics in the middle of conversations allowing shoppers to ask questions. The questions should be about a wide range of subjects no matter where they are in a conversation.
Shopify Bot Service
Shopify business owners should use AI chatbots for recommending products to online shoppers. Shoppers can also type in the name or description of a product.
A Conversational AI chatbot searches through the product database to retrieve the product and provide a recommendation. Customer support teams see a reduction in workload due to the AI chatbot. For instance, answering the most commonly asked questions leaves more complex issues for a real agent.
Shopify Bot Features
The different types of Shopify bots have several features designed for eCommerce that help boost revenue and reduce customer support tickets.
The Abandoned Cart feature recovers abandoned carts by remembering shoppers from a previous session and presenting the items they had in their cart. When they return to the site they prompt the shopper to complete the checkout.
Average Order Value
Conversational AI chatbots also help increase Average Order Value (AOV) by prompting shoppers with Upsells and Cross-sells when shoppers add items to their cart. Customer support teams are also assisted by the Order Status feature. This feature helps customers find and track their orders by simply entering the order number into the chatbot.
SKUS
Conversational AI chatbots are very versatile so they can be applied to almost any Shopify store no matter the products sold. These Shopify bots work best for stores that have a large number of SKUs. Shoppers can ask the chatbot for recommendations or search for the product they are looking for and the chatbot can present the correct product. They also are perfect for
Shopify stores sell a product that is more complex or higher-priced products due to the high number of questions about the product. Conversational AI chatbots answer shoppers' questions instantly helping to overcome sales obstacles and leading to increased conversions.
2. Customer Support Chatbots – Knowledgeable, Available 24/7
Customer support Shopify bots have one goal and focus: supporting customers! They are jam-packed with all of the knowledge surrounding the Shopify store including all of the products available plus the store's processes and policies.
PROS
Instead of scrolling through a static FAQ page hoping to find the answer to their questions, shoppers can open the support chatbot window, type in their questions, and immediately receive an answer.
Utilizing AI, these Shopify bots listen for certain keywords or phrases and respond with the correct reply from inside their knowledge base.
These types of Shopify bots are fantastic for supporting customers after a sale. But they lack the functionality required to be an extension of a Shopify store's sales force.
Cons
Customer support chatbots are unable to allow shoppers to search for products and then add them to their cart right from the chatbot window.
They also lack revenue-boosting features such as recovering abandoned online carts, upselling or cross-selling, and others.
The chatbot answers these low-level questions immediately. But, when faced with more challenging questions the chatbot can hand the customer over to a live representative via live chat or by sending a message.
Shopify stores should use customer support chatbots when they are flooded at all times of the day with repetitive or mundane questions. These types of Shopify bots can also help guide customers through setup processes or registration processes. For instance, walking them step-by-step either inside the chatbot window or following the customer from page to page.
3. Chat – Personalized, Real-Time Connection
Live Chat directly connects a shopper or customer with a sales and/or customer support representative enabling both parties to send messages, images, and even files all in real-time.
When shoppers visit the Shopify store they can click on the Live Chat window. Shoppers get connected to a company representative within a few moments.
From there, shoppers typically lead the conversation by asking their questions or a series of questions from which the representative can respond with help or make suggestions.
Pros and Cons of Live Chat
Live chat Shopify bots are great for more personalized experiences but they do have requirements that some Shopify stores can't meet.
Firstly, live chat requires enough workforce to meet all the incoming live chat connection requests.
If there are 5, 10, or even 50 incoming live chat requests a day a single live chat operator will suffice.
When the number ticks higher, Shopify stores need to hire more support or sales reps to meet the demand which can get costly.
Not only are Shopify stores paying for the live chat service, which typically increases in price the more seats or agents that are added. But they are paying the salaries of more and more representatives.
Secondly, shoppers are becoming more impatient so connecting to a live person takes longer than a few minutes. They could decide to leave and go to a competitor's Shopify store instead.
Lastly, repetitive questions can be quickly answered with canned responses. But these responses can sometimes come off as detached or impersonal.
Company representatives must have the time to craft canned responses to the unique customer to keep the brand's personalized feeling intact.
Live chat Shopify bots are best used when brands and Shopify stores want their customers to feel connected with the brand in a more personalized way. Live chatbots help boost sales and customer retention.
User Perspective – LiveChat
Shoppers can ask various questions about products.
Pricing, return or shipping policies, and many other topics to help them decide on their purchase or receive support for their purchased product.
Company representatives can utilize this live chat opportunity. Such better engage with their customers, overcome sales obstacles, and even upsell or cross-sell products all with a highly personalized touch.
Live chat also helps with post-purchase support issues such as order status and tracking, missing items, or warranty inquiries leaving the customer with a better overall impression of the brand which encourages repeat business and recommending the product or brand to their social circles.
4. Flow Bots – Easy to Build, Simple Customer Journey
Flow bots are Shopify bots that are categorized by their decision tree branching ability. Shoppers are presented with a few button-click options that lead them down a branch of the decision tree.
Simple "Yes / No" questions can be asked or questions with multiple selections all leading down different branches of the tree. This allows Shopify stores to guide their shoppers through a controlled journey. Flobots help them find the right product or get connected to the right company representative.
Shopify stores control what products are recommended. Such as higher-priced products, high/low inventory products, best sellers, or on-sale items) plus control the messaging. This is surrounding the customer journey and even mixes in a little humor to connect with the customer in a unique and engaging way.
Easy Solution
While flow bots are an easy solution to control the shopper's journey they do have their limitations. Most flow bots have limited to no AI so they are confined in their functionality. Shoppers are unable to type in their questions and get a response from the flow bot Shopify bot.
Shoppers are also unable to search for products by typing in the product name or description. They can only find products by clicking through the branching tree to finally reach an endpoint that has a product recommendation. This can take several minutes, leaving impatient shoppers frustrated and possibly taking their business elsewhere.
How to Implement Flow bots Effectively?
Shopify stores should implement a flow bot when they are on a smaller budget. Shopify stores should have a simple Shopify bot to be launched live quickly. The shopper journey should not be complicated and should have a smaller number of branches in the decision tree.
Also, Shopify stores with a lower number of SKUs are good fits for flow bots due to the limitations of providing product recommendations. Flow bots are also great for Shopify stores that have not very complex products.
Flow bots are allowing the Shopify bot to answer a smaller set of FAQs instead of facing a large number of questions.
5. LeadBots – Quick to Set Up, Capture Leads
LeadBots are simplified Shopify chatbots that are geared towards lead generation and appointment setting. They ask several different qualifying questions. The qualifying questions are: Capture the customer's contact information, then prompt them to set an appointment via a scheduling link or specify a certain day and time.
Pros
Lead bots can take less than 10 minutes to configure and launch live using pre-built templates fairly cheaply.
There are options for building custom LeadBots. The options are where you have complete control over what qualifying questions are asked, what order they are in, and what selections are included for each question. Custom LeadBots are slightly more expensive than their template counterparts.
Cons
LeadBots are quick and cheap. But, they do have their drawbacks due to not having any Artificial Intelligence (AI) so they are limited in what they can do.
They cannot answer any Shopify shopper questions, recommend products, or point shoppers to particular pages or Shopify categories.
Their focus is to capture leads on your website and send the lead into your email inbox.
LeadBots are best used as a Shopify bot when your product needs some sort of consultation or sales call. This will determine which service or product is best for the customer.
LeadBots gain valuable insight into a customer's situation or needs by asking the right qualifying questions. Armed with this knowledge, sales representatives conduct more effective and efficient sales consultations leading to higher close rates and increased AOV.
Latest Posts
Conclusion
So far, we have looked into the best Shopify bots and their specifications. Shopify merchants should optimize their Shopify websites with an automated bot. The above Shopify bots are automated bots that operate with advanced Artificial Intelligence technology.
Owners of Shopify stores should examine their sales process to determine which form of a Shopify bot is best for them. For practically any Shopify store, conversational AI chatbots are usually the best solution.
Furthermore, when these conversational Shopify AI chatbots are combined with Live Chat. They create one of the most effective engagement solutions for overcoming sales challenges and increasing client retention and profitability. Shopify online store owners will enhance customer satisfaction by automating several tasks on their sites with Shopify bots.
Frequently Asked Questions
1. What are the best sneaker bots in 2022?
The best sneaker bots in 2022 are the Kodai Sneaker bot, Nike bot, AIO bot, Wrath Sneaker bot, and Easycop bot.
2. How to get a Shopping bot?
A shopping bot for your online stores will help online customers purchase products quickly by automating tasks. Online business owners should check the plans and prices and review the specifications before purchasing Shopping bots.
3. How do you create a Shopping bot?
Online business owners can purchase both code development and code-free bots. You can now build your own chatbot for online stores with Ochatbot's exclusive plans. Click here to build AI chatbots and increase sales for your stores.
4. What is an auto purchase bot?
The automatic purchase bot will automate the purchase process of online shoppers by adding an item to the cart with the keywords.
5. Are Shopify sneaker bots legal?
Sneaker bots are legal if they are aligning with the Shopify site's practices. Using Sneaker Shopify bots is one of the fastest ways to make the purchase fast. But an online business owner should also check whether they are violating the laws.

Latest posts by Greg Ahern
(see all)