Do you know the best AI chatbot apps that will increase the conversion rate for e-commerce stores?
Since strategies are evolving constantly in e-commerce and business fields, conversational marketing is a high priority. Many companies focus on dialogue-driven activities to engage and convert website visitors to customers.
Considering the examples for conversational marketing, chatbots are an effective way to improve your relationship between brands and customers. With all the advanced technology and methods, AI chatbots are one of the best chatbots methods for messaging applications.
This article will help you learn more about AI chatbot apps for E-commerce stores even if you don't know anything about it.
What is an AI chatbot App?
AI chatbot apps use artificial intelligence to guide your customers through the shop. It also gives a negative impression if your customers are waiting for solutions to the queries after a long time. So, to give instant support to customers, the AI chatbot plays a great role.
The increasing scope of artificial intelligence-based chatbots is due to their high flexibility. The usage of natural language processing and machine learning is an important feature of AI chatbots. These features enable chatbot apps to communicate with customers like human agents.
This software helps in improving customer satisfaction with its 24/7 availability. Due to advanced AI technologies, these apps can easily interact with customers. Chatbots answer basic questions to customer problems, which increases the user response rate, so chatbots also have a great role in saving time and money.
Since now you are aware of its importance, let's learn more about the list of AI chatbot apps or platforms for eCommerce stores.
Why do people prefer AI chatbots to other chatbots?
Rule-based Chatbots:
Other than an AI chatbot, a rule-based chatbot is another type of chatbot that shares generic information. These chatbots can easily send the website link and collect the contact details of the customers.
Rule-based chatbots work based on a decision tree navigated by button clicks. They usually don't work off keywords and terms. However, they sometimes fail to give better customer satisfaction because these chatbots are dependent on a strict structure of the decision tree and they lack advanced features.
How is an AI Chatbot different?
Rule-based chatbots remain simple and are not capable of figuring out solutions for some questions. AI chatbots use machine learning and natural language processing to recommend products and help shoppers get their questions answered.
AI chatbots mimic human agents and make customers comfortable by resolving their problems quickly. Along with these, it relies on keywords and related terms to understand customers' interests and searches allowing the bots to help customers in their tasks.
With these capabilities, it is one of the most useful tools in eCommerce that can lead a chat and other conversations with customers. These AI-powered chatbots in eCommerce can easily deliver information about the products as per needs and help eCommerce stores understand the needs of their customers.
How to choose a perfect AI Chatbot App for Ecommerce?
You must choose a chatbot according to the needs of your eCommerce store. If you want a chatbot to give instant replies to your customers, you can choose conversationally AI-powered chatbots.
Some of the basic features that you should focus on when considering an AI chatbot app are:
An AI chatbot should support multiple languages if you are in multiple markets that speak different languages.

It should have the ability to search for products, add them to the cart, and recover abandoned carts.

An efficient chatbot should be able to integrate with other tools like third-party platforms.

An AI chatbot should provide conversation templates.

An AI chatbot should make the customers comfortable with the conversations and provide satisfaction.

An AI chatbot should track performance and conversions via throughout reporting.
Best AI Chatbot Platform for E-commerce Stores
Ochatbot
Price: Basic plan: $29/month, Plus plan: $99/month, Pro plans: starting at $495/month
To get a great shopping experience, Ochatbot is one of the most effective apps for eCommerce. These code-free chatbots have the ability to recommend products, add products to the cart right from the chatbot window, remind shoppers of items left in their cart from a previous session, track the status of their order, and much more.
Ochatbot records each conversation and provides detailed reporting which allows eCommerce stores to gain insights about their shoppers, customers, and improvements needed on the site.
Ochatbot can be customized to fit your eCommerce brand and messaging. 
E-commerce stores that want to add a bit of flair can be humorous or cheeky to give their AI chatbot more personality and connect better with shoppers on a deeper level
The goal of Ocahtbot is to engage shoppers in a conversation. Through an engaging conversation, shoppers feel more at ease and connect more with your brand. This means they are more likely to purchase and recommend your brand to more people within their circle of influence. Getting their needs met and answers to their questions immediately mean overcoming sales obstacles quicker leading to more sales and revenue.
You can try the free trial of Ochatbot for 45 days which includes access to all of the revenue-boosting eCommerce features to see the results for yourself.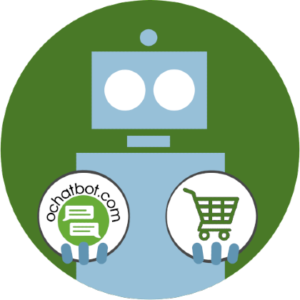 True AI to engage shoppers in conversational eCommerce. Create happy customers while growing your business!
5% to 35% Increase in AOV*

20% to 40% Increase in Revenue*

25% to 45% Reduction in Support Tickets
WE GUARANTEE RESULTS!
*When shoppers engage with Ochatbot®
Chatfuel
Price: Rs ₹895.99/ per month
If you are tired of searching chatbot for Facebook messenger, then Chatfuel is one of the most effective chatbot apps that can help out. With automation and versatility, these bots are good at answering queries from collected mail.
Chatfuel has many advanced and impressive features along with a simple interface. Some of the advanced features include personalization, keyword detections, etc. Even though Chatfuel have limited free features, it is easy-to-use software.
Botsify
Price: Basic plan- $49 /per month
Botsify is one of the efficient AI chatbot apps through which you can easily automate and optimize your customer service. This platform will allow you to generate your automated chatbots. It not only improves customer retention but also helps in gaining a high conversion rate. It supports different platforms like websites, SMS, WhatsApp, telegram, etc.
Through contextual forms, Botsify encourages the customer to give qualified leads.
Tidio
Price: Basic plan- $19 /per month
Are you in search of a chatbot platform with great flexibility? If so, Tidio is one of the all-in-one platforms that you can use as a great tool for business. It is a multifunctional platform with options for LiveChat, chatbots, email messenger, etc.
The free live chat plugins in Tidio will allow you to engage with customers. Engaging with customers will help online business owners build a customer-centric business. It also has the feature of a virtual assistant that can help you in increasing the sales and growth of your business. The automated customer support makes Tidio an effective platform for eCommerce.
ManyChat
Price: Pro- $15/ 1 month
To increase the sales and engagement of your e-commerce, Manychat can work as a solution. This chatbot application, not only supports Facebook messenger but also Instagram messenger. Through visual drag-and-drop interfaces, Manychat helps in generating many conversions.
This AI chatbot app helps in engaging customers through interactive conversation. You can easily share promotions, coupons, newsletters, etc. through SMS and emails. Along with these features, it will also provide you with free plans.
Replika
Price: $4.99/ per month
Replika is one of the most impressive AI chatbot apps based on artificial intelligence. Through a personalized chatbot, you can lead a conversation in an interactive manner. These bots are capable of giving customer support without human involvement.
With the help of machine learning, Replika stores and analyses the information. This AI chatbot will provide the customer with four different relationship statuses according to subscriptions. 'Friend', 'Lover', 'Mentor', and 'See how it goes' are the four relationship statuses in Replika. The friend is a status that is freely available on it. To switch to another status in Replika pro, you need to pay subscription fees.
It also guides the users to build a chatbot according to response suggestions. You can easily build an AI chatbot through Replika by adding your personal details. Since it is an easy-to-use software, it allows you to customize Replika's features like gender, names, etc.
Wrapping Up
Social media platforms like Facebook and Instagram have a great role in increasing visibility and increasing the sales of the business. So if these platforms have supportive chatbots, it will be helpful for customers as well as companies. 
AI chatbots can be considered as a medium between customers and eCommerce stores. Using these chatbots, you will get to know more about customer behavior and interests. So these 6 AI chatbots are best known for their features beneficial for eCommerce stores. So, considering your business and needs, you can choose the right chatbot app or platform.
Frequently Asked Questions
Why should I choose Ochatbot for the best shopping experience?
Ochatbot is an efficient chatbot software for dialogue-driven activities. It is a code-free application that is capable of generating more sales. 
Is it necessary to use AI chatbots for eCommerce?
AI chatbot apps are increasingly becoming a necessity for eCommerce due to their efficiency in converting website visitors into customers. They provide customer satisfaction by immediately answering questions and delivering important information to shoppers.
Does Ochatbot have flexible pricing plans?
Ochatbot provides three pricing plans along with a free trial for 45 days. It has a Basic plan for $29  a month and an eCommerce (Plus) plan for $109 a month. If you don't have time to build and maintain an AI chatbot yourself, Ochatbot has fully managed plans with the Pro plan starting at $495 a month.
 Latest Posts

Latest posts by Greg Ahern
(see all)