Chatbot marketing is the future of E-Commerce!
E-commerce business owners need to devise different marketing strategies to drive sales and chatbots are a great tool to consider. However, you may not know much about them, so you landed on this blog to learn more about marketing through artificial intelligence-powered chatbots.
This step-by-step guide will help you reduce the customer service team cost and engage with the target audience through chatbots.
Jump to the Content
Right Customer Base Through Conversation
Schedule Appointments and Meetings
Promotional Messages and Discounts
Chatbot Dashboard and Analytics
Available Throughout the Customer Journey
Push Notifications and Triggers
Dealing with Higher Level Customer Situations
What is a Chatbot Marketing?
Chatbot marketing is a strategic way to help website visitors learn about your products. A chatbot is software that automates repetitive tasks in e-commerce stores. Brands use chatbots to enhance customer communication and accelerate the lead generation process. Many popular brands such as Amazon use virtual assistants to communicate with customers.
A chatbot's marketing strategy will help you find your potential customers and reduce the work of customer service teams.
AI-Powered Chatbots For Digital Marketing
A digital marketing strategy is a way of promoting brands and finding the right audience. AI-powered chatbots on your landing page will pop up and greet customers like sales reps. Instead of letting customers find the desired products, conversational marketing chatbots will ask questions and understand their preferences to guide them to the right product.
Through a conversational manner, chatbots will recommend relevant products to online shoppers. Artificial intelligence technology plays a vital role in decision-making and automating the product recommendation process in an online store.
Chatbot Marketing Strategy
Chatbots will perform various manual tasks and reduce support ticket costs in online stores.
A marketing team in e-commerce websites will devise strategies to engage customers. However, chatbots are more efficient than the sales team because of AI and the machine learning (ML) technologies behind them.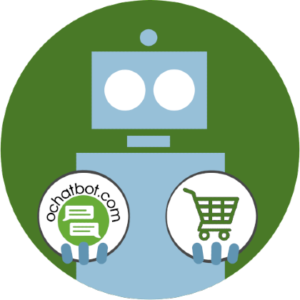 True AI to engage shoppers in conversational eCommerce. Create happy customers while growing your business!
5% to 35% Increase in AOV*

20% to 40% Increase in Revenue*

25% to 45% Reduction in Support Tickets
WE GUARANTEE RESULTS!
*When shoppers engage with Ochatbot®
Chatbot Marketing Examples
1. Shopify Chatbots
Shopify is a popular e-commerce platform that is flexible for both small and large business owners. Online store owners use chatbots for marketing and increasing sales and conversational chatbots in the Shopify store will help Shopify owners accelerate their marketing process and find their target audience.
Your never-ending sales cycle in e-commerce conversion will reduce when customers can get their product recommendations without difficulty as Shopify chatbots will greet customers and ask about their preferences. Once the customers tell their preferences to the chatbot, they will recommend the relevant products on their sites. A Shopify chatbot will sell products through up-sell and cross-sell strategies.
2. Travel Chatbots
Travel companies use AI, virtual assistants, to provide quick solutions to customers. If you think that handling multiple calls from customers and receiving them is a bone-breaking task, then you should implement AI chatbots.
Artificial intelligence-powered chatbots will handle multiple questions of travelers. Once a chatbot learns frequently asked questions, AI technology will help them understand user intent. Travel chatbots will help users book a table, find event tickets, and give them exclusive hotel services.
3. Support Assistant Chatbots
Support assistant chatbots are also known as virtual assistants, which are more advanced chatbots on online stores.
Many popular platforms such as Apple and Amazon have virtual assistants in the form of Alexa and Siri. These advanced support assistant chatbots are extremely helpful for both online shoppers and e-commerce business owners. Virtual assistants will understand customer needs through voice search and boost customer engagement.
15 Tricks to Drive Sales in eCommerce Businesses
Devising marketing strategies is not only enough to increase sales in e-commerce stores. You should find the right customer base and target them through the marketing questions.
1. Right Customer Base Through Conversation
AI chatbots are the best solution for asking questions and responding to customers' doubts immediately. When AI chatbots find the conversation pattern of your potential customers through machine learning technology, they will identify potential customers through a similar pattern in future sales.
2. Product Recommendation
Product recommendation is one of the important tasks in an e-commerce store. When a shopper visits a physical store, there is a sales rep to guide them and show relevant products, but, how do you get that assistance in e-commerce stores?
The sales team can handle customer service issues, but they cannot handle multiple tasks simultaneously or repetitive questions in a store. Chatbot marketing is the best solution to automate repetitive tasks on your e-commerce site because those with AI technology will help you handle both frequent questions about products and complex questions.
AI chatbots will understand online shoppers' preferences and identify their desired products. Chatbots use both up-sell and cross-sell strategies to sell their products. If your customers cannot find their desired products, then chatbots will recommend relevant products to increase sales. In up-sell strategies, bots will help them choose the premium products and boost your revenue.
3. Positive User Experience
A positive user experience is significant to increase customer satisfaction in e-commerce stores. Customer experience is a word-of-mouth marketing strategy for e-commerce sales. When your customers get instant assistance and answers, you will generate repeat and loyal customers.
While conversing with AI chatbots, your customers will not feel like they are talking to a robot. AI chatbots simulate human conversations and send marketing messages to customers effortlessly. Advanced bots will help online shoppers find the products through voice search. Hence, chatbot marketing will provide a positive user experience to customers and increase customer satisfaction on your e-commerce website.
4. Social Channel Integration
You can integrate AI chatbots into social media platforms such as Facebook Messenger, WhatsApp, Telegram, etc. Social media integration in AI chatbots will help you reach your target audience in the right way.
Social media integration will also help you find where your target audience is active. For instance, if your target audience is active on Facebook Messenger, you can send promotional messages through chatbots on a particular social platform. Many Facebook Messenger chatbots will also interact with customers through product quizzes and enhance customer communication. Social media integration will also help you increase the click-through rates(CTR) of your site.
5. Schedule Appointments and Meetings
AI chatbots are also one of the best ways to schedule appointments and meetings with qualified leads. Chatbots will help B2B business owners in the lead generation process. Generally, a B2B business owner will ask lead qualifying questions to leads and identify potential leads on your website.
An AI-powered chatbot will automate the process of asking lead generation questions to website visitors and qualify leads. With the AI-powered chatbot, you can increase the lead generation process and reduce sales calls to fix appointments.
6. Easing Payment Process
Online shoppers will see the product recommendations in the chat window and leave the website to pay for products.
An AI chatbot will not make customers leave the website. Instead, your customers can easily order products and pay for the products without leaving the chat window.
7. Promotional Messages and Discounts
When an online shopper is visiting your website, they expect to know the discounts and offers to go on your e-commerce store.
AI chatbots for marketing will send promotional messages to customers with the latest discounts and offers. Customers will know about promotional messages on your site and check the products with discounts. Chatbots are also beneficial for sharing coupons and gift voucher offer for products.
8. Brand Image
Humanized chatbots are one of the great ways to enhance the brand image of your e-commerce stores. Popular platforms like Amazon have a humanized virtual assistant Alexa to talk like a real person.
An interactive bot on your e-commerce website will help you enhance the customer journey. An AI chatbot is the perfect blend of artificial intelligence and a personalized touch. Chatbots interact with online shoppers and enhance engagement greatly. Personalizing conversations is one of the best ways to enhance your brand image in e-commerce stores.
9. Identify Customers' Emotions
If you are reluctant to implement a chatbot on your website, the recent (the recent what? This is empty) might be the mechanical response. But, AI-powered chatbots with sentiment analysis technology will find customers' emotions in conversation and feedback.
You need not worry about the mechanical or rude responses in a conversation if you implement an AI-powered chatbot with sentiment analysis technology. When your chatbots gather feedback conversationally, they will identify whether your online shoppers are happy or unsatisfied with your customer service.
10. Chatbot Dashboard and Analytics
Chatbot dashboard and analytics will help you understand your chatbots' performance in your e-commerce store.
When your chatbots have a high engagement rate, you can generate more revenue and increase sales. The higher your engagement rate, the more revenue you receive. You can also understand what questions are the most frequent ones from your potential customers. Chatbot dashboard and analytics will help you understand your customers more!
11. Dynamic Engagement
Chatbots are more efficient than Live Chat since answering repetitive questions is one of the most tiring tasks for human agents.
Human agents will also feel frustrated if they encounter the same questions from multiple customers. Conversely, AI chatbots will provide dynamic engagement in e-commerce stores.
12. Available Throughout the Customer Journey
Chatbots are one of the best choices for e-commerce site owners to enhance a customer's journey.
When your e-commerce website doesn't have customer support, your customers will leave the website soon. This is why you need an AI chatbot that is available 24/7. AI chatbots are available throughout your online shoppers' journey and assist them when they need them. Hence, there is no block in customer engagement.
13. Chatbots Market Your Goals
Every online business owner will have a goal to achieve in their e-commerce business. The ultimate goal for every e-commerce site owner is to make online shoppers purchase their products.
AI chatbots are efficient for marketing your goals with AI and machine learning technologies. You can add predefined responses and create marketing scripts for chatbot conversations. AI chatbots will market your goals to online shoppers and create a great user experience. Chatbots will not send many messages and spam your visitors. Instead, they will market your goals through conversation.
14. Push Notifications and Triggers
Website and cart abandonment are the major challenges that every e-commerce business owner faces. An AI chatbot will have push notifications and triggers to remind your customers about website and cart abandonment.
When online shoppers add products to their cart and leave them without purchasing, chatbots will notify and remind them about the carts. AI chatbots will reduce cart and browse abandonments on the website with notifications and triggers.
15. Dealing with Higher Level Customer Situations
What happens if your customers want to talk with a live chat agent instead of talking to a bot?
AI chatbots will deal with higher-level customer situations by connecting online shoppers to live chat agents. Human intervention is always significant in AI chatbot marketing as connecting with third-party live chat will help you deal with and solve every problem that your customers are facing.
Bottom Line
If an AI chatbot accelerates your sales process more than human agents, why not implement them on your site and increase revenue organically?
Chatbot marketing is one of the latest trends in the e-commerce industry. Most businesses use chatbots to market their brand identity and products. You will benefit greatly when you implement the best e-commerce chatbot on your site. You can also read a comparison of e-commerce chatbots here to choose the efficient chatbot for your site.
Latest Posts
9 Best Conversion Rate Optimization Tools For E-commerce
6 Strategies: Conversational Chatbots Transform Sales Funnel
8 Product Marketing Strategies For Shopify Merchants
Building a Chatbot for Sales in Shopify Store – 10 Benefits
6 Ways to Gather Feedback With AI chatbots: Chatbot Feedback
Frequently Asked Questions
What are the types of chatbots?
There are two types of chatbots: Rule-based and AI chatbots. Rule-based chatbots don't have AI technology behind them and AI chatbots automate conversations using AI and machine learning technology.
Are AI chatbots the future of marketing?
Chatbots are the latest trend to automate several manual tasks in an e-commerce store. AI chatbots are an advanced way to increase sales on your e-commerce store.
What is the role of AI chatbots in digital marketing?
AI chatbots in digital marketing automate marketing conversations and send a huge chunk of messages instantly.

Latest posts by Greg Ahern
(see all)