Do you know how to promote your products with the best marketing apps for Shopify? Shopify is a vast online platform that helps you set up your online store with various options and plans.
The Shopify platform is highly reliable and flexible, receiving help with marketing apps from the Shopify app store. Marketing apps help online business owners with marketing campaigns, search engine optimization, email templates, etc.
Marketing in the Shopify store also involves recovering orders, increasing abandoned cart recovery, adding store alerts, and implementing upsell and cross-sell strategies. This blog post looks into the features, pricing, and highlights of the best marketing apps in the Shopify app store.
11 Best Marketing Apps – Marketing Automation for Shopify Store
Online business owners should identify their target market to promote their e-commerce business on different platforms. Marketing apps in Shopify are beneficial to identify the target audience and their needs.
Sending marketing messages manually to your target audience is time-consuming. Marketing apps for Shopify will help you automate manual tasks and generate more leads for your business.
No online business owner will want to do repetitive tasks in their eCommerce business and is why you should choose the best Shopify apps for your store.
Jump to the Content
Spring Bot Marketing Automation
Rivo: Rewards, Loyalty Program
UpPromote: Affiliate & Referral
Blyp.ai Automated Analytics and Reports
Spring Bot marketing automation will captivate potential shoppers and collect their data with various tools such as sign-up forms, paid to advertise, and blogging. This marketing app has different features to personalize your brand for your target audience.
Blog creator in the Spring Bot will help you create blogs and drive traffic from the product keywords in the blog section. You can create prospecting ads and drive traffic to your potential customers.
Email marketing plays a vital role in personalizing your brand's message. Spring bot will grow your newsletter sign-ups and personalize email messages for your customers.
Pricing
Springbot starts at $199/month and comes with a free trial for the Spring bot platform.
LeadDyno Affiliate marketing is a code-free app that doesn't require much technical support. You can easily set up the app and grow your business with an affiliate program. LeadDyno affiliate marketing will help you track your store's clicks, and impressions and set up emails for marketing.
This marketing software will allow you to send emails to affiliates and customers. Dashboards in the LeadDyno software will help you analyze the clicks and impressions. This software also integrates with various e-commerce platforms. If you are going to migrate from one e-commerce platform to another, you need not worry about the setup issues. Customer support is highly efficient in the LeadDyno affiliate marketing app.
Pricing
LeadDyno has four pricing plans
Starter- $49/month
Plus-$129/month
Pro-$349/month
Premium-$749/month
Klaviyo Marketing is an exclusive app for increasing your return on investment(ROI). With Klaviyo Marketing, you can send automated messages and personalized e-mails to online shoppers. The e-mails and marketing messages will not look like spam when using Klaviyo marketing. You can apply effective email marketing techniques to your target audience with the Klaviyo Marketing Shopify app.
With Klaviyo marketing, you can also send store opening invites, product suggestions according to quizzes and newsletters based on the product line, etc. The special features of Klaviyo marketing are advanced email segmentation, behavior-based automation, customizable templates, targeted forms, etc. With this Klaviyo marketing app, you can target your audience with profile property, location, list, and order date.
Pricing
Email and SMS – $60/month
Email – $45/ month
Klaviyo Marketing also has a free plan and allows you to send 500 emails and 15 monthly messages.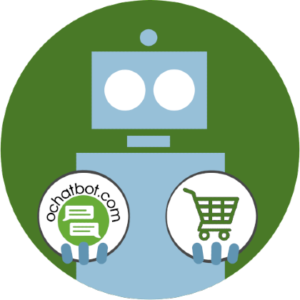 True AI to engage shoppers in conversational eCommerce. Create happy customers while growing your business!
5% to 35% Increase in AOV*

20% to 40% Increase in Revenue*

25% to 45% Reduction in Support Tickets
WE GUARANTEE RESULTS!
*When shoppers engage with Ochatbot®
UpPromote Affiliate & Referral is the Top recommended app for affiliate/referral marketing on Shopify App Store. It's an automated all-in-one solution to build and manage your professional marketing campaign efficiently. With its flexible pricing plan from FREE to $199.99/month, it is suitable for all business sizes. 
UpPromote prides itself on being an advanced tool that is simple to set up and time-saving with Automated functions for you to start an affiliate campaign with customizable affiliate registration forms/affiliate links. It also helps merchants reach even more potential affiliates by free listing on UpPromote Marketplace. Besides, UpPromote also implements customization upon request for Enterprise customers.
Pricing
UpPromote app has three pricing plans for online business owners with a 14-day free trial. With the free plan, you can have unlimited affiliates/referral links.
Free Plan 
Grow Affiliate: $29.99/month 
Professional: $89.99/month 
Enterprise: $199.99/month
If you want to increase engagement in your e-commerce engagement and traffic on your e-commerce site, you must create more loyalty programs. Loyalty programs are beneficial for e-commerce sites to generate more traffic and attract website visitors.
Brand loyalty is significant to get more repeat customers, and the Rivo app will help Shopify owners generate more rewards and loyalty programs. Online business owners will get fully customizable tips, referrals, and loyalty programs with the Rivo app. You can also create widgets and e-mails that match your brand. Rivo also provides 24/7 live chat support and it is exclusive to Shopify.
Pricing:
Rivo marketing app has three pricing plans with a free trial. With the free trial, you can get 250 monthly orders with unlimited members.
Starter- $34/month
Growth- $129/month
Premium- $429/month
Growave is another effective marketing app for creating loyalty programs, rewards with discounts, and free products. You can simplify the points program, rewards with discounts, in-store cash, and free products.
The buying process need not be complex for your online shoppers. Growave eases the buying process and creates a points program for buyers. You can create powerful buying triggers and send personalized emails to online shoppers. Growave is one of the marketing apps that work exclusively for the Shopify platform. This app leverages reviews and sends wishlist reminder emails to online shoppers.
Pricing
Basic- $9
Starter- $19
Medium- $49
Enterprise- $299
7.Flowio E-mail Marketing and Pop Up
Flowio E-mail Marketing app will send pop-up messages to the customers by capturing their e-mails. 
This E-mail marketing app helps online business owners send hyper-targeted e-mails to the customer. The automated chat messages and e-mails are based on the users' behavior in the e-commerce stores. 
Pricing
Flowio pricing app has one free plan.
Advanced Plan- $9/per month
You can increase your customer experience in every aspect with the Loyalty Experience Platform. If you want to hyper-personalize your online store, you can do it through this app.
Using this Loyalty Experience Platform, you can easily collect your customer data and add them to your customer relationship management (CRM) system and various customer support software. Loyalty Experience Platform will fetch you, loyal customers, on all e-commerce platforms.
Pricing
Loyalty Experience Platform is a free app for marketing
Push Engage app on the Shopify store will help you send the triggers and notifications to the users. This app will detect your user behavior and segment the notifications accordingly.
Sending the right notifications to the right person will help e-commerce business owners increase their revenue. Abandon cart push notifications will help you recover the carts immediately and increase sales.
Dynamic segmentation is what you need to find the right customer base for your products. With the Push Engage marketing app, e-commerce store owners will find the right market and send tailored notifications to customers.
Pricing
Push Engage app has three pricing plans for online store owners with a free trial.
With the free trial, you can target up to 200 subscribers and run 30 campaigns.
Business– $9/month
Premium– $29/month
Enterprise– You should request quotes for the enterprise pricing
You can boost your e-commerce business with search engine optimization as SEO optimization on your e-commerce site will help you gain visibility. If you are running an e-commerce store, you should also have a blog section to use relevant keywords with higher search volume. When your target audience searches for product-related keywords, your blog will rank higher on the search results page. If you are trying to succeed in gaining an audience via content marketing, then you should install Search Me: SEO Booster.
Search Me: SEO Booster is one of the effective marketing apps to boost your SEO on the website. You can optimize unlimited images, meta tags, schema, and keywords in Google. It is easy to scan your website daily and find the SEO optimization issues. Search Me app in the Shopify app store will also help you to rectify page speed to drive more sales on the website.
Pricing:
Search Me has two pricing plans with a free trial.
Pro Plan- $39/month
Unlimited Plan- $79/month
Automated Analytics and Reports will help e-commerce site owners understand their site's performance and detect the mistakes that affect their business growth.
With the Blyp app, you can boost sales with more returning customers. Most online stores fail to retain their inactive customers. so with the help of this marketing app in the Shopify store, you will get customer LTV, broken checkout, abused coupons, churn risk customers, and products with a higher refund rate.
Blyp will analyze your Google Analytics, Shopify store, etc to send insights for improvement. Blyp app is free to install and you can connect it with your Google Analytics and Facebook Ads.
Pricing
Blyp app has three pricing plans with a free plan.
Growth- $29/month
Pro- $85/month
Premium- $199/month
Bottom Line
Installing a marketing app on your Shopify store will help you repeat purchases, recover abandoned carts, increase average order value, send email notifications to the right customer base, etc.
The above list has Shopify marketing apps that seamlessly integrate the Shopify platform. You can start a free trial or use paid plans to boost sales. Looking into the highlighted features and selecting the best app that helps you grow your site exponentially is the best bet for your business.
Latest Posts
Frequently Asked Questions
1. Which app is best for Shopify to increase customer engagement?
Ochatbot is an effective AI chatbot app that helps Shopify store owners communicate with their customers and answer their questions instantly in real-time.
2. What are the best apps for Shopify to increase sales?
Online business owners can install Shopify payment apps, abandoned cart apps, and shipping recovery apps to increase traffic and sales for their online stores. Check out our latest articles here to find the best Shopify apps.
3. How can I grow my business on the Shopify store?
Finding the right audience for your products and services is the first and foremost step to growing your business on the e-commerce platform. You can use effective e-mail marketing, content marketing, and communication-centric strategies to grow your business in the Shopify stores.

Latest posts by Greg Ahern
(see all)