Effective chatbot automation practices are nailing e-commerce sales in a conversational manner. Implementing AI-powered chatbots will enhance customer interactions and automate business processes.
AI chatbot technology with advanced technologies such as machine learning and natural language processing technology will help online business owners understand their customers better. This article looks into the vital role of chatbot automation tasks in the e-commerce industry.
Jump to the Content
Increase Return on Investment(ROI)
Increase E-commerce functionality
What is an AI Chatbot?
AI-powered chatbots are software with artificial intelligence technology that helps quick decision-making and understanding of human language. One of the main benefits of using an AI chatbot is automation.
An e-commerce site owner will answer users' questions instantly with chatbot automation. Since the chatbot understands the conversation pattern of the target audience, the replies are fast and accurate.
What is the Difference Between a Chatbot and AI chatbot?
Chatbot software without artificial intelligence technology will only answer some questions from your customers. The questions in the rule-based chatbots and flow bots use standardized rules and keywords and do not feel human in conversation.
Conversely, AI-powered chatbots do repetitive tasks and answer complex questions instantly. If an AI chatbot cannot answer questions, it will direct your website visitors to customer support. Natural Language Understanding and Natural Language Processing technologies make chatbots talk like humans and enhance customer experience.
How does Chatbot Automation Increase Customer Satisfaction?
Automated chatbots provide customer support instantly and answer their questions with accurate information.
Chatbots with AI technology will also jump from one conversation to another easily. If an online shopper cannot find a product, the chatbot will pop up and recommend relevant products to the shopper. By implementing AI chatbots on e-commerce, you will reduce bounce rates and make customers stay and purchase on your website.
Read More: 7 Best Chatbot Practices For E-commerce Websites
7 Chatbot Automation Tasks in the E-commerce
Automating business processes with AI chatbots is one of the best ways to eliminate additional tasks. An online business owner can reduce operational costs, increase the functionality of the website, witness return on investment (ROI), and enhance marketing consistency with automation. There are effective chatbot automation tasks that will help you grow your business organically and generate revenue.
1. Reduce Operational Costs
 Juniper Research, a foundation that focuses on digital marketing trends reports that chatbots will reduce up to $8 billion in operational costs in online business. An online business owner need not depend upon a sales team to manage customer conversation if they implement an AI chatbot on their website.
A conversational AI is more cost-effective than a support team. If an online shopper has any issues with order tracking, chatbots will help them check their order details and track their orders.
Chatbots process requests fast and helps you reduce human errors in automating tasks. An e-commerce website can reduce customer service expenses exponentially by optimizing its website with an AI chatbot.
2. Collects Customer Information
Apart from an e-commerce website, chatbots also play a significant role in the b2b industry. An AI chatbot will help you collect your lead information and book appointments in minimal waiting time.
Ochatbot is one of the best Customer Relationship Management (CRM)-integrated chatbots that will pass information to the CRM system. If you want to increase customer lifetime value, chatbots with CRM integration are a boon for your online business.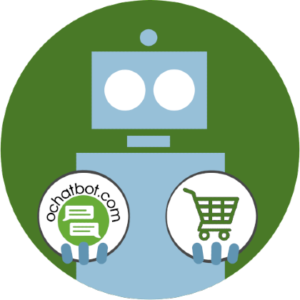 True AI to engage shoppers in conversational eCommerce. Create happy customers while growing your business!
5% to 35% Increase in AOV*

20% to 40% Increase in Revenue*

25% to 45% Reduction in Support Tickets
WE GUARANTEE RESULTS!
*When shoppers engage with Ochatbot®
3. Increase Return on Investment(ROI)
Live chat is an essential part of customer service, but if you add an AI chatbot to your website, you can answer both simpler and complex questions and automate tasks faster.
When an online business owner compares the cost of investment and evaluates the efficiency, chatbots increase the return on investment by doing multiple tasks. Chatbot implementations will never go without benefit for e-commerce site owners. Chatbots also work on multiple platforms such as Facebook Messenger, to help you gain brand visibility.
4. Marketing Consistency
To win the e-commerce race, you must stand out from the competition. An AI chatbot will help you stand out from the crowd by doing business operations efficiently.
If you are wondering what marketing consistency is, it is making your target audience recognize your brand.
Customer support is an integral part of marketing consistency. If you provide good customer support to your customers, you will create a loyal customer base. This is where a chatbot comes into the picture and engages with customers with personalized questions.
5. Increase E-commerce Functionality
Automating e-commerce business processes will help online business owners increase their website functionality. When an e-commerce business owner keeps feeding new information to a chatbot, chatbots will provide relevant answers in a personalized manner. If you are a Shopify site owner, you can implement Shopify chatbots that will increase the functionality of your online store.
Since AI chatbots have a human touch, you can also reduce the mechanical response. Online business owners need not worry about the lack of human interaction in the conversation while talking with an AI chatbot. By doing multiple tasks on an e-commerce website, an AI chatbot becomes more cost-effective than a live chat.
6. Generate Leads Quickly
Chatbots generate leads with automated lead qualifying questions than the traditional method of lead generation. AI chatbots augment the conventional way of lead generation by quickly identifying potential leads and qualifying them.
An AI chatbot engages customers with contextual chat interfaces and conversational elements. Chatbots with artificial intelligence technology also understand the common pattern in customer conversation, so an AI chatbot is more effective than expensive customer service tools in the B2B industry.
7. Product Guidance in E-commerce Sales
If an online shopper is looking for a product on an e-commerce site, there is a chance that they will not find the product. An AI chatbot is beneficial for e-commerce site owners for product recommendations.
When an online shopper cannot find a product on the website, an AI chatbot recommends them with upsell and cross-sell strategies. The appealing messages in the inbox and relevant suggestions will captivate your website visitors to buy products.
Frequently Asked Questions
Are all chatbots automated?
Both rule-based and AI chatbots are automated and provide answers fast. Nevertheless, if a customer asks complex questions, rule-based chatbots will provide repetitive answers whereas chatbots will handle the complex questions.
What are the technologies used in an AI chatbot?
Artificial intelligence, Natural Language Processing, and Machine Learning are prominent technologies in an AI-powered chatbot. Some advanced AI chatbots will help you with the human-in-the-loop.
What is human intervention in the AI chatbot?
Human-in-the-loop is an advanced technology in artificial intelligence-induced chatbots. With human intervention, online business owners can avoid both machine and human errors in the conversation.
Final Words
Do you want to improve the functionality of your online store? AI chatbot implementation is one of the best ways to do so because chatbots will understand user intent and answer questions with conversation patterns.
Choosing the best e-commerce chatbot for your business will elevate your sales with chatbot strategies.
If you liked this article, please check our latest posts to know more about e-commerce business strategies!
Latest Posts

Latest posts by Greg Ahern
(see all)