In recent years, the power of AI chatbots for eCommerce has become undeniable. Chatbot technology creates a personal connection with shoppers; young consumers want help quickly and efficiently and don't want to sit around in a queue waiting for a human support agent. Chatbot technology also helps eCommerce businesses conduct surveys and generate leads, leading to an overall improvement in marketing. 
The number of chatbot technologies and startups entering the market seems to grow day by day and wading through that to figure out what chatbot is right for your business can be overwhelming. It's difficult to be up to speed when it feels like significant advances are being made every day. In this article, we will discuss five key considerations to keep in mind when choosing the best chatbot platform to implement.
#1. Identify Your Company's Needs
Are your customer service agents overwhelmed with repetitive queries? Do you want to generate more leads? Is your marketing team looking for better ways to gather data?  Increase workplace efficiency? If any of those have been on your mind, it's probably time to consider utilizing an AI chatbot for your business.
Before selecting a chatbot, it's crucial to analyze your customers' journey throughout your site. What obstacles are preventing shoppers from reaching checkout that you think a chatbot can solve? Find out what kind of service customers expect from your business. Beyond that, you will need to partner with your customer service team to figure out what parts of the job can be automated. A chatbot should work with your support team, not against it. Conduct an internal investigation to figure out how best a chatbot can support your business and how much time you will be able to devote to maintaining it. If you're interested in a chatbot, but don't have the time to maintain it, consider outsourcing. 
#2. A Chatbot Solution that Provides Omnichannel Support
When evaluating a chatbot platform, it is important to consider what platforms you will use for customer support. If you are using omnichannel support–providing seamless customer experience across multiple platforms–then you will need to implement a chatbot that works across those platforms. Consider a chatbot that supports multiple integrations, such as Instagram, Facebook, Twitter, Slack, WhatsApp, and more.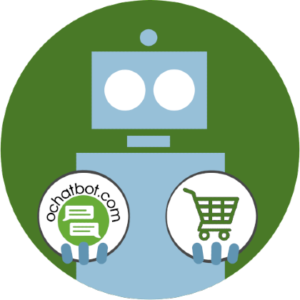 True AI to engage shoppers in conversational eCommerce. Create happy customers while growing your business!
5% to 35% Increase in AOV*

20% to 40% Increase in Revenue*

25% to 45% Reduction in Support Tickets
WE GUARANTEE RESULTS!
*When shoppers engage with Ochatbot®
#3. The Ability to Tracks Key Performance Indicators (KPIs)
Whichever chatbot platform you choose, make sure that you're given the unrestricted ability to track KPIs and other necessary metrics for your business. A chatbot platform should offer an easy way to measure the efficiency of your chatbot. The data gathered through a chatbot can be invaluable from a marketing perspective as the chatbot learns more and more about your customer base. In addition, being able to measure the impact of your chatbot ensures that your investment continues to be worthwhile. 
#4. A Chatbot Platform Backed by Industry Experience and Knowledge
When considering conversational AI for your business, you should partner with a company that has experience personalizing bots to your chosen industry; whether that be apparel, CBD, technology, etc. In situations where your bot might fail, you will want knowledgeable and experienced experts working behind the scenes to finetune the bot's answers to suit your customers. 
Along with cleanup work, companies with industry experience will offer better personalization, scalability, and flexibility that will suit your business needs.
#5. Bilingual and/or multilingual support
You're focused on growing your business, which includes international outreach. You want your customers to better understand your business and have an easier time communicating. Perhaps you have already offered translated versions of your site and you have a multilingual support team. It would stand to reason that a bilingual or multilingual chatbot is a step in the right direction. 
With advances in machine learning, many chatbots are now capable of conversing with customers in multiple languages at once. For example, if one customer asks a question in Spanish, the bot will respond in kind. Then when the next person asks in French, the bot should seamlessly switch to the next language with no difficulties. The bot can also detect languages a user might use based on its location. 
Final Thoughts
In today's world, chatbots have become less of a simple tool and more of a must-have solution for businesses looking to expand and better serve their customers. Modern shoppers have greater expectations and shorter leniency towards poor customer service, and chatbots provide the perfect solution. Beyond customer service, the automation chatbots offer will streamline your business and help you save time and money. 
Although there are many chatbot platforms for eCommerce on the market, not all of them will meet your needs or goals. Use the tips above to create an educated decision that will have you reaping the benefits of a chatbot for years to come. 
Frequently Asked Questions 
How much does a chatbot cost?
Unfortunately, this question can be difficult to answer as it varies from platform to platform. Other factors include business size, AI complexity, platform integration, ongoing support, and more. For smaller businesses, there are many free chatbots online that will help you get started. Ochatbot is a no-code, easy-to-use chatbot that is free to use for smaller businesses with less than 5,000 monthly visitors.
How long does it take to launch a chatbot?
This depends on the complexity of the bot. A do-it-yourself chatbot that is mostly answering common FAQs can be launched in as little as a day. For complex chatbots that require expert support, it can take as long as two weeks before the bot is ready to launch.
Are all chatbots AI-based?
Not at all! While we recommend AI chatbots based on their amazing conversational value, rule-based chatbots can also be a good option for those looking for a simpler and less pricey option. Rule-based bots work off of predefined questions that are imputed into the chatbot and usually follows one or two logic trees. If someone asks a question that is not already in the bot, the bot will not be able to answer it. 
Latest posts by Lashanah Tillar
(see all)