Do you know how to hire Shopify experts for your online store? Have you started a new Shopify store? If so, are you planning to enhance the functionality of your store? This article will help you find the best Shopify development agencies to boost your eCommerce store's visibility and improve functionality.
Overview of the Content
What is a Shopify e-commerce Store?
Shopify is one of the best e-commerce platforms for any entrepreneur to start their online store. This e-commerce platform is customizable and allows Shopify store owners to personalize their e-commerce website for their target audience.
Shopify merchants can sell any products in their stores. Shopify offers various flexible pricing plans for online business owners. The pricing plans to set up Shopify e-commerce stores include:
Basic – $29 per month
Shopify – $79 per month
Advanced plan – $299 per month
What is a Shopify Expert?
Shopify experts will help you develop your online store with sales and marketing strategies. Many online store owners hire third-party agencies to develop their online stores and help them with troubleshooting and web development.
Shopify development agencies will allow Shopify store owners to hire experts to design and develop their stores. There are many credible Shopify development agencies to boost your store's revenue and functionality. Many e-commerce companies in the US grow their audience and increase their sales with unique ideas and effective strategies. Growing your e-commerce store with the experts' advice will bring in more positive business outcomes.
10 Best Shopify Experts to Follow – Shopify Development Agencies
Online business owners look for the best Shopify development agencies to set up their stores on the Shopify platform. Here is the list of the ten best Shopify development agencies to hire Shopify experts for your online store development.
1. WebCitz, LLC
Webcitz is one of the top Shopify web development agencies that provide custom app development services and customize your online store that matches your branding strategy. This agency works with various Shopify stores and helps online business owners in web design, marketing, and branding.
Custom development is necessary for a Shopify store to stand out from its competitors. e-commerce strategists in this platform will help you enhance the functionality of your store by extending the Shopify platform, developing private apps, redesigning your existing Shopify website, and migrating from Shopify to a different platform. The experts from this platform will also design a custom Shopify theme for online business owners.
2. Helium
Helium is one of the best Shopify development agencies that will develop Shopify apps to automate various tasks. The reliable Shopify apps will customize features in your e-commerce platform.
You can develop a new Shopify store with a user-focused design.
Helium Shopify development agency will develop a custom Shopify app for your store.
The experts in the Helium Shopify development agency will educate you on the new offers in this e-commerce platform.
The Shopify experts on this platform will help you choose a theme that matches your brand.
This Shopify development agency is suitable for both online business owners who want to customize their existing store and online merchants that want to start a new store.
3. Multi-Program Solutions
Multi-Program solutions is an exclusive e-commerce consultant for Shopify theme development. The experienced Shopify experts on this platform helped many online business owners develop their businesses. Multi-program solutions provide the following services for e-commerce sellers:
Shopify store setup and configuration.
Customizing the theme with the Shopify store background.
Shopify integration.
Search Engine Optimization(SEO) for your content.
Shopify app development.
Data migration in Shopify.
4. LYFE Marketing
LYFE Marketing is a popular web designing company that helps e-commerce owners to create brand awareness for their target audience.
Brand awareness is necessary to make your customers understand your brand because a unique identity is necessary to captivate your website visitors. Every online business owner should stand out from the crowd with creative ideas.
LYFE marketing not only helps you with web designing ideas, but this website development agency also helps you with navigation, content, and visual ideas and makes your website compatible with various devices. The Shopify experts in LYFE marketing see the patterns of different e-commerce stores and help you develop the best Shopify site.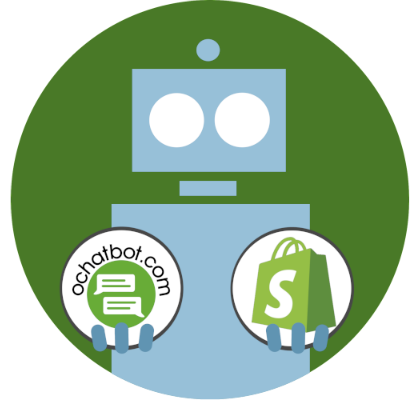 True AI to engage shoppers in conversational eCommerce. Create happy customers while growing your business!
5% to 35% Increase in AOV*

20% to 40% Increase in Revenue*

25% to 45% Reduction in Support Tickets
WE GUARANTEE RESULTS!
*When shoppers engage with Ochatbot®
5. NuStream
NuStream is the digital advertising company that helps Shopify merchants advertise their stores. This Shopify development agency also helps e-commerce store owners create well-optimized content for the search engines.
NuStream also helps Shopify merchants in marketing campaigns, video marketing, and social media marketing. Apart from web designing, these are the effective services of the NuStream Shopify development company:
Google Ads and Bing.
Search engine optimization for the content.
Reputation management.
Shopify advertising on social media platforms.
If you want to hire experts for advertising your Shopify store, NuStream is the best option.
6. CRP Marketing
CRP Marketing is an effective platform for Shopify merchants to find freelancers and full-time Shopify website developers.
Web designers in this platform will help you create a new online store with a unique brand design and identity. The significant services of CRP marketing to drive positive business outcomes for your website include:
Marketing and sales.
Shopify store set up.
Troubleshooting.
Website designing.
Visual branding and content writing.
7. Smart Sites
 If you are an online business owner, you should also optimize your website pages for the search results page. A well-optimized product page with relevant product keywords will help you rank higher in search engine results pages.
Smart Sites Shopify development agency will help you boost your website SEO and enhance your ranking on your page. With the Smart Sites development agency, you optimize your website optimized for every device, customize Shopify themes, enhance website design, and boost conversion rate optimization. Smart Sites is also a conversion optimization expert for your Shopify store.
8. Super Co
Super Co is an exclusive e-commerce strategist to build a high converting Shopify store. This development agency takes care of store setups, website designs, conversion optimization, and brand identity.
The Shopify experts in this platform offer sales guidance, hosting services, and Shopify solutions to online business owners. The Shopify experts on the Super Co platform help in administration, design, and development.
9. Ambaum
Ambaum Shopify development agency helps seven thousand brands on the Shopify platform to grow with their actionable advice. This Shopify development agency helps online merchants convert casual website visitors into potential buyers with growth marketing services.
Ambaum is one of the trustworthy Shopify development agencies in the United States. This Shopify development agency creates an e-commerce strategy for your website, plans functional design, and smart development with tools, and amplifies digital growth channels.
The e-commerce strategies in the Ambaum digital agency include website development, content strategy, online marketing, mobile strategy, and in-house training sessions.
One of the major advantages of choosing Ambaum as your Shopify development agency is that it analyzes data from different sources such as Google AdWords, Analytics, and industry studies.
10. Liquify
Liquify is a Shopify design and development agency that provides services to both Shopify and Shopify plus. This Shopify development agency is a professionally verified Shopify expert with effective design ideas.
Liquify Shopify experts help online business owners with theme tweaks, custom Shopify development, paid advertising, Shopify audits, and migration to the Shopify platform. Shopify developers on this platform will code everything in your online stores and enhance their functionality.
Shopify audits and Shopify strategy will optimize your website effectively for search engines. The Shopify experts in this platform will help you build page speed and technical performance and boost your conversion optimization.
Frequently Asked Questions
1. What are the benefits of hiring a Shopify development agency?
Shopify is a flexible platform for both small business owners and entrepreneurs. Not every online business owner is tech-savvy. If you hire a Shopify development agency, you will improve your store's functionality without wasting so much time optimizing features. The experts in the Shopify store will help you create a unique and well-optimized online store.
2. How much money does a Shopify expert make?
The average salary of a Shopify developer in the United States is $95,000.
Statistical Source Link: Shopify developer income in the US
3. Is Shopify SEO-friendly?
Yes, Shopify is one of the very few e-commerce platforms that are SEO-friendly. Online business owners can boost their website ranking with a few optimizations in the Shopify store.
Latest Posts
Final Words
An online business owner should explore services in different Shopify development agencies to choose the best one for their purposes. We have listed the 10 best Shopify development agencies where you can hire freelancers and developers to optimize your online store.
All you have to do now is analyze and compare the services of these ten Shopify development agencies and choose the best agency that suits your requirements. Reaching your target audience is not a challenging task if you have a well-optimized website.

Latest posts by Greg Ahern
(see all)