NLP chatbots are one of the effective strategies that will engage more website visitors in e-commerce stores.
The e-commerce industry uses different competitive strategies to enhance the customer experience in its online stores. The fierce competition will not lower your online store's relevancy if you develop unique ideas for an enhanced customer experience.
Chatbots and Live Chats are helping online business owners to communicate with their customers more effectively. Compared to Live Chat, an AI chatbot resolves customer issues instantly without users waiting to connect to a live agent. 
It is incorrect if you think that artificial intelligence technology is the only reason behind this effectiveness!
Artificial Intelligence-powered chatbots work efficiently with advanced technologies such as Natural Language Processing, Machine Learning, and sentiment analysis. 
Out of all these advanced technologies, Natural Language Processing (NLP) helps you to provide personalized customer service. This article looks into how NLP chatbots can enhance your business and their benefits in the e-commerce industry.
Overview of the Content
What is NLP in AI Chatbots?
Natural Language Processing in AI chatbots is an advanced technology that helps the bot understand complex human language. Natural language processing is the technology that allows AI chatbots to tackle the time-consuming and repetitive incoming customer questions.
A chatbot uses NLP to understand the user's intent behind the question or comment. By recognizing certain keywords or phrases, the chatbot will respond with an appropriate reply that feels natural in the conversation. 
By utilizing NLP inside their AI chatbots, online business owners can begin to communicate with their website visitors via their chatbot in more life-like a conversation.
Natural Language Understanding
While NLP helps bots to understand natural human language, natural language understanding technology in the chatbots will comprehend the complex human language. 
For instance, NLP technology will help bots to understand what the text means in the conversation. On the other hand, NLU technology determines the decisions to be taken in regard to the text.
With the natural language understanding technology, your chatbots will break down complex language and discern the meaning of sentences. Bots will gain insights by deriving meaning from text messages. 
Natural Language Generation in Artificial Intelligence Technology
Natural Language Generation (NLG) in AI technology is an effective way of generating natural language with the collected data.
NLG technology processes both structured and unstructured data into the natural language. With the NLG technology, you can also turn numbers into human language. This advanced technology uses AI, machine learning, and deep learning to process the data.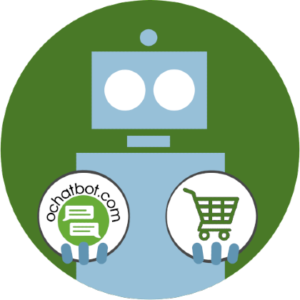 True AI to engage shoppers in conversational eCommerce. Create happy customers while growing your business!
5% to 35% Increase in AOV*

20% to 40% Increase in Revenue*

25% to 45% Reduction in Support Tickets
WE GUARANTEE RESULTS!
*When shoppers engage with Ochatbot®
5 Benefits Of Using Natural Language Processing in Chatbots
The effectiveness of natural language processing technology in artificial intelligence-powered chatbots is now clear. An NLP chatbot is also beneficial for online business owners to understand the common needs of online shoppers and resolve them.
NLP technology in AI chatbots helps you communicate with online shoppers with both machine and human intelligence. Here are five benefits of NLP-based chatbots in e-commerce.
1. No Blunt Response
Chatbots focus on predefined rules. If a customer asks a frequently asked question, chatbots can answer quickly. But what happens if a customer has a different question about the products? You cannot risk your business by providing a repetitive or blunt response to their questions.
Natural language processing will help you eliminate this risk. Your chatbots can communicate with your customers like a human. NLP technology will process human language and enable bots to read and interpret text messages. 
Advanced voice-search chatbots also use natural language processing technology to process and understand human language.
2. Understands User Intent
As an e-commerce business owner, you should understand what your users look for in search engines. Some users put various search queries in search engines to find their desired products.
When you understand the user intent, you can develop your business around it and generate more revenue. Natural language processing technology will help you understand your users' intent easily by communicating with them. NLP technology in chatbots is beneficial for online business owners who desire to develop communication-centric e-commerce businesses.
Chatbots without NLP technology struggle to understand human conversations. Hence, NLP technology is the best way to understand user intent and develop the business around it.
3. Breaks Down Complex Language
Natural language processing technology does an accurate analysis of the human language. If an online shopper types a question and there is a mistake in that query, NLP chatbots will rectify them and break down the complex language to understand the shopper's intent.
You need not worry about providing a wrong response to the users since NLP chatbots are easy to adjust. Online business owners can train the model and rectify the mistakes consistently. A natural language processing chatbot responds to your customers more effectively than human agents. With the perfect combination of machine and human intelligence, your business will escalate in its revenue quickly.
4. Customer Satisfaction
Customer satisfaction is a significant aspect where an e-commerce business grows to another level. You should first understand the pain points of your target audience to provide customer satisfaction.
When you talk with your customers by understanding their language and user intent, you will provide personalized service. Users will know that you recognize and value your customers. e-commerce stores will provide both good and bad customer experiences. Rectifying mistakes in your e-commerce store will increase customer satisfaction and lead them to talk about your store in a positive light to their circle of influence. When you implement an NLP chatbot in the e-commerce store, you will enhance customer communication and satisfaction.
5. Reduced Support Team Costs
In an e-commerce store, you must have a customer support team no matter the size of your store. An AI chatbot with NLP technology will reduce the number of incoming support tickets leaving your support team to deal with higher-level customer issues.
NLP chatbots are able to interpret more complex language which means they can handle a wider range of support issues rather than sending them to the support team. . This augments the support team allowing it to run smoother and on a tighter budget. 
How Do You Build NLP Chatbots?
Many AI chatbot platforms help online business owners customize and build their own chatbots. You can choose flexible platforms to build an effective chatbot. Chatbot platforms also provide efficient social integrations such as Facebook Messenger, Whatsapp, and Instagram integrations.
You should choose the best AI chatbot platform to build and customize your AI chatbot. The best AI chatbot platform will help you implement your chatbot on your online store without coding skills. Here are the 3 best NLP chatbot platforms to build a chatbot:
Ochatbot
Ochatbot is one of the effective AI chatbot platforms that will help you convert more website visitors into shoppers with human-like conversation.
This AI chatbot has various e-commerce integrations such as Shopify, WooCommerce, BigCommerce, and Magento. If you are setting up an online store in Shopify, you can implement Ochatbot and benefit greatly.
Pricing Plans
Ochatbot has four pricing plans along with a free trial.
Basic – $29/per month
Plus- $99/per month
Pro- $495/per month
Enterprise- Call for custom pricing
Chatfuel
Chatfuel is another e-commerce chatbot that will help you engage with customers and generate revenue through conversations.
Your customers will get notifications and messages with Chatfuel. One of the advantages for e-commerce store owners is that they can automate the first 50 messages for free in Chatfuel.
Pricing Plans
In the Chatfuel platform, you will have two pricing plans along with a free trial.
Pro- $15
Premium- $199
Botsify
Botsify is a fully managed AI chatbot that will help online store owners implement a bot on their side without any coding skills. With Botsify, you need not to worry about technical skills.
You will also get omnichannel communication services in the Botsify platform. Online business owners can reduce the response time and increase more personalized service with the Botsify chatbot.
Pricing Plans
In Botsify, you will have two pricing plans for online business owners. The 'Do It Yourself' pricing plan will let you build the chatbot yourself. The 'Done For You' pricing plan will help you build the chatbot.
Do It Yourself- $49
Done For You- $149
Bottom Line
Online shoppers will go and surf many online stores to find their desired products. To make your online store more flexible for customers, you should increase the efficiency of the customer support system.
AI chatbots with NLP enhance customer satisfaction in the online store with the conversation pattern. This article looked into the benefits of the advanced technology NLP in artificial intelligence-powered chatbots. All you must do is select a chatbot platform that helps you build your own bot. It is high time to increase both customer satisfaction and revenue in your online store!
Latest Posts
Frequently Asked Questions
1. What is NLP in the conversational AI chatbot?
Natural language processing technology in conversational AI chatbots will help the bot replicate the human persona accurately by processing and understanding the language.
2. Do you need NLP for chatbots?
Chatbots don't replace human agents entirely in your e-commerce store. However, they will definitely assist them and reduce the support team cost. Without NLP technology, your bots will sound mechanical and don't have human intelligence.
3. Are chatbots expensive?
Chatbots are more cost-efficient than hiring multiple human agents for customer support. If you are implementing a code-free chatbot, you will not experience difficulty in setting it up.

Latest posts by Greg Ahern
(see all)