Do you want to know the tricks and tips to integrate chatbots into the e-commerce store?
Online shopping has been a popular thing in recent times. Many online shoppers surf through different eCommerce websites to select the best product. eCommerce companies should optimize their website with the latest technologies to automate customer support.
Many eCommerce websites integrate chatbots to do multiple tasks and reduce support tickets cost. Having an eCommerce chatbot has escalated the sales of many eCommerce businesses and improved the customer experience on the platform.
E-commerce merchants should utilize conversational commerce strategies in AI chatbots to increase sales. Compared to the live chat system, chatbots are changing the course of eCommerce sites with advanced strategies. In this digital era, you need advanced technologies to captivate website visitors and encourage them to buy products from your website.
If eCommerce chatbots can do multiple tasks, why do you need to spend money on support tickets and sales teams for customer support?
Benefits of AI-powered eCommerce Chatbots – Chatbots vs. AI Chatbots
Before implementing chatbots on a website, eCommerce business owners should understand the difference between chatbots and AI-powered chatbots. Chatbots without Artificial Intelligence technology is known as rule-based chatbots. These rule-based chatbots give a set of questions to website visitors, chatbot visitors would select from a set of questions. If a website visitor asks questions that are different from the pre-defined responses, the chatbot might respond with a blunt 'Sorry, I don't understand'.
On the other hand, AI-powered chatbots provide customer support like a human agent. Artificial Intelligence technology helps in decision making and Natural Language Processing (NLP) helps chatbots to understand human language. This is why eCommerce companies should integrate AI chatbots on their websites compared to rule-based chatbots.
E-commerce Platforms and Sales – Integrate Chatbot
If you want to set up an online store on eCommerce platforms like Shopify, Magento, BigCommerce, and Woo-commerce, you should integrate a chatbot to exponentially drive sales.
Automating customer support on these platforms will resolve customer problems quickly. With a quick response, customers will understand more about your product. Previously, eCommerce business owners had to send notifications to customers via email to encourage customers to purchase products.
But, AI chatbots optimize your online store on these eCommerce platforms and increase sales organically. AI chatbots don't eliminate e-mail marketing services. Instead, they augment e-mail marketing.
Related: Chatbot for Shopify: Ochatbot Increases Your Shopify Conversion Rate
10 Tips to Effectively Integrate Chatbot onto eCommerce Platforms
1. Select an Efficient eCommerce Chatbot
Online business owners should first understand the functions of eCommerce chatbots to select the best one. An eCommerce store should be able to do multiple tasks with properly trained AI chatbots.
Selecting an efficient eCommerce chatbot is the first and most important step for online business owners. As mentioned above, chatbots use multiple strategies to sell their products. When your customer doesn't see their desired product on the website, the eCommerce chatbot can recommend relevant products with a cross-sell strategy. Choosing the chatbot with all the significant functions will help eCommerce site owners sell their products and increase sales.
2. Choose Chatbots that Fix-Up Conversation
While integrating chatbots on your website, you should keep the customer conversation in mind. Sometimes, a website visitor might ask repetitive and more complex questions. This is where chatbots should fix a conversation.
Rule-based chatbots cannot fix up customer conversations, but AI bots can. AI chatbots learn from previous conversations and can answer questions by understanding user intent. If AI bots don't understand a question, they can redirect the conversation to a live chat agent. Redirecting customers to human agents, it keeps customers from leaving the website without getting answers. Your potential customers will get their answers and have their questions resolved with AI chatbots.
3. Integrating Chatbot on Messenger – Messenger Bot
Integrating chatbots on multiple platforms, such as Facebook Messenger, will help eCommerce companies reach out to more customers. Facebook Messenger chatbots make the interaction seamless.
eCommerce businesses will be able to collect more customer insights by integrating AI chatbots on Facebook and other social platforms. Choosing a chatbot with no complex interface will help make the task of integrating chatbots on Facebook Messenger easier.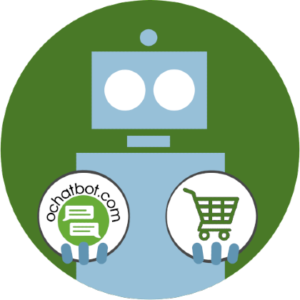 True AI to engage shoppers in conversational eCommerce. Create happy customers while growing your business!
5% to 35% Increase in AOV*

20% to 40% Increase in Revenue*

25% to 45% Reduction in Support Tickets
WE GUARANTEE RESULTS!
*When shoppers engage with Ochatbot®
4. Integrating Bots Should Create Brand Awareness
Your AI chatbot is a personal shopper for your customers. eCommerce chatbot tools should be user-friendly and provide customer support for every user. Chatbots should be accessible for both technical and non-technical users. Integrating bots on your website is an easy way to market your products and brand to potential customers. Online business owners rely on a marketing team to increase the conversion rate of campaigns and email marketing. AI chatbots give personalized suggestions and augment traditional marketing strategies.
An eCommerce chatbot gives product information to customers with conversational elements like texts and videos. Not every customer will visit your 'About' page to learn about eCommerce brands. Chatbot conversations will engage customers and create brand awareness.
5. Integrating Chatbot with Pre-Built Templates
Integrating chatbots with lead generation templates will help B2B(business to business) sites qualify leads for their websites. Lead generation templates in eCommerce chatbots make the job of qualifying leads and setting appointments with them easier for the B2B sites.
AI chatbots with lead generation templates will send the collected information about the leads to the customer relationship management system. With the help of lead generation bots, online business owners can collect information about the leads in real time.
6. Push Notifications – Reduce Cart Abandonment
Cart abandonment is one of the problems that every eCommerce business faces these days. Integrating chatbots not only helps with the conversion rate, but it also helps online business owners reduce cart abandonment. Your chatbot will send push notifications to the website visitors and remind them about their abandoned cart.
Implementing chatbots on the website is one of the greatest marketing strategies to conversationally encourage customers to buy your products. Chatbots with a page targeting strategy can send messages to customers based on the website pages. If a customer adds products to the cart and leaves the website without purchasing, chatbots will send a reminder for them to purchase.
Also Read: Role of Ochatbot in Abandoned Cart Recovery
7. Tracking Order Status
Now that your customers have purchased products on your Shopify store, what is next? AI chatbots will help customers track their order status and shipping details. eCommerce business owners should help customers if they have some issues with their orders.
Your potential customers don't have to struggle with the issues in order details. With chatbots, you don't have to worry about customer assistance on the eCommerce website. A chatbot pop-up will resolve the issues of your customers. Online business owners can increase site conversions and captivate existing customers with AI chatbots. An eCommerce chatbot can help online businesses reduce cart abandonment.
8. Ability to Speak Different Languages
Many eCommerce websites have visitors from different countries. While integrating chatbots to boost sales on eCommerce sites, online business owners should decide on the languages a chatbot can speak. It is important to provide multi-language support to users. AI chatbots can learn different languages with machine learning technology and Natural Language Processing technology behind them.
The advanced technologies help AI chatbots speak human languages and give real-time customer support on eCommerce websites. With these technologies, customers will not feel like they are talking to a robot. The interaction between customers and chatbot software simulates human conversations.
9. Chatbot Analytics – Reduces Average Handling Time
A chatbot should reduce the average handling time in customer service. One of the main reasons to implement a chatbot on the website is to quickly respond to customers' questions. Chatbots don't make your customers wait for the answers. If your customers ask repetitive questions about your service and products, human agents might feel exhausted after replying multiple times.
On the other hand, chatbots answer repetitive and multiple questions instantly. As mentioned above, chatbots can connect to live chat agents if they cannot help with a question. If eCommerce businesses integrate chatbots on their landing pages, it will help users to take action quickly.
10. Integrating Code-Free Chatbots
Online business owners don't have to worry about the complexities involved in building a chatbot. A code-free chatbot is easy to implement on websites. Many eCommerce websites integrate chatbots and reduce complex tasks.
While building a chatbot on the website, pre-built intents will reduce a lot of time-consuming tasks. When you search for the best eCommerce chatbots to integrate into your website, you should also select code-free chatbots to save you time!
Summing Up
Customer satisfaction in eCommerce websites is important to boost sales and do more complex tasks. AI-powered chatbots do complex tasks and accelerate the buying process through the sales funnel.
The first step in a traditional sales funnel is to create brand awareness and the next step is understanding customers' preferences and interests. The last two steps in a sales funnel are to help customers take action and complete the purchase. Integrating chatbots onto eCommerce websites is one of the best ways to escalate the process of a conventional sales funnel. 
Ochatbot has plugins for Shopify, Magento, WooCommerce, and BigCommerce. Ochatbot also has integrations on significant platforms like Zapier and Facebook. If you are planning to increase the conversion rate of your eCommerce store, integrating Ochatbot will make the task easier.
Latest Posts
Frequently Asked Questions
1. What is an Interactive AI in chatbots?
Interactive AI analyzes the issues of customers by reading previous conversations. Artificial Intelligence technology is also used for decision-making while providing answers to customers. AI chatbots are more interactive with conversational elements like videos, voice notes, and images. Many eCommerce businesses integrate chatbot to engage with their customers in real-time.
2. Can Artificial Intelligence technology replace human agents on eCommerce websites?
Human intelligence is important in reducing machine errors in conversation. AI chatbots use advanced human-in-the-loop technology to streamline conversations. Artificial Intelligence technology cannot replace human agents on eCommerce websites. Instead, it works better with human intelligence.
3. Is it hard to train a chatbot?
Training a chatbot is not a difficult task. An online business owner should keep three important things in their mind when training a bot. These three things are business objective, bot persona, and user intent.

Latest posts by Greg Ahern
(see all)