eCommerce customization is one of the best ways to increase customer satisfaction. A customer repeats purchases and becomes a loyal customer in the store. eCommerce personalization is not only about personalized products. An eCommerce website should have many customization options including customer service.
This blog explains 15 benefits of eCommerce customization and the importance of personalized experiences in an online store.
What is eCommerce Customization?
Competition in eCommerce stores is urging every online business owner to provide unique customer service to stand out from the crowd. Changing the eCommerce website design from the front end to the back end.
Online business owners can implement creative ideas to enhance their brand and increase online sales. If your customers are struggling with the checkout process or complex navigation, customization in the eCommerce store will enhance the functionality.
Why is it Important to Customize Your Online Store?
Online business owners should understand their customers' preferences and expectations. When you understand your online shoppers' expectations, you can personalize your online store services accordingly. Customizing your online store will generate happier and repeat customers to your store.
Customization makes your online store unique and lets your customers feel valued. When your customers feel satisfied with your personalized products and services, they are likely to tell others about your online store. Also, aligning your customers' preferences with customization will make your customers feel valued.
How to Customize Your Online Store?
Before starting customization in your online store, you should first set your business goal and strategies to captivate your online shoppers. Customer loyalty in the online store will only happen if you implement an appropriate customer service strategy. Here are a few steps to remember before customizing your online store:
Set up your business objectives.

Know your audience base

Understand your customers' preferences.

Research the competitors.

Formulate ideas for customization.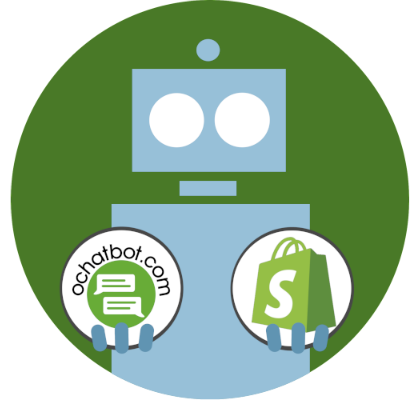 True AI to engage shoppers in conversational eCommerce. Create happy customers while growing your business!
5% to 35% Increase in AOV*

20% to 40% Increase in Revenue*

25% to 45% Reduction in Support Tickets
WE GUARANTEE RESULTS!
*When shoppers engage with Ochatbot®
11 Ways to Customize Your Online Store
Imagine going to an online store and finding your favorite products on the collection page. How happy will it make you? You feel valued and repeat your purchases in the online store. This is how you can generate more repeat customers by thinking from the perspective of an online shopper. If you understand their preferences, you can easily customize your store based on them. There are 15 ways to customize your online store according to your customer's preferences.
1. Content Marketing
Content marketing is a way to intrigue your target audience and encourages them to buy your products with video, audio, and blog content. Relevant content in your online store will appear in the search results when your target audience searches for the products.
A blog in your online store will also help you fetch more customers who are not aware of your products. For instance, your customers are searching for the service that your products will provide but they don't know your online store's name exactly. In this scenario, you can create the content with information keywords by providing general information in your blog content.
2. Product Customization
Product customization is nothing but personalizing the products in an eCommerce store according to your customer's preferences. Your customers can select the size, change the color or add any design to the products.
By offering product customization, you can increase the conversion rates in your online store. Customizing the products in the eCommerce store is not a new trend. Nevertheless, you can reach a competitive edge with this customization strategy.
3. Personalized Offers and Discounts
Offers and discounts on the eCommerce website are also ways to customize an online shoppers' journey.
Online business owners can use demographic segmentation to customize offers and discounts in their online stores. Online business owners should also understand the purchase intent of the customers to provide them with personalized offers. Your online store's profit will increase exponentially with customized offers and discounts.
4. Sales Strategies
Using different sales strategies in your eCommerce store will also help you generate more loyal customers and increase revenue. eCommerce business owners can customize their sales with the strategies such as upsell, down sell, and cross-sell.
Upsell
When your online shoppers are trying to buy a product from your eCommerce store, you can recommend a premium version of the same product. By recommending an expensive version of the same product, you can increase revenue and AOV (Average Order Value).
Cross-sell
Now that your customers purchased a product from your online store, you can recommend related products to increase your sales. For example, if your customers are buying a dress from your online store, you can recommend accessories as related products to boost revenue.
Down Sell
At times, a customer cannot afford a product that they intended to buy. In this scenario, you should recommend a product that is cheaper than the premium version. By implementing the down-sell strategy, your customers will not leave your website without purchasing any products.
Related: Cross-selling vs Upselling: What is the Difference?
5. Enhancing Customer Journey
If your website has complex navigation, your customers cannot purchase products easily. Customizing and easing the navigation in your website will enhance your customer journey.
If you have too many features in your eCommerce store, it will confuse your customers and distract them from purchasing your products. An online shopper should enter the product page without any distractions and purchase the products easily. Enhancing the checkout and customizing the product page will help you streamline your customer journey in your eCommerce store.
6. Adding AI Chatbots
Implementing artificial intelligence-powered chatbots in your online store is a personalization strategy in customer service.
Live chat is an outdated trend in eCommerce customer service. Human agents behind the live chat system can resolve your problems, but they cannot provide consistent assistance. On the other hand, AI chatbots in the online store answer multiple questions and are available 24/7. Your online shoppers will not have time zone issues in the eCommerce stores, hence you don't have to worry about website abandonment.
Read More: AI Chatbots vs Humans – Who Provides Good Customer Support?
7. Changing the Website Designs
Website redesign that matches your brand color and objectives will help you attract more potential customers. eCommerce brands should target new markets regularly to expand their market size and customer base.
Changing the website will also help you increase conversion rates. For instance, if you are writing a high-converting blog in the eCommerce store, you should place the CTA (call to action) button in the right place. Misplacing the CTA button will not help you get more leads in the eCommerce store. A/B testing in an eCommerce store will help you understand which design and template captivate your users and increase conversions.
8. Increase the Performance of the Website
Website customization is not only about redesigning your website and adding personalized products. One way to do this is going with a headless storefront. Decoupling the eCommerce frontend and backend allows for greater design flexibility and enhanced website performance.
Recent research concludes that 79% of customers will not return to the eCommerce website if it has poor page performance. If you want to increase the purchase of your eCommerce websites, you should enhance the performance of your eCommerce store. When your eCommerce store owners want to purchase products from the website, slow-loading pages should not push them back.
9. Customer-Centric Approach
A business grows organically if it revolves around its target audience. A customer-centric approach is significant to increase the credibility of your store. When you provide the best experience for your customers, they will become loyal customers for your online store.
Customization in eCommerce should also start from the perspective of your target audience. You should understand your target audience's pain points and personalize your store accordingly. Product personalization in the eCommerce store should also match your customers' preferences.
10. Mass Customization
Mass customization is another trend in the eCommerce industry that helps you to refurbish your online store entirely. Mass customization is nothing but providing products to customers with various personalization options.
Every individual customer will have different preferences and expectations. This strategy will help you satisfy your customer base and produce more customized products.
11. Product Descriptions
Marketing copy will drive more conversions and increase sales for your website. While you are writing a product description for your eCommerce store, you should provide how the product will help your customers to solve their problems.
Hence, you have to provide the features and benefits of your product that actually solves your customers' pain points.
3 Best eCommerce Customization Examples
1. Amazon – Alexa
Implementing AI chatbots in the eCommerce store will enhance good customer experience and increase the functionality of your online store. One of the best examples of eCommerce customization is Amazon Alexa, a virtual assistant in the Amazon marketplace.
This humanized virtual assistant will communicate with customers like a real life agent. This virtual assistant will help you operate it from a distance. Like playing music, controlling the smart home, and informing you about the weather. You can control your smart home with Alexa. This best virtual assistant will understand everything that your customers say. Alexa provides a personalized experience and makes your customers happy.
2. Stitch Fix
Stitch Fix is an online clothing store that offers personalized product recommendations. This clothing store will provide personalized styling cards to customers while they are purchasing the products.
Personalized algorithms in the Stitch Fix online clothing store with human-in-the-loop technology will help you grow your eCommerce business. The personalized styling method in Stitch Fix will make online shopping more enjoyable.
3. Morvelo Online Store
An abandoned cart is one of the major issues that store owners are facing in their online stores. Morvelo Online Store sends personalized messages to their customers when they leave the website without purchasing any items.
This abandoned cart email is significant to drive more returning customers to your shop. At times, customers might purchase from one device and leave the website without proceeding with the checkout process. In this case, Marvelo's online store's personalized strategy will help you gain more customers.
Related Posts
Frequently Asked Questions
1. What are the benefits of eCommerce customization?
eCommerce customization will help you generate more loyal customers and repeat purchases. Your customers will also feel valued when you customize your services.
2. What are the best eCommerce customization examples?
Alexa, Stitch Fix, and Morvelo are the three best eCommerce customization examples.
3. What are the important ways to eCommerce customization?
Content marketing, product customization, and personalized offers are important ways to customize your online store. 
Conclusion
eCommerce customization is the best way to attract your potential customers. If your online store needs more brand awareness and loyal customers, you should personalize your store according to your customer preferences. We have curated the 11 best ways to customize your eCommerce store and generate more sales and value. Try the ideas that suit your store and enhance your customer experience.

Latest posts by Greg Ahern
(see all)