AI chatbots are fully automated chat systems where the AI talks or texts to the shopper or website visitor helping answer questions about products and support inquiries. Over time the AI chatbot becomes smarter and answers more questions as well as directs shoppers with the best product recommendations.
Ecommerce AI chatbots are the best choice to increase sales, provide customer service, connect to third-party integrations, and include eCommerce features that fully utilize this tool. AI eCommerce chatbots engages visitors, searches product databases, provides product recommendations, assists customer service teams, gives marketing insights, recovers abandoned carts, and is overall more beneficial than live chat.
1. Engage Visitors
Ecommerce websites require large amounts of engagement to make window shoppers customers. Thankfully AI chatbots do just this. AI chatbots engage shoppers during their buying journey through chats in a conversational manner. Fully automated, 24/7 AI chatbots overcome sales objections and help visitors to get their questions answered and their needs met with instant feedback. The engagement between the visitor and Ochatbot's AI chatbot increases sales revenue by 15% – 35% when shoppers engage with the chatbot.
Ochatbot's eCommerce AI chatbot has features like page targeting and triggers to fully engage users with the bot. These are all customizable and allow for the chat bot to meet their business needs. Page targeting is where the bot pops up with a specific question based on where the user is on the website. When they switch to a different page a different question will appear pushing them to engage the users in a conversation leading to sales. The triggers also engage the visitor depending on when and where they are on the site. Often it pops up when a visitor first gets to the site, similar to when a sales representative approaches shoppers at stores upon entry.
2. Search Product Databases
eCommerce chatbots can connect directly to the product database, the AI chatbot can then recommend the best product for that shopper as well as upsell other products. The chatbot provides products with images, short descriptions, and add-to-cart buttons in the chat window. Having the AI chatbot search the product database is a simple way for customers to get their questions answered and provides a quick way to shop, often finding products that are buried in menus.
Integrations with popular eCommerce platforms like Magento, Shopify, WooCommerce, and BigCommerce make integration instantaneous. Data can also be sent to third-party platforms like live chat, CRM, and customer support ticketing systems.
3. Product Recommendations
Ecommerce AI chatbots are able to have a conversation and answer questions to narrow down what are the best products to recommend for the shopper. After a product is selected the AI can make recommendations cross-selling and up-selling additional products. The AI chatbot can determine which products are best sold together and suggest those additional products before checkout.
Products can also be presented to the shopper in a priority that best fits the eCommerce store's goals. For example, are they looking to sell the most profitable products first or products that are low on inventory or in a close-out end-of-season status.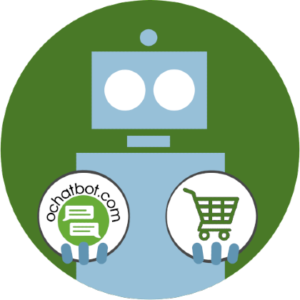 True AI to engage shoppers in conversational eCommerce. Create happy customers while growing your business!
5% to 35% Increase in AOV*

20% to 40% Increase is Revenue*

25% to 45% Reduction in Support Tickets
WE GUARANTEE RESULTS!
*When shoppers engage with Ochatbot®
4. Customer Service
Conversations with an eCommerce AI chatbot are able to switch topics within the AI's knowledge like a normal conversation. Users can ask their questions, express their concerns, and communicate by typing into the chatbot. The chatbot acts like a sales representative, but it also acts as a customer service agent. Available 24/7, AI chatbots are reducing the number of support tickets by resolving repetitive customer inquiries and comments.
This allows support to have more time to help with higher-level issues, questions, and comments. Ecommerce AI chatbots are a simple way to increase the number of customers that can be helped by providing faster response than live chat and a better shopper experience.
5. Better than Live Chat
Conversational AI chatbots are personal virtual shopping assistants that run 24/7/365. Because live chats depend on a live representative, there is a limited amount of conversations that they can handle. Many of those users that the live representative is answering have similar questions. AI chat bots filter those repetitive questions out so that the live support team can spend their time with the more complex situations that are not able to be answered by the chatbot.
Live chats are a great way for customers to get answers to their queries, but customers expect immediate responses at all times. With chat bots, customers get quick and simple solutions. Additionally, over 63% of people prefer to talk with a chatbot compared to a live representative.
AI chatbots can detect if a live chat operator is available and then offer the shopper a live chat option. Having this feature within the chatbot gives the user many ways for their needs to be met.
Ecommerce chatbots can lookup an order status and send the user to their package tracking page. AI chatbots can reduce support tickets by 25% – 50% and for one client up to 78%. Customer support receives many simple and repetitive inquiries, but with an eCommerce AI chatbot, those inquiries can be solved fast and effortlessly.
6. Marketing Insights
eCommerce AI chatbot provides insights, weekly reports, and analytics. The AI chatbot collects data from users including user responses, fallback reports, page engagement reports, and form response reports. These features assist with AI training by providing information on where users are hitting sales obstacles. Gaining insights on how users are moving through the website, what conversations, comments, and questions they ask can be found in AI chatbots reporting and analytics.
7. Abandoned Cart Feature
For eCommerce businesses, the abandoned cart feature significantly increases revenue. On average, it increases revenue by 27% and up to 34%. Traditional abandoned carts only work if the shopper has gone through the checkout process adding their email address. Abandoned cart systems like Ochatbot work without email and can detect if the shopper is interested before they get to checkout. Having this eCommerce AI chatbot feature allows customers to view what they were previously interested in and they will not have to search through the website to remember what they had originally. This allows for quick and convenient shopping.
Conclusion
Using an AI chatbot creates an easy and convenient way to communicate with a visitor while they are shopping. Similar to B2B and B2C Leadbots, eCommerce AI chatbots can improve their ability to overcome sales obstacles, provide product recommendations, and solutions to customer inquiries. Ecommerce AI chatbots act as sales associates because they can overcome sales obstacles and push customers to add products to their cart and to complete the purchase. Data shows a lift in revenues when the shopper engages with a chatbot of 15% to 35% as well as a lift in abandoned cart sales and a reduction of support tickets from 20% to 40% but as high as 78%.
Chatbot Features
| | | |
| --- | --- | --- |
| Features | Ochatbot | ManyChat |
| Independent from FB (FB not required) | Yes | No |
| Integrate to all eCommerce platforms | Yes | No |
| Search product database | Yes | No |
| Add to cart from chat window | Yes | Yes |
| View product details from chat window | Yes | Yes |
| Order status and tracking | Yes | Yes |
| Recommend products (cross-sell) | Yes | No |
| Abandoned cart | Yes | Yes |
| Page targeting | Yes | No |
| Zapier integration | Yes | Yes |
| SMS integration | No | Yes |
| AI training | Yes | No |
| AI ability to switch conversation topics in real-time | Yes | No |
| AI conversational eCommerce (typed, without buttons) | Yes | No |
| NLP (Natural Language Processing) | Yes | No |
| Live chat built-in | Yes | Yes |
| Integrate with 3rd party live chat platforms | Yes | No |
| Unlimited SKU's | Yes | No |
| Unlimited conversations | Yes | No |
| Unlimited Interactions | Yes | No |
| Saved Conversations | Yes | No |
| Prebuilt standard intents | Yes | No |
Pricing Comparison
Ochatbot

ManyChat

 

Free plan

Yes,  

up to 1k visitors

Free Plan

Yes

Leadbot 

$35/month, 

up to 10k visitors

Pro-plan 

Ranging from $10/month  to $435/month
Based on the number of contacts on your list


Basic 

$35/month, 

up to 10k visitors

Business Plan 

Not Provided


Plus Plan 

$109/month, 

up to 30k visitors

 
 

 

Pro-Plan

$495/month, 

up to 30k visitors

 
 
 

Unlimited contacts and leads for all plans. 

Additional plans are available depending on the number of visitors for Plus and Pro plans. See pricing

 
 
How to Build an AI Chatbot Free Course Signup
Latest posts by Jasmine Ahern
(see all)