Are you looking for a personalization app for the Shopify store?
A personalized shopping experience will generate more returning customers in an online store. If you are a Shopify store owner, personalizing the customer experience in your Shopify store is important to engage shoppers on their level and make them want to keep coming back.
Shopify is one of the most flexible platforms for online business owners. In the Shopify app store, you can download personalization apps and integrate them into your store to enhance functionality. This blog will help you find the best personalization app for Shopify by comparing the various options.
Why is Personalization Important?
The e-commerce industry is highly competitive. If you are an e-commerce owner who wants to drive repeat engagement and generate more loyal customers, you should gain your online shoppers' trust.
Personalization plays a vital role in gaining the trust of online shoppers. Personalizing your online store based on your customers' preferences makes them feel heard and valued. Personalization also shows how keen you are about revamping your store according to your customer's wishes.
Benefits of Personalization in the Online Store
Personalizing your e-commerce store will provide various benefits for your business. Here are the crucial benefits that you will never want to miss!
Boost your customer loyalty

Increases customer lifetime value

Your online store will have repeat engagement

Increases the revenue of your online store

Higher converting pages

Boosts your word-of-mouth marketing
How to Personalize Your Store For Online Shoppers?
Personalizing your online store is easy if you understand your customers' preferences and expectations. You can easily tailor your e-commerce products or services based on what your shoppers want. Apart from product customization apps, you can tailor customer service conversations for better customer support in your e-commerce store.
For instance, implementing an efficient AI chatbot on your online store will help you understand your customers' preferences through conversation. Also, the artificial intelligence technology in the chatbots will track the previous conversation pattern and initiate natural conversations with your customers. By understanding your customers' preferences, you can easily tailor customer service and offerings in your online stores.
What is the Shopify App Store?
The Shopify app store is a marketplace for apps where online business owners can find various apps to enhance the functionality of their online stores. Shopify shipping rates calculator apps, product customization apps, payment apps, and product review apps are a few examples of apps in the Shopify app store.
What is a Personalization App For Shopify?
A personalization app is also known as a Shopify product customization app. If the navigation of your Shopify store is complex, personalization apps in the Shopify app store will help your online shoppers navigate through the website easily. Here are the major benefits of adding a personalization app for your online store:
Create personalized product images.

Set up optimized mobile browsers.

Create upsell and cross-sell options on product pages.

Easy to hide sold-out variants in the Shopify store.

Set up global options for various products.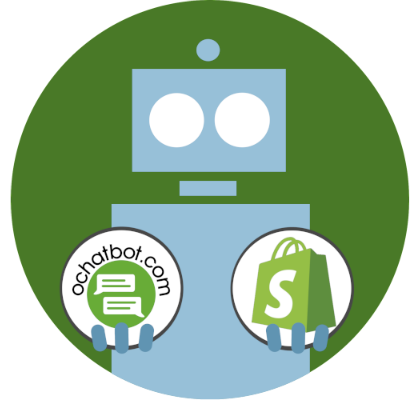 True AI to engage shoppers in conversational eCommerce. Create happy customers while growing your business!
5% to 35% Increase in AOV*

20% to 40% Increase in Revenue*

25% to 45% Reduction in Support Tickets
WE GUARANTEE RESULTS!
*When shoppers engage with Ochatbot®
8 Best Shopify Personalization Apps – Which is the Best?
If you are integrating a personalization app in your online store, it should have unlimited customization options. In the Shopify app store, you will find different Shopify product customizer apps for personalization. Nevertheless, you should not only personalize your products but personalizing other functionalities in your store is also significant.
Let's look into the applications for personalization for your online store.
Zepto Product Personalizer is an exclusive app that provides various customization options for online business owners. In this product customization app, you will get a live preview of the final product directly in your store.
You can add customization options, an additional charge, conditional logic, an easy-to-use interface, etc. Your customers will get the best buying experience with this personalization app.
Highlighted Features
You can save the personalized images and show them in the checkout process.

Your online shoppers will use different devices to purchase products. Zepto Product Personalizer will optimize your store for both mobile and tablet.

Flexible to change the customer's additional cost.

With the logic editor in this app, you can build complicated product builders. You can hide and show different fields.

You will get unlimited product views from the front, back, left, right, top, etc.
Price
Starter – $9.99/month
Starter Plus – $14.99/month
Moderate – $19.99/month
Unlimited – $29.99/month
Variant Product Options app is beneficial for online business owners to personalize products with custom text boxes, and upload images, swatches, and buttons.
This app is also useful for generating custom product options. You will get unlimited variants, text boxes, engraving, and multi-select conditional logic product custom options.
Highlighted Features
You can add Price add-ons and advanced product options customizer.

This app has the perfect custom product builder for clothing, shoes, pod variations, and product variants.

You can set up global settings for every product

Easy to hide sold-out variants and out-of-stock variants.

Flexible to personalize your products with custom text product options, image file uploads, radio buttons, checkboxes, etc.
Price
Starter – Free
Basic Plan – $8.99/month
Advanced – $18.99/month
Shopify store owners can use this app directly in the Shopify admin. With this app, you can create unlimited custom product fields including text, numbers, swatches, checkboxes, drop-down menus, file uploads, etc.
Smart Product Options also allows you to create rules and conditions that show and hide options based on the selections made by your merchants. This app also boosts your sales with price add-ons on customized options. It is also easy to upcharge your variants in this store.
Highlighted Features
Installing the app and integrating it into your online store is not a complicated task. This app has a user-friendly guide to help you install and integrate it.

You can select various theme configurations that help you configure the app to match theme styles, placements, and pre-build selections for the options you create.

With this app, you can also create rules and conditions that show and hide options based on the previous selections made by the customers.

You can upcharge your customers for customized products and increase your store's average order size.
Price
Basic – $8.90/month
Lite – $18.90/month
This app works with different themes and the latest customization options trending in the e-commerce store.
You will get diversified product options and build an unlimited number of custom product options that include text, dropdown menus, calendars, file uploads, swatches, buttons, checkboxes, etc.
Highlighted Features
You can build up proper option sets for products with various functional elements.

The functional elements are text, text area, number, file upload, drop-down, checkboxes, radio, button, etc.

You have to pay the additional cost when your customers choose a product.
Customify Product Customizer personalizes your products to sell bespoke products. Your clients can create free product designs and view the results in their own time.
This product customization app fits all businesses. Since your customers are personalizing their own products, their journey will become more interesting in your online store. Your online shoppers can easily customize and translate their text messages into their own language.
Highlighted Features
You can save your customized products and continue later in the store.

It is easy to upload multiple product images.

Setting up extra costs for your products is not a difficult task.

This app is flexible even for non-technical users. You will have free assistance with this application.

Uploading pictures with this personalization app is flexible and not a difficult task.

The interface of this app is easy to use for many online business owners.
You can create customizable swatches with the G Variant Image and Color Swatch app. You can add this application directly to the Shopify admin.
G: Variant Image and Color Swatch display product variants as a color swatch, automated variant image swatch, custom image swatch, and button. Shopify store owners can customize desired buttons, image swatches, and color swatches on the product list page and product pages.
Highlighted Features
You will have an insightful color swatch option to showcase the product color variant.

There will be several options available on the collection page including the 'Add to Cart' option which will allow your customers to quickly purchase products.

You can upload bulk custom images and color swatches in a snap of time.

You have to drag and drop to arrange the product order in the right way.
Price
This app is free for Shopify owners.
Custom Product Builder works for the latest themes in the Shopify store. This app is exclusively for building your own product with color thumbnails.
You will have a live preview from every angle, conditional logic, gallery video, and inventory management. This app also offers unlimited options in the bundling mode with image thumbnails, price calculations based on dimensions, quantity breakdown, and neon signs.
Highlighted Features
You can customize color thumbnails for your products.

Online shoppers can preview images in pre-defined positions.

You can list your product options in image and text thumbnails.

Wholesalers can add their own engraving per each item in the order.
Price
Product Options – $7.99/month
Customizer – $15/month
Personalizer- $40/month
Pro – $60/month
Inkbay is a Shopify product customizer app that lets customers design their products with text and images. Inkbay comes with advanced product options and quantity discount features.
Online business owners need not install third-party apps for product options and quantity discounts. This app will manage everything which includes downloading production-ready vector files as PDF, JPG, PDF, and SVG. The product personalization in this application is flexible to use.
Highlighted Features
You have inventory control for the personalized products

Your customers will have an outstanding personalizing experience

This software is flexible for several printing methods such as screen print, embroidery, sublimation, etc.

This app is exclusive to screen printers, digital printers, promotional product distributors, etc.
Price
Starter – $19.99/ month
Advance – $49.99/month
Professional – $99.99/month
Unlimited – $249.99/month
Frequently Asked Questions
1. Why is personalization important in e-commerce?
Personalization will help you improve repurchases, boost customer loyalty, and increase revenue for your e-commerce store. When you personalize your service, your store will stand out from the e-commerce crowd.
2. How to personalize your Shopify store?
An e-commerce owner should first understand their customer's preferences. By understanding their desired products and preferences, you can easily personalize your services.
3. Do we have a free app for personalization in the Shopify app store?
G: Variant Image + Color Swatch is one of the free personalization apps for your online store. You can create multiple swatches and color images with this personalization app.
Bottom Line
Searching for different applications and software to personalize your online store is certainly a difficult task. But now you know what to do! The above eight apps in the Shopify app store will help you create a personalized service for your customers and enhance the customer journey in your e-commerce store. Happy Personalization!

Latest posts by Greg Ahern
(see all)