Are you trying hard to increase the conversion rate for your e-commerce store? Conversion rate optimization (CRO) tools in e-commerce websites help online business owners convert their casual website visitors into buyers.
E-commerce competition is hectic these days, and many e-commerce site owners devise innovative strategies to captivate their website visitors. But which strategy will align with the preferences and needs of your potential customers? 
Conversion rate optimization tools are the easiest way to gain insights into your customers and know their preferences. Here, we will explore the benefits of conversion rate optimization tools and the top 9 CRO tools you can use for your online store.
Overview of the Content
4. VWO(Visual Web Optimizer) Testing Tool
9. Optimizely Web Experimentation
What is Conversion Rate Optimization?
Conversion rate is simply the rate or percentage that you convert your website visitors into paying customers. Conversion rate optimization is making adjustments to your website ("optimizing" your website) that help increase your conversion rate.. When an e-commerce website is too complex for website visitors, they might abandon the website to surf another. This is why an e-commerce website owner should always engage users and analyze user behavior on the site to strive for the highest conversion rate possible.
Conversion Rate is Important for Online Websites
Every e-commerce website has the desired goal for website visitors to complete a purchase but not every website visitor will. When a large percentage of website visitors make a purchase on your e-commerce website, e-commerce revenue will increase organically, and you will see the benefits to your bottom line in the form of higher click rate, higher conversions, and more sales.
Use a Conversion Rate Optimization Tool
A conversion rate optimization tool will help you understand more about their website visitors and why they do or do not make a purchase. As an e-commerce site owner, you will glean the preferences of your website visitors and devise potential strategies with effective CRO tools.
CRO tools are also helpful for online business owners to understand various problems that may crop up on the site and how to fix them, turning website visitors into buyers. CRO tools are also one of the best ways to increase conversions.
What are the Types of Conversion Rate Optimization Tools?
E-commerce website owners have different types of CRO tools to gain valuable insights from website visitors such as web, behavior, and testing tools. You can measure the conversion rates on the site.
Using a Web Analytic Tool
A web analytic tool will collect the information and performance of websites. As an online business owner, this tool allows you to collect the demographics of website visitors, impressions, and click percentages. A web analytics tool will track how the users find your website.
Examples for Web Analytics Tools
Google Analytics, Google Search Console, and Adobe Analytics are some of the popular web analytics tools.
What is a Behavior Analytics Tool?
A behavior analytics tool on an e-commerce website will help you understand the behavior of the target audience on the website. For instance, a behavior analytics tool will disclose where your users are not taking the desired action and help you rectify them.
Behavior analytics tools enhance the user experience on the site to boost conversions and help online business owners deliver services or products that meet customers' preferences. 
Examples of Behavior Analytics Tools
Ochatbot, Amplitude, Heap, Tidio, and Hotjar are often used.
What is an A/B Testing Tool?
A/B testing is a method of splitting the website traffic into two segments that see different versions of the same webpage evaluating which webpage performs best. Optimizely, Omniconvert, and Google Analytics are typically used for A/B testing.
9 Top Conversion Optimization Tools for E-commerce Websites
1. AI Chatbot
An AI-powered chatbot will help online business owners engage with their website visitors. When casual visitor gets immediate responses to their doubts and questions, they will stay on your website for a longer time. Online business owners can also use AI-powered chatbots as lead generation tools.
AI-powered solutions help you create new questions, intents, and various replies for the answers customers may pose. E-commerce site owners can integrate AI chatbots into different e-commerce platforms such as Ochatbot, WooCommerce, Bigcommerce, and others.
Ochatbot
Ochatbot
Ochatbot is an AI-powered chatbot that helps online shoppers find and purchase products from the chat window directly. Apart from purchasing products, this AI-powered chatbot helps e-commerce shoppers track the status of their order as well as be reminded of items left in their cart from a previous session.
Ochatbot has machine learning and artificial intelligence technology behind it. Machine learning will store the data of past conversations with potential buyers and help you find the conversion pattern in the conversation. With this effective AI chatbot, online business owners can analyze the behavior of potential customers in a conversational manner.
Best AI Chatbot Pricing: Ochatbot offers four pricing plans for e-commerce site owners along with a free plan and an enterprise plan.
Basic- $29
Plus- $99
Pro- $495
Enterprise – Custom pricing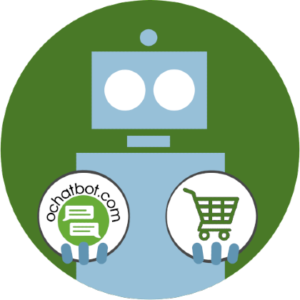 True AI to engage shoppers in conversational eCommerce. Create happy customers while growing your business!
5% to 35% Increase in AOV*

20% to 40% Increase in Revenue*

25% to 45% Reduction in Support Tickets
WE GUARANTEE RESULTS!
*When shoppers engage with Ochatbot®
2. Adobe Target
Adobe Target is an A/B testing and behavior analysis tool that provides online business owners with different elements to enhance the customer journey and provide personalized service on the site.
Adobe Target also helps e-commerce site owners in analyzing the products that users prefer. Through Adobe Target, you can automatically target every visitor and personalize the services without human intervention. You can also use Adobe Target to test the quality of your content in the blog section and produce the best content.
Pricing: Adobe Target has different pricing for various business owners. 
3. Google Analytics
Google Analytics is a web analytics tool that helps online business owners understand the demographics of their target audience. Google Analytics helps online business owners track online traffic and understand the user behavior on their e-commerce sites.
Google Analytics is also one of the ways to improve the Search Engine Optimization (SEO) of your site. For instance, Google Analytics data informs e-commerce site owners about the web pages that are getting more traction. You can also track page views and unique page views of the content.
Additionally, you can also understand what type of content gets more traction and devise a content marketing strategy accordingly. Content marketing is optimizing the content in your blog section with relevant keywords that have higher search volume in your niche.
Pricing: Google Analytics has both paid and free versions. Google Analytics 360 is a paid version and the price is based on their quotations. 
4. VWO(Visual Web Optimizer) Testing Tool
VWO testing tool is one of the world-class A/B testing tools for e-commerce websites. Online business owners should run experiments with the VWO testing tool. This tool is an advanced A/B testing tool that optimizes conversion rates and turns a higher rate of your website visitors into paying customers.
VWO testing tool allows you to tweak your pages for each test. This testing tool will reduce the dependency of the IT team and eliminate difficult coding methods. Online business owners can edit many elements in the conversion rate optimization tool. Many website visitors get attracted to the captivating elements of your site. You can create dynamic texts on your website to enhance the customer experience of your site.
Pricing: VWO has three pricing plans for e-commerce site owners. The pricing plans are Growth, Pro, and Enterprise. You should fill out the form to request pricing for each plan.
5. Optinmonster
Optinmonster is a powerful lead generation tool for B2B businesses. 
With Optinmonster, online business owners can easily convert and monetize their website traffic. This conversion rate optimization software has many exceptional features such as lightbox pop-ups, floating bars, scroll boxes, gamified wheels, page-level targeting, geo-location targeting, and more. Online business owners can also use Optinmonster to perform A/B testing, which tests different headlines and content to identify which converts better.
Pricing: Optinmonster has four pricing plans per month, they are,
Basic – $9
Plus – $19
Pro- $29
Growth- $49
6. HubSpot
Hubspot CRM (Customer Relationship Management) is one of the best conversion rate optimization tools to analyze sales activity and track team performance. This CRM also offers enterprise software for marketing, sales, customer service, content management, and operations.
Email tracking and prospect tracking features are effective for online business owners to generate more prospects and convert them into leads. Hubspot also automates campaigns since Hubspot CRM integrates with sales, customer service operation tools, etc. Hubspot CRM is a conversion rate optimization tool that enhances the marketing tools on your e-commerce store. Hubspot CRM has many popular features such as email notifications, email templates, meeting scheduling, sales quotes, live chat, etc.
Pricing: Hubspot has three pricing plans per month,
Starter- $45
Professional- $800
Enterprise- $3,200
7. Crazy Egg
Crazy Egg is a powerful solution for e-commerce websites to run A/B testing on web pages. Crazy Egg is used for A/B testing and heat maps for conversion rate optimization.
Crazy Egg offers several conversion rate optimization tools for e-commerce website owners. For instance, the Crazy Egg snapshot report includes five reports:the heat map report, scroll map report, confetti report, overlay report, and list report.
Heat Map Report
The heat map report will record the highest click data for web pages. With the heat map report, you can track the pages that are captivating website visitors and the factors that help web pages get many clicks.
Scroll map report
Call to Actions (CTAs) helps online business owners find an effective spot on their web page to place CTAs . The scroll map report is also beneficial for converting your casual website visitors into potential buyers by placing the CTA button in the right place.
Confetti Report
Online business owners can easily segment the website clicks with the confetti report. This report segment clicks on e-commerce websites by using various metrics such as time on site, Operating system(OS), and geography.
Overlay Report
Overlay report implies the breakdown of clicks on the website. The Overlay report helps online business owners know which CTA button is working for increasing clicks and converting more website visitors.
List Report
Some e-commerce business owners will want to view the numerical report of clicks on the web pages, which is the function of List Report.
Pricing:
Basic- $29
Standard- $49
Plus- $99
Pro- $249
8. Google PageSpeed
Google PageSpeed is a web analytics tool that helps online business owners get valuable page speed insights.
Page speed optimization is one of the most important factors to get more website visitors. When an online shopper visits your website and finds that your website speed is slow, they will leave the website almost immediately. Google Pagespeed is an effective conversion rate optimization tool that will help e-commerce site owners test their web page performance. Google Pagespeed will provide valuable insights for you to increase the page speed and accelerate your conversion rate.
Pricing: Google page speed is a free CRO tool for page speed optimization.
9. Optimizely Web Experimentation
Optimizely Web Experimentation is a world-popular A/B testing and conversion optimization tool for e-commerce website owners. Online business owners can use Optimizely to serve a variety of audiences.
You can run different page experiments with Optimizely. This conversion rate optimization tool has several options for online business owners such as targeting and prioritizing audiences, setting up campaigns, and targeting and evaluating the performance of every web page. With the help of Optimizely API, it is easy to view the experiment stats in the dashboard. The deployment of server-side experiments is exceptional in Optimizely.
Pricing: Optimizely Web Experimentation offers CRO tools for every task such as content management, running campaigns, A/B testing, Feature Management, and E-commerce. You have to fill in your organization information to request pricing plans. 
Bottom Line
We have listed the best 9 conversion rate optimization tools for your e-commerce website in this article. Choose the CRO tools that will help you optimize your website for a better user experience.
Customer journey is a significant metric to monitor, to increase the conversion rate on your online website. Once you find the best practice for converting website visitors into buyers, you can follow a similar practice and generate more organic traffic. 
Latest Posts
Frequently Asked Questions
What are conversion rate optimization best practices?
Optimizing content in the blog section, increasing the page speed of e-commerce websites, engaging users in a conversation, and A/B testing are the four best practices to increase the conversion rate of e-commerce websites.
What is the difference between Search Engine Optimization (SEO) and Conversion Rate Optimization(CRO)?
Search engine optimization is adding relevant keywords to the content that has a higher search volume. If a user is searching for products, your e-commerce website will rank higher since the keyword volume is high. Conversion rate optimization is converting casual website visitors into potential buyers with unique marketing strategies and tools.
What is CRO strategy?
CRO strategy is also known as a digital marketing strategy that will help online business owners convert their website, visitors, into potential customers by understanding their needs.

Latest posts by Greg Ahern
(see all)