Did you know how customer communication in your online store can enhance your sales? When a brand consistently interacts with its target audience, it can understand its preferences and tailor its products accordingly.
Recent research says that 90% of customers in the US perceive customer communication as a factor in deciding how to choose to purchase in an eCommerce store. If you are an online business owner, you should use a customer communication strategy to captivate your customers in a conversation and encourage them to buy your products. This blog will formulate seven significant strategies to enhance customer communication in your online store.
What Does Customer Communication Mean?
Customer communication in simple words is interacting with your target audience through different social media channels, and streamlining your brand's relationship with customers.
Consistent customer communications in eCommerce stores can help you build strong customer relationships. If a customer has an issue with your products or services, you should resolve them immediately. Having good customer communication on your eCommerce site can also build customer loyalty, and pave a way for a seamless customer journey.
What Are the Benefits of Having Good Customer Communication in the eCommerce Store?
Customer service communication in the online store is not only good for increasing sales, there are also several benefits for online business owners.
Good customer communication can improve the customer satisfaction rate in your online store.

If your brand resolves your customers' issues immediately, it can help you build customer loyalty for your brand.

Consistent customer communication in the eCommerce store also enhances the efficiency of collecting customer feedback.

Brand reputation is important for increasing sales. Customer interactions also pave a way for you to build your brand's reputation from the scratch.

There are more than several benefits that make your customers feel extremely valued when there is good customer service communication.
What Is Good Customer Communication in the eCommerce Store?
When your customers are happy with your customer service, they will become advocates for your brand. Many online businesses generate customer lifetime value with good customer service in their online stores.
Are you wondering how to measure your customer service in your online store? Well, there are some significant factors in the checklist that you should accomplish to provide good customer service for your website visitors.
Actively listening to your customers is the first step that an online business owner should take while communicating with their customers. When a customer conveys their issues to you, they expect an instant response. Therefore, many online business owners use AI chatbots to instantly respond to their customers' questions.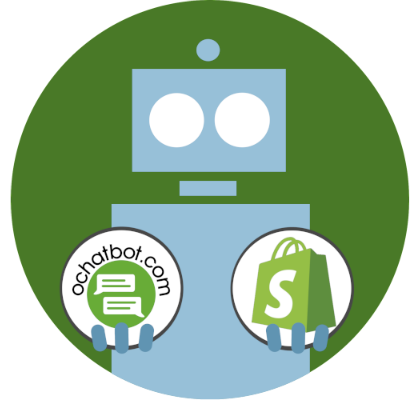 True AI to engage shoppers in conversational eCommerce. Create happy customers while growing your business!
5% to 35% Increase in AOV*

20% to 40% Increase in Revenue*

25% to 45% Reduction in Support Tickets
WE GUARANTEE RESULTS!
*When shoppers engage with Ochatbot®
7 Effective Strategies to Enhance Customer Communication in Your Online Store
1. Multi-Channel Communication
Many online business owners use a single channel to communicate with their customers. However, using multiple communication channels can help you reach a wider audience. Reaching out through Gmail, SMS, Instagram, Facebook, and other social platforms increase your brand visibility to your target audience.
Multi-channel communication is also one of the ways to effectively spread your marketing messages to your target audience. You can use both digital and print media to interact with your customers. Diversifying your target audience can help you grow your business consistently.
2. Personalize the Customer Interaction
When you understand your target audience's needs, you can personalize the communication and increase brand loyalty more organically.
Customer interactions need not be based on your brand and new products. Based on your customers' previous conversations, you can intrigue their interest with their preferences. For instance, implementing an AI chatbot on your eCommerce site can help you understand the conventional pattern of potential customers. Therefore, you can add a personal touch to your conversation.
Read More: 9 E-commerce Personalization Examples & Benefits
3. Actively Listen to Your Customers
If you want your target audience to value your brand, you should pay attention to their issues without constantly promoting your products in the conversation.
Active listening is one of the most effective customer communication skills. For instance, when your customers have a problem with their product shipment, orders, or payments, listening to their issue initially and taking action immediately helps them feel valued. In addition to resolving their problems, product recommendations also require understanding their preferences and sorting out the recommendations accordingly.
4. Automate Customer Communication
Communicating with your customers around the clock is not really possible with live chat agents. The live chat feature can provide the human touch in the conversation, but it cannot be available 24/7.
Hence, many eCommerce stores automate their communication in the chat. For instance, rule-based chatbots formulate the questions in branches and help customers choose from those questions. If a customer chooses a question, the bot provides them with an automated answer.
Therefore, customers get their answers immediately without waiting for a response. Another way to handle your customers is by informing them that your support team is away and notifying them when you're back. By doing this, your customers feel seen and heard in the eCommerce store.
5. Respond to Their Feedback
Collecting customer feedback is one of the most significant actions you can do to learn more about your target audience's preferences. When you collect your customers' feedback about your product or services, you can tailor your services to them.
Apart from collecting customer feedback and tailoring your services, an eCommerce store owner should also respond to their feedback. Owning accountability for your actions is the best way to build a good reputation for your brand.
6. Communicate with Clarity and Empathy
When you are communicating with your customers, the interaction should not frustrate them. For instance, automation in the conversation is effective, but answering repetitive answers for every question may exasperate your customers.
Many eCommerce store owners prefer AI chatbots to Rule-based chatbots because of the advanced technologies that incorporate and streamline the conversation. With the help of Human in the Loop technology, AI chatbots can easily empathize with your customers if they are infuriated with your services. Clarity and empathy play a vital role in enhancing customer communication in your online store.
7. Read Your Customers' Mind
Analyzing your customer's minds and asking relevant questions might look like a complicated task. However, eCommerce store owners do this strategy effectively with advanced technologies, such as machine learning and artificial intelligence.
Machine learning technology can help you understand the previous data, and learn from the conversation. Similarly, AI technology in the conversation can help you in decision-making. Your customers will receive relevant product recommendations and answers to their searches. Understanding their needs beforehand and providing solutions will perk up your brand among the target audience in the competitive industry.
How Do AI Chatbots Help Online Business Owners Nurture Customer Communication?
Do you know how AI chatbots can outpace Live Chat agents in customer communication? Well, this is possible because of the advanced technologies, such as AI and ML behind them. An online business can reduce the cart abandonment rate, increase customer retention and enhance customer communication with the Artificial Intelligence powered chatbot.
Ochatbot is an effective AI customer communication software that enhances customer communication in various platforms such as Shopify, Woocommerce, and Bigcommerce.
With the help of Ochatbot, you can increase your sales exponentially with sales strategies such as upsell, down sell and cross-sell. Ochatbot is cost-efficient and reduces multiple tasks such as product recommendations, briefings about the brand, and engagement in conversation
Frequently Asked Questions
1. How do you improve customer service communication in an eCommerce Store?
Personalization, automation, clarity, empathy, or implementing advanced technologies are a few important ways to improve customer service communication in eCommerce stores.
2. Why is customer communication important in an online store?
Customer communication can help online business owners increase their sales and build brand loyalty and awareness. Effective customer service communication also paves a way for word-of-mouth marketing.
3. What is good customer communication?
Good customer communication helps customers resolve their problems. When your interaction is seamless, you can invite more target audiences through different platforms.
Summing Up
Building strategies for customer communication in your online store improves the functionality of the online store. One of the best ways to implement effective strategies for customer communication is to think from the perspective of your target audience.
This blog has enumerated the seven best strategies to improve customer communication in your online store from the perspective of your customers. Implement the strategies based on your target audience's demographics and generate more sales. 
Latest Posts

Latest posts by Greg Ahern
(see all)