Did you know that a customer service chatbot plays a significant role in enhancing customer experience in the eCommerce industry?
Good customer service can help you understand your customers better and fulfill their expectations in the online store. Customer service chatbots augment customer service agents' service and swiftly boost engagement on your site. In a physical store, customer service teams assist shoppers and help them choose their products.
If you want to provide the same customer support in an online store, you should tweak your conventional style of customer support and add advanced chatbots to your online store. This blog can help you understand the benefits of chatbots in customer service.
Why Customer Service is Significant in E-commerce Stores?
Recent research shows that 70%  of buying experiences are based on the customers' experiences in the store. Your customers can easily find their desired products in various online stores, but customer service plays an important role in enhancing customer experience in the stores.
Customer service helps customers take their purchasing decisions. When your customers find their desired products in your online store, they will check the recommendations with cross-selling and upsell strategies. 
What is a Customer Service Chatbot? – Chatbot in Customer Service
A customer service chatbot is an artificial intelligence-powered bot that answers customers' questions efficiently. Customer service bots have machine learning capabilities that identify patterns in customers' questions immediately. 
Chatbots can answer customers' questions effortlessly, nevertheless, customer service chatbots can even handle complex questions with the help of the above technologies. 
Why Should You Choose a Chatbot in Customer Service?
Artificial intelligence-powered chatbots help you scale your business productivity by providing solutions immediately. Human agents in the physical store welcome your customers with warm welcome messages and redirect them to the product recommendations.
Chatbots replicate the exact customer service of a human agent to resolve problems immediately. Swift responses and 24/7 availability are the highlights of chatbot customer support. One of the major reasons to choose chatbots for customer support is the efficiency of bots to handle multiple tasks effectively.
What Is the Difference Between a Human and Chatbot in Customer Service?
Many online business owners struggle to choose between the chatbot and live chat for customer support. Live chat agents provide a personal touch to the conversation and make customer interactions more engaging. On the other hand, chatbots are spontaneous.
The difference between a chatbot and human agents in the conversation is the immediate answers. Of course, rule-based chatbots do not have a personal touch in the conversation. Nevertheless, online business owners can replace rule-based chatbots with AI bots to provide a personal touch.
However, if you are implementing live chat for customer support, you will not be able to provide an immediate response having In a nutshell, having a chatbot for customers in the eCommerce store is a better option to improve business productivity.
5 Benefits of Chatbots in Customer Service
1. Improve Customer Response Time
AI chatbots are not only the best solution for improving customer engagement, but they also significantly increase response time.
When a customer is presenting an issue in your store, you should be able to respond within 24 hours. The conversation in your eComcontinue with ease without resolving the issue.
An eCommerce customer support system should at least engage customers, and brief them about the procedures to solve the issues. Therefore, you can let your customers know how you value them. An AI chatbot understands customers' questions and immediately responds to them relevantly without making them wait in the chat window.
Related: 7 Tips For an Amazing Chatbot Interface
2. Round-the-Clock Support
As much as we talk about the importance of an immediate response, we should also discern that availability plays a vital role in providing a fast response.
Ochatbot is one of the chatbot platforms that answer customer questions from different time zones. Ochatbot also integrates different eCommerce platforms, such as Woocommerce, Shopify, and Bigcommerce. Hence, providing customer support 24/7 will not be a huge task for eCommerce store owners when they implement AI chatbots on the site.
3. Empathize with Customers
Empathy in responses generates more loyal customers to your eCommerce site. For instance, when your customer is unsatisfied with your products, they will expect concern in your response. Tay chatbot from Microsoft failed the customer support experiment with racist comments. This incident sprouted fear in the minds of eCommerce store owners to implement chatbots for customer support.
However, AI chatbots with humans in the loop and sentiment analysis technology came to the rescue for online business owners and eliminated the rude responses in eCommerce stores. E-commerce store owners can increasingly witness the improvement in the customer experience with AI-powered chatbots. An online store can also increase customer loyalty by empathizing with customers at the right time.
4. Reduce Customer Support Costs – An AI Chatbot in Customer Service
Customer support costs are comparably less by implementing AI chatbot on the eCommerce site. Chatbots reduce the support team cost and handle conversations efficiently. Especially, you can reduce your operational costs by adding an AI chatbot to the online store. 
Apart from engaging the customers in a conversation, chatbots perform tasks, such as placing orders, recommending products, and tracking the shipping in the eCommerce stores. Hence, AI chatbots are cost-efficient to uplift your customer service in online stores. Your support team will not exactly remember the previous conversations of your customers, but chatbots do. 
5. Advanced Technologies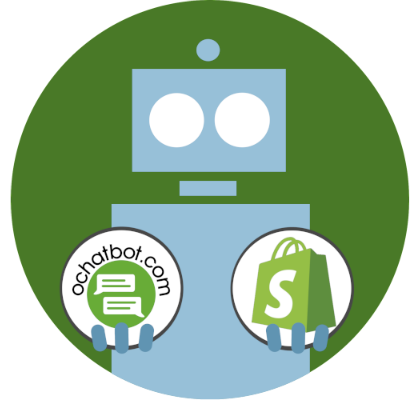 True AI to engage shoppers in conversational eCommerce. Create happy customers while growing your business!
5% to 35% Increase in AOV*

20% to 40% Increase in Revenue*

25% to 45% Reduction in Support Tickets
WE GUARANTEE RESULTS!
*When shoppers engage with Ochatbot®
An AI chatbot in customer service is embedded with advanced technologies. Natural language processing, artificial intelligence, and machine learning technologies are the advanced technologies behind chatbots. Chatbots act with both machine and human intelligence in customer service. 
When a customer types a question and tries to clarify issues, chatbots will provide them answers by understanding their questions coherently. AI technology in chatbots nurtures decision-making skills. Even if your customers ask complex questions, chatbots can tackle them with AI and Machine learning technologies. Therefore, customer relationships in the eCommerce site can gradually improve with AI chatbots.
Frequently Asked Questions
1. How are chatbots used in customer service?
Chatbots replace conventional human support and efficiently provide answers to customers' questions. A customer service chatbot uses advanced technologies, such as AI, ML, and NLP to handle customer questions.
2. What are the types of chatbots?
There are two types of chatbots: Rule-based and AI-powered chatbots.
3. How do chatbots improve business productivity in an eCommerce site?
Chatbots handle multiple tasks, such as answering customer questions, placing orders, recommending products, and tracking order details.
4. Can chatbots replace humans in customer support?
Chatbots cannot replace humans in customer support, but they can definitely enhance the services.
5. Which chatbot is best to add in the eCommerce stores?
Ochatbot is the best AI chatbot to implement in your eCommerce store. This chatbot integrates with almost all eCommerce platforms such as Shopify, Woocommerce, Bigcommerce, etc.
Summing Up
Imagine that you are fed up with a product, and contacting customer support for a solution and getting answers immediately! You would feel extremely valued, wouldn't you? AI chatbots let your customers know how much you value them and empathize with them by providing fast answers.
Chatbots benefit an eCommerce store in several aspects. We have added five significant benefits by adding an AI chatbot to your site. Improve your customer service processes by adding a cost-efficient AI bot to your eCommerce store. 

Latest posts by Greg Ahern
(see all)