Do you want to know the benefits of chatbot integration with Facebook?
Facebook's full-year report from 2020 says that Facebook messenger has more than 2 billion monthly active users and is expected to increase by 12% in the upcoming years. Facebook is one of the popular social media platforms where people gather and communicate in huge numbers.
Business owners prefer social media platforms such as Facebook to run their businesses so they can reach out to their customers. With all the primary business efforts, integrating a chatbot with your Facebook business page will assist the human agents in handling the customers.
Overview of the Content
How Does a Facebook Chatbot Work?
Benefits of Chatbot Integration with Facebook
Converts Visitors to Customers
AI Chatbot Integration with Facebook
What is a Facebook Chatbot?
A platform like Facebook messenger is the place where commercial experts can find their target audience altogether. So business people highly rely on these platforms to connect with their customers through posts and advertisements. After attracting the audience to their Facebook page, the next step is customer engagement.
Connecting with customers is the foremost need of any business. Providing a 24/7 customer service solution improves the customer experience by engaging them with immediate responses. In this case, a support team cannot wait for the customers all day to guide them through the services and issues or give them a proper response.
Building Facebook Messenger bots reduces the need for human interference in customer engagement so they can make use of their time in designing business goals or focusing on other matters.
As Facebook messenger allows chatbot builders to integrate chatbots with messenger chat, they can guide users to grow their business by converting casual users into potential customers.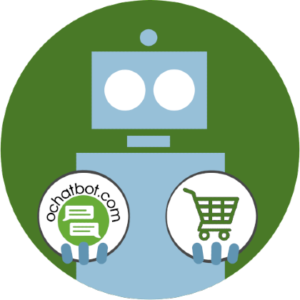 True AI to engage shoppers in conversational eCommerce. Create happy customers while growing your business!
5% to 35% Increase in AOV*

20% to 40% Increase in Revenue*

25% to 45% Reduction in Support Tickets
WE GUARANTEE RESULTS!
*When shoppers engage with Ochatbot®
How does Facebook Chatbot work? – Chatbot Integration with Facebook
The Facebook chatbot is a conversational commerce bot, where the business focuses on conversations like voice calls or chats. There are a few rule-based chatbots, they work on a specific pattern and do not ensure real-life conversations.
These chatbots have default answers for some predefined questions. They can not handle some new questions from the customers, which is why the Facebook messenger chatbots are artificial intelligence (AI) chatbots.
AI bots are automated messaging software where the system makes use of AI to understand the user's questions and answer them accordingly. Facebook chatbots use sentimental analysis techniques to figure out the mood and sentiment of the customer and respond to them.
Facebook Messenger chatbots have an upper hand over other chatbots as they also employ the human-in-the-loop technique to make use of human sense to answer certain questions. This will make the users feel like chatting with a real person.
Benefits of Chatbot Integration with Facebook
Facebook Messenger lets users integrate their own Facebook chatbot to promote conversational commerce. Here are some of the benefits of using chatbots with Facebook:
High Availability
One of the best things about online shopping is that people can shop anytime from anywhere. A user may log into their Facebook account early in the morning and come across a product from your business. In this case, the Facebook bot will provide customer service to the users at any time which is not possible with a traditional customer support team.
Saves Time
This Facebook Messenger chatbot is time-saving for both customers and business owners. The chatbots reduce the wait time of the users. Usually, customers will wait until the support teams reply to their messages but chatbots help users with immediate responses as soon as they land on the Facebook page. It also saves time for the business people because the chatbots can fill the place of the manpower and they can make use of their time in other aspects of the business.
Converts Visitors to Customers
Once the users land on the Facebook page through ads or posts, the messenger bot will engage them with welcome messages and let them know about any options and offers. Although they just landed for a casual visit, the chatbot with its AI analyses their needs and pushes products of their interests, while urging them to buy the product.
Boosts Engagement
Users may abandon their cart if they don't find anything relevant to their search or if there isn't any proper response to their doubts. The Facebook Messenger bots receive and guide users throughout their shopping process which eventually brings down abandoned cart rates. If the user didn't find the product they searched for, the chatbots will show them the relevant products and notify the users when the product stock increases. These engaging chatbots assure a standard customer experience.
Personalized Engagement
The Facebook messenger chatbot provides a personalized engagement experience to the users. Once the users land on your page with their Facebook account, the chatbots will greet them with a welcome message. As the Facebook chatbot keeps track of the user details and their order details, the customer develops trust in the chatbots and the business page.
Feedback and Analysis
The messenger bots collect sales data like conversion rates and revenue to perform a weekly analysis. This analysis helps the business pages with a detailed report on the hits and flop attempts that helps them with upcoming plans.
AI Chatbot Integration with Facebook Messenger
Ochatbot is one of the AI-based chatbots that generate leads and drive conversions to your business through conversational commerce. This chatbot provides answers to the users' questions and improves user engagement with real conversations. You may read the unique features of Ochatbot below: 
Easy to use – The Ochatbot is easy to install with a single script and a few clicks. The chatbot builders designed it in a way that the business people can easily customize the chat screen as per the brand identity. People with no coding knowledge can also make use of this chatbot on their business pages.
Shop from the cart – The customers need not get into the product webpage to make purchases. They can simply search for the products with keywords in the chatbot and add the products to their cart from the chat window. The users can also track the order status which reduces the support tickets.
AI Conversational eCommerce – Ochatbot is a conversational eCommerce tool that interacts with customers with a natural tone like humans. They also use Natural Language Processing (NLP) to understand the text or voice data and respond to them.
Frequently Asked Questions
What is the difference between Live chat and chatbot?
Live chat allows a human to human communication which creates a realistic conversation. On the other hand, the chatbot enables communication between a user and a bot without compromising the natural tone.
What are things chatbot builders should concentrate on?
Chatbot builders should make sure the chatbot is not spamming users with unnecessary options. The text from the bots should be concise because the users will not read long paragraphs. Chatbots should prefer quality images of products to attract users. Apart from the advanced features, these simple things will make the best chatbots for businesses.
How to Integrate Ochatbot with Facebook Messenger?
Users can configure Ochatbot with Facebook messenger without any codes. They have to just import SKU (stock keeping unit)  and make use of Ochatbot on their Facebook business page.
Final Thoughts
Integrating chatbots with Facebook messenger will boost the business's sales with their 24/7 customer service. The best chatbots are those that use AI and human intelligence together to bring out quality responses to the users.
If you want an alternative to the traditional rule-based chatbots for your business, you may use AI chatbots. AI chatbots along with NLP techniques and sentimental analysis can effectively sense and understand human sentiments and guide them through the purchase. 
Latest Posts

Latest posts by Greg Ahern
(see all)