Lead generation chatbots are the next evolution for online businesses and marketers to boost leads and sales. Find out how businesses are using chatbots for lead generation.  
Over the last few years, there has been a huge increase in using messaging apps for private conversations and a decrease in downloaded apps. Users spend more time on messaging programs than they spend using apps. Can marketers reach these messaging users? Yes! Enter chatbots for lead generation.
Over the last three years, users have shifted to messaging apps for private conversations, boosting messaging apps users to five billion globally. As users spend more time with these apps there is less interaction with marketers. Marketing is vital to gain customers so we turn to chatbots for lead generation.
Users are accustomed to using chat tools to communicate with others, so engaging with a chatbot is an easy transition to gain information about brands. One of the biggest reasons that lead generation bots work is because of the willingness to continue conversations with a chatbot. The longer the conversation, the more data is collected. This data improves your marketing campaigns and upsells users on recommended products and services based on their preferences.
Around 63% of people prefer to talking with a chatbot rather than a live chat application. One reason is that they don't like the social pressure of talking to a real person who may hard sell them. They are also more willing to open up about what they are looking for and their personal needs without the fear of human opinion.
The most important questions for lead generation include product preferences, reviews, and location. The main goal of the chatbot is to anticipate what the user is going to ask and provide a fun, engaging, and informational response. Engaging in an easy conversation is critical because it is another factor for lead nurturing. The conversational manner in which the bot talks makes it easier to get the prospect's contact information by asking at the right time. Similar to a form, the remaining portion of the lead generation conversation collects the information and sends it to the CRM as a lead. 
When creating a lead generation chatbot, keep the following items in mind.
Have a fallback if the person wants to talk to a live person or contact someone immediately.

Ask qualifying questions to help prioritize the leads.

Make sure the users know it is a chat bot, not a live chat.

Connect the contact information to the exact page the prospect was on when they engaged the chat bot, and include other conversational threads.

Engage the prospect in a conversational way and be polite. Don't trick them into giving their contact info, which only creates low-quality leads.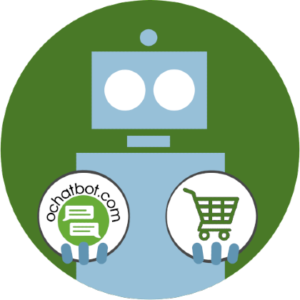 True AI to engage shoppers in conversational eCommerce. Create happy customers while growing your business!
5% to 35% Increase in AOV*

20% to 40% Increase in Revenue*

25% to 45% Reduction in Support Tickets
WE GUARANTEE RESULTS!
*When shoppers engage with Ochatbot®
Chatbot Features
| | | |
| --- | --- | --- |
| Features | Ochatbot | ManyChat |
| Independent from FB (FB not required) | Yes | No |
| Integrate to all eCommerce platforms | Yes | No |
| Search product database | Yes | No |
| Add to cart from chat window | Yes | Yes |
| View product details from chat window | Yes | Yes |
| Order status and tracking | Yes | Yes |
| Recommend products (cross-sell) | Yes | No |
| Abandoned cart | Yes | Yes |
| Page targeting | Yes | No |
| Zapier integration | Yes | Yes |
| SMS integration | No | Yes |
| AI training | Yes | No |
| AI ability to switch conversation topics in real-time | Yes | No |
| AI conversational eCommerce (typed, without buttons) | Yes | No |
| NLP (Natural Language Processing) | Yes | No |
| Live chat built-in | Yes | Yes |
| Integrate with 3rd party live chat platforms | Yes | No |
| Unlimited SKU's | Yes | No |
| Unlimited conversations | Yes | No |
| Unlimited Interactions | Yes | No |
| Saved Conversations | Yes | No |
| Prebuilt standard intents | Yes | No |
Pricing Comparison
Ochatbot

ManyChat

 

Free plan

Yes,  

up to 1k visitors

Free Plan

Yes

Leadbot 

$35/month, 

up to 10k visitors

Pro-plan 

Ranging from $10/month  to $435/month
Based on the number of contacts on your list


Basic 

$35/month, 

up to 10k visitors

Business Plan 

Not Provided


Plus Plan 

$109/month, 

up to 30k visitors

 
 

 

Pro-Plan

$495/month, 

up to 30k visitors

 
 
 

Unlimited contacts and leads for all plans. 

Additional plans are available depending on the number of visitors for Plus and Pro plans. See pricing

 
 
How to Build an AI Chatbot Free Course Signup

Latest posts by Greg Ahern
(see all)