Support Tickets in e-commerce stores help the customers by initiating the conversation and resolving their issues. E-commerce business spends a lot of time and money maintaining support tickets and answering customers' questions. 
E-commerce chatbots with artificial intelligence technology reduce support tickets from 25% to 45% doing multiple tasks for shoppers as well as answering questions. AI chatbots are resolving several shoppers' issues so they can continue with making purchases. Chatbots with Artificial Intelligence technology reduce the additional tasks of online business owners by engaging with the customers efficiently. 
Online Business with Support Tickets
Online Business owners are finding different ways to understand their customers' preferences and reduce the support tickets system. 
AI chatbots are used in e-commerce instead of supporting tickets to automate the websites' sales and services. By analyzing the preferences of the customers, AI chatbots work well in escalating e-commerce sales.
E-commerce businesses with support tickets should maintain a service team to attend the calls and answer customers' questions. E-commerce chatbots with Artificial intelligence technology behind them easily understand what a customer says with trained commands. 
Your customers don't have to wait for so long to get answers to their questions!
E-commerce Chatbots as Support Tickets with Artificial Intelligence
E-commerce websites use chatbots with artificial intelligence to maintain a real-life conversation and provide a physical store experience to online shoppers.
Are you wondering how an AI chatbot can outshine support tickets and provide a human touch to the conversation? Let's look into the AI chatbots' marketing strategies to increase sales in e-commerce!
Sales Trigger Strategy
AI chatbots are trained to give personalized messages to the customers in the conversation. Natural Language Processing(NLP) in AI chatbots helps the bots to understand human language and respond accordingly.
Ochatbot sees an increase in revenue by 20% to 40% when customers engage with it. Sending personalized messages is one of the exceptional sales trigger strategies by AI chatbots. The customer service team cannot read so many previous conversations to respond efficiently to the customers. An AI chatbot in e-commerce reads every conversation and interprets the context effectively.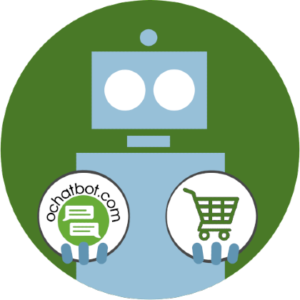 True AI to engage shoppers in conversational eCommerce. Create happy customers while growing your business!
5% to 35% Increase in AOV*

20% to 40% Increase in Revenue*

25% to 45% Reduction in Support Tickets
WE GUARANTEE RESULTS!
*When shoppers engage with Ochatbot®
Task-Specific Training
Support tickets in e-commerce sales cannot keep track of every website visitor and their behavior. An online business should first understand customer behavior to provide customer-centric service.
AI chatbots with business objectives ask questions to the customers that can increase sales opportunities. Chatbots can also understand the customer behavior pattern and identify the behavior of a potential customer. Training a chatbot with task-specific questions to perform functional tasks with business objective questions.
Related: 7 Reasons Why You Need an E-commerce Chatbot
Sales Automation
E-commerce website owners should focus on various tasks to increase the sales of the websites. Support tickets can answer questions and attend customer calls but tackling various tasks is time-consuming with them.
Chatbots automate the sales of an e-commerce website by focusing on various tasks. AI chatbots are easily scalable and increase user engagement with conversational elements in the chats. Chatbots don't make customers wait for so long to answer their questions, they enhance the customer service experience with fast replies. 
Increasing Revenue with Re-selling strategy
Ochatbot reduces the support ticket cost from 20% to 40% in the e-commerce business. The chatbot doesn't replace customer service support tickets, but it can reduce the number of human agents and manual work.
When a customer doesn't buy a product from the list, Chatbots give them suggestions related to their preferences with a re-selling strategy. Increasing the revenue with a re-selling strategy is faster and more efficient with AI chatbots.
Tracking Order Status
E-commerce chatbots track the order status of the customers and answer their questions regarding the products. Online business owners don't have to spend their money in hiring customer service teams and support tickets when chatbots do these tasks swiftly.
Product Recommendations and Descriptions
AI chatbots in e-commerce sales recommend products to customers by connecting to their conversations. E-commerce chatbots use upsell and cross-sell strategies and encourage online shoppers to buy the service and products.
Human-like interaction with AI chatbots performs better than customer service agents in giving product descriptions through the chat window.
Online Shoppers don't Leave Your Website
One of the many benefits of using AI chatbots in an e-commerce website is to reduce browse abandonment. An online shopper tends to leave the website while browsing if they want to know more about the products.
Ochatbot gives the product information and allows the user to add the products to their carts without leaving the chat window. Online shoppers don't leave your website when your chatbot gives them relevant recommendations and understands their intent appropriately.
Connecting to CRM
As mentioned above, A CRM tool lets you store customer and prospect contact information, identify sales opportunities, record service issues, and manage marketing campaigns. 
E-commerce websites can use chatbots that are integrated into customer relationship management to manage the data of customer interactions. CRM integration in AI chatbots benefits e-commerce businesses in different ways like, enhancing the user experience and increasing sales exponentially.
Related: CRM Integration: Everything you Need to Know about CRM tools.
Final Word
Support tickets in e-commerce websites have many limitations. Human agents cannot handle repetitive and complicated questions like AI chatbots, which is hilarious.  Let a chatbot do that boring stuff. As stated above, chatbots do not replace human agents in e-commerce customer support. Human supervision is necessary to train chatbots with accurate answers. In a nutshell, AI chatbots reduce support tickets without replacing them completely.
You online business owners can reduce the several manual tasks with AI chatbots, giving you time to run your business more effectively E-commerce websites with AI chatbots don't have to spend so much to maintain customer service agents and support tickets.
Frequently Asked Questions
Why are chatbots popular?
Artificial intelligence makes chatbots text with you in a way that resembles human speech. Learning about AI is intriguing to many, and chatbots stand out as a great interactive agents to answer almost every question of customers.
What is contextual history in AI chatbots?
Chatbots are trained to imitate human emotions and conversations. Contextual history denotes how a chatbot learns from the conversations and imitates appropriate emotions in the answers. Every AI chatbot is a contextual chatbot acting as a salesperson, asking appropriate questions to determine what the customer wants
What are all the core functions of an E-commerce chatbot?
Personalization in the conversations and the ability to understand the user intent are predominantly two core functions of an AI chatbot. In short, AI chatbots, when trained correctly can save you time and money, and make you money with more sales, by the way, that they interact with the customer.  Just remember to always check their programming and have a human on call if the chatbot fails.

Latest posts by Greg Ahern
(see all)