Digital technologies like chatbots and artificial intelligence have provided a distinct shift in the way people communicate with businesses. They offer a variety of channels and ways to communicate that can be easily customized according to the business and customer's needs. In addition to serving as a means of sales and customer service, AI chatbots are also used diversely in the marketing space. The global chatbot share, exclusively in the marketing sector, is growing at a CAGR of 24.7% making chatbots an undeniable addition to your overall marketing strategy. 
Yes, chatbots can be quite effective in a variety of ways for marketing and have gone on to become an integral part of multiple marketing strategies. Let us get right into designing your chatbot marketing strategy and how AI chatbots help augment it. 
What is Chatbot Marketing Strategy?
Chatbot marketing is a method of using chatbots to automate your marketing processes and accomplish marketing goals such as acquiring leads, creating brand awareness, and elevating customer engagement. And chatbot marketing strategy aims at designing and developing steps and processes to implement AI chatbot and its metrics into your overall marketing strategy that builds a solid connection with your customers and a satisfied customer base. 
Several companies deploy chatbots on their website or other social media platforms like WhatsApp, Facebook Messenger, and Telegram. Chatbots can also be part of organic campaigns or paid campaigns. 
How to Design a Chatbot Marketing Strategy?
Chatbots can offer a variety of advantages to your overall marketing processes and a chatbot strategy involves understanding the audience, designing workflows, and including features essential for your business. 
Designing an effective marketing strategy boosts your AI chatbot into a high-efficient and engaging all-in-one marketing tool. 
Here are steps to focus on when designing your chatbot digital marketing strategy:
Identify Your Audience
The ultimate end point of any marketing strategy is the audience; intrinsically, they should be the first step when designing your chatbot marketing strategy.
When designing your chatbot marketing strategy, putting yourselves in the shoes of your audience helps understand the conversational spectrum and the needs and requirements of the user which can be acquired through surveys or polls. It also helps to raise an internal understanding of your brand to address any common queries that may arise among customers. 
Determine Your Marketing Goals and Objectives
When developing a marketing strategy it is important to have an idea of what you want the chatbot to do and design your chatbot in such a way that it compliments your marketing goals and objectives. Ask yourself  "Is the goal of the chatbot to engage the customers?", "Facilitate customer's buying journey through the sales funnel?", "Qualify leads" or "Upsell and cross-sell to existing"?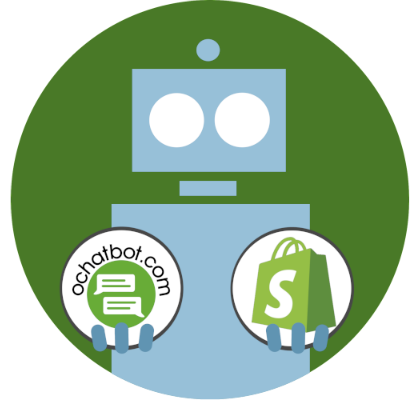 True AI to engage shoppers in conversational eCommerce. Create happy customers while growing your business!
5% to 35% Increase in AOV*

20% to 40% Increase in Revenue*

25% to 45% Reduction in Support Tickets
WE GUARANTEE RESULTS!
*When shoppers engage with Ochatbot®
Determine Your KPIs and Metrics to Track Performance
Just like a marketing strategy with an end goal, a chatbot needs to have certain Key Performance Indicators and metrics to track its performance and achieve the desired results. When it comes to designing a chatbot marketing strategy, some KPIs that should be tracked to measure the optimal performance of your chatbot are the number of interactions, conversation duration, conversation rate, counts engaged, goal completion rate, session rate, and user feedback. Focusing on these KPIs and tracking performance helps provide a strategic and analytical plan for future purposes.
Create an Organized Flow
A chatbot's conversational flow refers to the progression of ideas and conversation between a chatbot and the user. 
This can be eased out once you've determined the purpose of your chatbot and what you want the chatbot to do. Think from the perspective of both the user to build a conversational flow. Make use of flowchart diagrams and conversational scenarios to write out different possibilities of conversations based on the envisioned transactions between bot and user. It is also helpful to give a name, avatar, and personality to your chatbot for a more personalized connection with the user.
Finally, having a credible fallback response to the user when the chatbot cannot ascertain the customer's questions helps maintain a trustworthy rapport with the customer; in this case, diverting to a human agent live or agreeing to get back to the customer within 24 hours via a customer service representative.
An organized flow starts with the greeting and then proceeds through key points based on the customer interaction.

A simple example of an organized flow starts with
Greeting

Determining the need

Branching according to need

In case the need is more, branch further

If the need is met?  Offer conclusion

If the need is different?  Provide back up
A perfect flow keeps the user engaged and takes them from a viewer to a potential customer by guiding them to conversion. 
Gather Feedback and Work On Refining Your Strategy
Acquiring and working on feedback is a necessary part of any chatbot marketing strategy. 
Feedback from the users can be acquired by various means from fillable forms to interactive buttons that ask the user to rate their experience. Chatbots can also ask users, in a non-spammy way, to provide. 
Real-time feedback from a marketing chatbot reveals a way to iterate and make better designs. This iterative feedback helps you hone the chatbot responses and deliver an overall satisfied customer experience, fortify your marketing strategy, and weed out any loopholes in your chatbot marketing strategy. 
Overall, designing, testing, and implementing the chatbot makes sure they fit right into your marketing strategy and serve its purpose. 
These are some outlines of how chatbots designed by you for your business will enhance your marketing strategy.
Related Reads: What is the Role of AI Chatbots in Marketing? 7 Benefits 
Frequently Asked Questions
What are some additional uses of AI chatbots?
Advanced AI chatbots can even place orders, process payments, schedule meetings, and track orders based on user requirements. 
What are some means AI chatbots can collect feedback? 
AI chatbots collect feedback by engaging in conversation with customers, using surveys or polls, performing sentiment analysis, and acquiring data from CRM integrations.  
How to improve my existing marketing strategy?
Doing proper market research, fine-tuning your conversational flow, integrating live-chat support in some areas, adding personalization, acquiring feedback from the users, and working on them will help you tone up your existing chatbot marketing strategy.
Refine Your Chatbot Marketing Strategy with AI
Marketing is and has always been an essential part of business strategy to bring awareness about your product or service and make conversions. With a variety of methods to assist in marketing, leveraging the latest technologies like AI chatbots and machine learning gives an additional boost to your existing strategy. 
Even though AI chatbots cannot replace human support, they prove to be a valuable addition to your digital marketing strategy. Acknowledging the ways AI chatbots help design your chatbot marketing strategy accordingly has a great impact on your overall business approach. 

Latest posts by Greg Ahern
(see all)