The current wave of digital trends has been rocking the landscape of every industry and its conventional methods. With every sector moving toward digitalization, traditional techniques also demand new strategies and methods to achieve their corresponding checkpoints. One such space is sales and marketing, which has evolved into "digital marketing".
And, with more and more advancements on the technological front, AI-aided trends like chatbots are taking over the reins of functions in this sector.  
Here we will cover the role of AI chatbots in digital marketing, ways to incorporate them into your digital marketing strategy, and the benefits they offer for your business. 
Digital Marketing and Chatbots
Digital marketing has been one of the most exponentially growing spaces over the past couple of years and is adopted by almost every business and enterprise. Digital marketing simply refers to the marketing efforts, ways, methods, and disciplines made over the internet or with the help of digital technologies to establish their brand, acquire customers, and drive conversions.
There are a variety of uses for recent technological trends like artificial intelligence (AI) and machine learning (ML) that aid in digital marketing. Of them, chatbots incorporate some of the most diverse uses and ways. 
Chatbots provide plenty of advantages for customer support and service. They also hold massive potential for sales, engagement, and more importantly, marketing. 
Chatbots that are simple, intuitive, and easy to set up without the need for code are becoming increasingly popular in automating online processes and tasks.  Employing chatbots in your marketing strategies reduces the chance of errors, helps perform tasks more efficiently, and rewards the time spent on them. 
They pave the way for crossing the initial hurdles of acquiring prospect information, segmenting that and qualifying it as leads, and turning this into prospects. Additionally, chatbots can also help with customer engagement by providing solutions to common issues. With the incorporation of AI, chatbots can learn over time and provide more contextually precise answers to the user.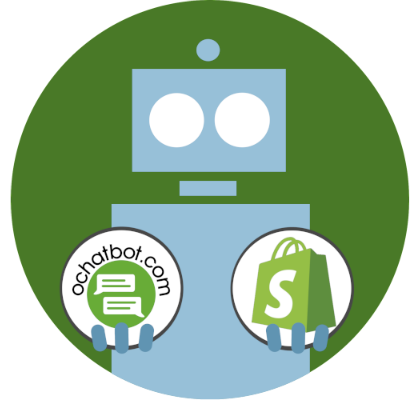 True AI to engage shoppers in conversational eCommerce. Create happy customers while growing your business!
5% to 35% Increase in AOV*

20% to 40% Increase in Revenue*

25% to 45% Reduction in Support Tickets
WE GUARANTEE RESULTS!
*When shoppers engage with Ochatbot®
8 Ways to Incorporate AI Chatbots into Your Digital Marketing Strategy
Communicate With Prospects
The name "chatbot" itself refers to a computer program that can chat or converse with users and is one of the most useful factors in a digital marketing strategy.
When visitors from leads land on your website, they want someone to engage them and facilitate their needs and doubts. Managing customer questions can be arduous for a support team as the questions can be repetitive and mundane.
AI chatbots can aid potential customers by answering questions and providing support almost instantaneously. This allows your support team to dedicate themselves to more important and specialized tasks.
For the chatbot's representative "personality", businesses can then customize the chatbot by adding a personality, tone, or character that adds to the theme of the business's digital marketing strategy. 
Acquire and Qualify Leads
Acquiring and nurturing leads can be a pretty tiring task for support teams because of the time taken to gain them and the effort it takes to cultivate them manually. In such cases, employing AI chatbots in your digital marketing strategy simplifies the lead generation and conversion process on the whole. 
Chatbots can understand users' intents and acquire additional details by asking questions and conducting polls or surveys. They can then weed out less probable leads and nurture potential leads through the sales funnel and even suggest products based on user inputs. With the leads from the chatbot, the sales team can identify and target specific leads to make conversions.
Serve as a Way for Internal Communication
A marketing strategy flourishes when a team successfully collaborates and coordinates with each other to accomplish tasks. This is true, especially in the case of large businesses and firms. 
AI chatbots provide a seamless way to avoid this friction between team members by keeping track of tasks, providing notifications on pending tasks, and giving prompts on pending action items. This helps keep your whole team, managers, and stakeholders on the same page and get the work done efficiently. AI chatbots can also have insights into specific data and can pull up requested details with little effort. 
Provide a Personalized Experience
Personalization has always provided an additional edge when it comes to the customer front. From getting their queries answered to delivering product recommendations, a personalized touch always kindles the customer's interest. 
AI chatbots can ease this task by keeping track of customer data and their behavioral patterns and understanding customer intent with questions and quizzes. The chatbot can then use this data to provide personalized recommendations and support to the user. Furthermore, chatbots can be easily set up based on user interests, inputs, and preferences for future requirements. This helps the user connect with the bot on a personal note at every level of the customer journey. 
Acquire Insights From Other Platforms
The data from the user is quite a powerful tool for your digital marketing strategy. With multiple platforms to interact with the users, data and insights from them can be acquired in a variety of ways. This data can efficiently serve as an insight tool into customer intent and predict trends. A chatbot can analyze and consolidate this huge data set without constraints to your digital marketing strategy.
AI chatbots can function alone or they can be integrated into multiple platforms and acquire data and insights from customers conversationally instead of just shooting questions. They can not only acquire data but can also consolidate and depict it in terms of dashboards or by providing contextual answers when prompted. 
Enhance Sales
The ultimate goal of any digital marketing strategy is to make conversions and drive sales. Chatbots do a very good job of engaging the customer at the right time and helping them find the right product based on their preferences. They can even ease the checkout process by providing additional offers to the users, enhancing the shopping cart experience, prompting cart abandonment, and making payments all in one place. 
This can in turn drive the user through the sales funnel from showcasing your products to making conversions. 
Related Reads: 10 Tips on Content Marketing Which Will Boost Sales on Shopify Stores
Initiate Conversations via Page Targeting
In a brick-and-mortar store, a representative greets customers and is present for any questions they may have. 
When it comes to a digital store, AI chatbots can be employed to start a conversation with simple greetings, notifications, prompts, or questions. Chatbots can then engage in a conversation to help the user with their queries. More specifically, AI chatbots can specifically provide prompts and greetings to customers based on the page they are on and the action they're performing.  This improves the aspect of personalization for the user making their purchase more authentic and seamless, much like walking into a store and chatting with the representative. 
Elevate your Brand Awareness
Digital marketing aims at building brand awareness and widening the reach of your business. Employing AI chatbots in your digital marketing strategy either on a website or social media application can help you acquire a new array of prospects and customers easily. 
Chatbots interact with customers regularly and provide avenues to increase sales. Additionally, they also help grab users' attention and additional information on your product or services and in turn upsell and cross-sell products.  
Frequently Asked Questions
Why should I use AI chatbots?
AI chatbots benefit your digital marketing strategy by helping businesses acquire and qualify leads, engaging the customer by answering their questions, and helping nurture and upsell products and services
What are some ways AI chatbots can be used in your digital marketing strategy?
AI chatbots can be used for initiating conversations, communicating with customers and internal stakeholders, acquiring insights and data from users, and providing an overall personalized experience to the customer. 
What is page targeting?
Page targeting in a chatbot generally refers to engaging clients coming to your website with more relevant messages, prompts, and notifications. This increases user interaction as the engagement is more personalized.
Chatbots Enhance Digital Marketing
With the growth and expansion of digital marketing, tools that aid it are becoming indispensable by the day. Chatbots can be used in a variety of ways and the benefits they offer to your digital marketing strategy are profound. Understanding and designing an AI chatbot by keeping the customer in mind helps you make the most out of your digital marketing strategy and elevates customer satisfaction.

Latest posts by Greg Ahern
(see all)