What is a chatbot? What is an AI chatbot? What is the difference?
These are all good questions, the world of AI and chatbots is changing rapidly. AI chatbot Technology has become ever more present as businesses move from brick and mortar shops to online eCommerce stores. AI is being used throughout society with smart speakers and phones. The technology that we interact with every day helps us socialize, learn, shop, sell, and connect. Artificial Intelligence chatbots, otherwise known as "Chat robots" are tools used to help engage the computer system and the user in a conversational manner.
AI chatbots are used in many different industries depending on the type of bot that suits each business's needs. They are commonly used for marketing and retailers, but can also be used in healthcare and finance industries. AI chatbots are used for simple customer service, boosting sales, and to better inform customers. Their purpose is to filter out where human support is not needed. With the advent of smarter AI chatbots, they are now used in eCommerce to provide assistance in purchasing the right product and help overcome sales obstacles.
AI Chatbots offer 24/7 customer support, unlike live chat where the support is dependent on live representatives, similar to a text conversation. In other words, there is no need for an employee to run the chat at all. When more complex situations are present, live chats are helpful; however, using chatbots for simple and easy-to-answer questions will filter out when and where live representatives are needed. People take comfort in talking to a chatbot in contrast with live chat. In fact, 63% of customers prefer to use a chatbot over a live chat agent to have their needs met. If a chatbot or customer would like to connect with a live person, the chatbot can transfer the conversation over to a live chat, send the customer to a form to fill out, or provide a phone number or email to contact.
Different types of AI Chatbots
Conversational AI Chatbots
 When thinking about AI chatbots, many people think of Apple's Siri, Amazon's Alexa, or Google Assistant. These chatbots are called Conversational AI chatbots and there are very few companies that can make these. Conversational AI chatbots take huge amounts of data (think in the billions) and have a large amount of computer power. Requiring this much data and power makes it rarely available to have this type of AI chatbot.
Transactional AI Chatbots
Transactional chatbots are the more common type of AI chatbots used on websites. They have a narrow focus to reduce the amount of data it needs to be intelligent about a certain subject or topic. These AI chatbots have extensive amounts of knowledge on specific topics. This makes for a simple, yet helpful assistant. They are also able to switch conversations within the topics, so the user is not limited to what they can ask as long as it is within the focus of the bot. They can answer anything about the products that are being sold but will know nothing about the weather, latest song releases, Olympic winners, etc.
3 Types of Transactional AI Chatbots
LeadBots
 Choosing the most effective type of chatbot is important to get the most out of conversational technology. A LeadBot is one of the simplest types of chatbots. They are made of primarily button clicks to gather lead information and the customer's contact information. They also encourage the customer to set an appointment with the company to answer any other questions, concerns, and leaving the live representative to help overcome the sales obstacles. Although the simplicity of a LeadBot is an appealing factor, it remains the most limited bot. The customers are not able to ask questions to a LeadBot because it is set up similar to a form. Since there is little AI present inside this chatbot, the bot will not be able to give answers to the questions any customer asks. It simply leads the customer to define their situation and sends responses to the business. Once a customer completes the form, the default setting is to send the information in an email format. Using integrations like Zapier, a business can have the leads sent to the CRM instead of having them sent in an email.
Ecommerce Chatbots
Similar to B2B and B2C bots, eCommerce AI chatbots are able to improve their ability to overcome sales obstacles, provide product recommendations, and solutions to customer inquiries. They act as a sales associate by pushing customers to add items to their carts and to complete the purchase. These bots are able to connect to product databases so they will have product availability and they handle product and order status questions. eCommerce AI chatbots provide customers with simple and fast information about orders, products, and business policies. The impression of the company giving care to their customers at all times is provided by this chatbot because it works 24/7 and gives immediate responses.
Ochatbot has order status features including a tracking order feature. This helps reduce customer support tickets by 25% to 50%. For one client with a product that takes 4 months to manufacture custom, Ochatbot handled 78% of all customer contact requests. The abandoned cart feature is also an effective feature to improve sales. The customer's cookies are saved for 30 days, saving everything that the customer had added to the cart. Within that 30 days, the customer can go back and see what they were previously interested in buying. It provides a shortcut for the customer to pick up where they left off and continue to purchase their products. The abandoned cat feature increases revenue by an average of 27%.
Chats are often perceived as more of a private conversation between the customer and computer making them feel more comfortable with explaining what they need help finding. However, the AI chatbots are able to gather data on the issues that the customers are having. This can be about product concerns, website troubles, and other sales obstacles the company has to overcome. Ochatbot provides this information to businesses so they are more likely to be able to improve their website and chatbot to create an easier shopping experience for their leads and customers.
Support Chatbots
The ability for a chatbot to jump between conversations relies on the AI becoming a "smarter" chatbot. Unlike Siri, Alexa, and Google Assistant, AI chatbots are given the knowledge to infer how to reply to customers. Similar to a kindergartner taking in fed information, the AI will start to learn from what they already know to provide an appropriate reply. They use a bank of key terms and it listens for the customer to use those terms to know how to reply.
Collecting lead information using forms inside a B2B or a B2C bot is the best way to use the chatbot. They can help set appointments to gain higher-quality leads. They also are used to organize and filter users that have easier questions (that the bot can handle) from the users who need employee support to have their more complex situation solved. The immediate support that the bot provides is beneficial for overcoming sales obstacles to generate sales and leads.
Conclusion
An AI chatbot can make the shopping experience for a customer easier and faster. As the shift to technology, online shopping, and eCommerce stores increase, the use of chatbots is on the rise. Assisting customers should be the main focus of any company and AI chatbot technology is making that task simpler, less repetitive, and available 24/7. This robot-to-human conversational interaction is helping change the way people are shopping online. Chatbots offer many options to be integrated into a website or media platform to improve customer support, leads, and revenue.
Make your customer's shopping experience simple, fast, and easy by changing your visitors into customers. Let Ochatbot handle the simple, monotonous task so your live agents can take care of the more complex situations. Start your AI chatbot now with Ochatbot.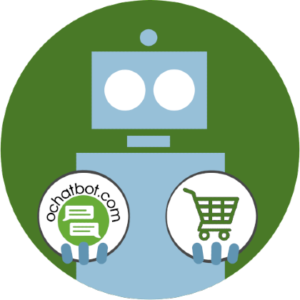 True AI to engage shoppers in conversational eCommerce. Create happy customers while growing your business!
5% to 35% Increase in AOV*

20% to 40% Increase in Revenue*

25% to 45% Reduction in Support Tickets
WE GUARANTEE RESULTS!
*When shoppers engage with Ochatbot®
Chatbot Features
| | | |
| --- | --- | --- |
| Features | Ochatbot | ManyChat |
| Independent from FB (FB not required) | Yes | No |
| Integrate to all eCommerce platforms | Yes | No |
| Search product database | Yes | No |
| Add to cart from chat window | Yes | Yes |
| View product details from chat window | Yes | Yes |
| Order status and tracking | Yes | Yes |
| Recommend products (cross-sell) | Yes | No |
| Abandoned cart | Yes | Yes |
| Page targeting | Yes | No |
| Zapier integration | Yes | Yes |
| SMS integration | No | Yes |
| AI training | Yes | No |
| AI ability to switch conversation topics in real-time | Yes | No |
| AI conversational eCommerce (typed, without buttons) | Yes | No |
| NLP (Natural Language Processing) | Yes | No |
| Live chat built-in | Yes | Yes |
| Integrate with 3rd party live chat platforms | Yes | No |
| Unlimited SKU's | Yes | No |
| Unlimited conversations | Yes | No |
| Unlimited Interactions | Yes | No |
| Saved Conversations | Yes | No |
| Prebuilt standard intents | Yes | No |
Pricing Comparison
Ochatbot

ManyChat

 

Free plan

Yes,  

up to 1k visitors

Free Plan

Yes

Leadbot 

$35/month, 

up to 10k visitors

Pro-plan 

Ranging from $10/month  to $435/month
Based on the number of contacts on your list


Basic 

$35/month, 

up to 10k visitors

Business Plan 

Not Provided


Plus Plan 

$109/month, 

up to 30k visitors

 
 

 

Pro-Plan

$495/month, 

up to 30k visitors

 
 
 

Unlimited contacts and leads for all plans. 

Additional plans are available depending on the number of visitors for Plus and Pro plans. See pricing

 
 
How to Build an AI Chatbot Free Course Signup

Latest posts by Greg Ahern
(see all)