Did you know, employing a conversational AI chatbot solution for eCommerce stores greatly helps in increasing customer engagement and increase conversions?
Artificial intelligence has begun to permeate multiple industries and aspects of our lives in powerful ways, and eCommerce is no exception. 
With the growth of eCommerce stores, there was a need to keep the customer engaged, facilitate them through their buying journey, and answer their questions. This key element provides a real-time solution, known as a conversational AI chatbot. And, since it is used for eCommerce stores, it is also called an eCommerce chatbot.
In this article, we have listed out 5 best conversational AI chatbot solutions for your eCommerce business.
Conversational AI Chatbots and E-commerce
In methods of buying and selling, there is always a need for a trained or experienced intermediary to guide and facilitate your customer through their buying journey. In eCommerce stores, the presence of this intermediary has not been historically very efficient, due to various constraints. The need for customer support 24/7, providing personalized shopping experiences based on preferences, the need for labor and other such factors have ultimately rendered the presence of a human intermediary not cost-effective. 
This has given rise to the concept of AI chatbots in eCommerce. This helps the user by answering their queries, understanding their pain points and preferences, and diverting them from the bottom stage of the funnel to the ultimate goal: higher conversion rate and customer retention. 
Advantages of using an AI Chatbot for Your E-commerce Store
Besides mitigating the need for live customer support, using a conversational AI chatbot has some additional advantages to offer your eCommerce store.
Personalized Shopping Experience
The AI chatbot keeps track of the customer's shopping preferences including the products they buy and the products they're looking for. Understanding this enables the chatbot to curate the customer's shopping experience, resulting in better conversions and less cart abandonment.
Inventory and Order Management
AI Chatbots also keep track of your inventory and inform the customer about the status of the product: when the order is placed, when they're shipped, and when the products will be delivered. Even in the case of the product being sold out, the chatbot notifies the user if the product is back in stock and prompts them to visit your page, offering alternatives or confirming if the altered wait time is acceptable.
Helps Build Rapport with the Customer
Conversational AI chatbots help build a rapport with your customers: answering questions, guiding them through their buying journey, and noting their concerns. By doing so, the chatbot effectively begins to build a relationship with the user by understanding their pain points and transitioning them into buyers. 
Answers Questions
A customer on the way to buy a product will have a lot of questions regarding the make, quality, warranty, and life of the product. And, most customers in general tend to have the same questions. The conversational AI chatbot does a great job of providing relevant answers to the user and clarifying any doubts. 
Related:
What is a Conversational AI Chatbot?
9 Benefits of Conversational Sales in E-commerce
Benefits – AI Chatbots in Conversational Commerce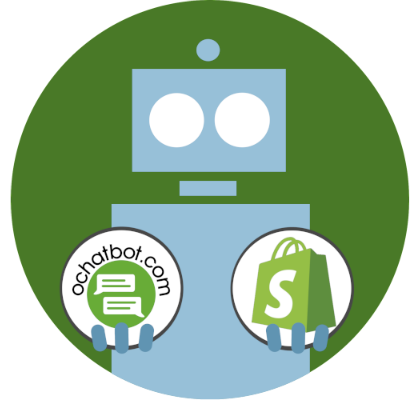 True AI to engage shoppers in conversational eCommerce. Create happy customers while growing your business!
5% to 35% Increase in AOV*

20% to 40% Increase in Revenue*

25% to 45% Reduction in Support Tickets
WE GUARANTEE RESULTS!
*When shoppers engage with Ochatbot®
Best AI Chatbot Solutions for eCommerce
With all the advantages a conversational AI chatbot offers to your eCommerce store, let us take a look into some of the best AI chatbot solutions for eCommerce.
Ochatbot
Ochatbot by Ometrics is an AI-powered chatbot that can be built depending on your needs without any coding. It has a simple interface that understands the user's questions and their intent and provides logical replies, making it a perfect tool for conversational commerce.
In addition to the above features, Ochatbot provides order status and tracking, displays products inside the chatbot window for direct shopping, and detailed reporting including KPIs and individual shopper conversation transcripts. Being able to completely customize the chatbot to your preferences and integrate with any third-party live chat software are some notable features of this chatbot. 
Botsify
Botsify offers a great conversational AI chatbot to help leverage your customer experience. This chatbot is easy to use and can be easily customized without needing to code. 
The Botsify chatbot is also capable of multilingual conversations and helps automate customer interaction in a few steps. This chatbot also has a fast response time and clear-cut solutions which leads to better-qualified and proactive leads for your business. Additionally, Botsify offers easy developmental and support plans to aid you, the vendor. 
Botsify is capable of integrating with multiple platforms including applications like Whatsapp and Facebook Messenger.
Kommunicate
Kommunicate is a growing AI chatbot service. This chatbot can be set up without any coding knowledge.
Its simple intuitive interface and design supported by its NLP- algorithm makes it a powerful tool to qualify leads, schedule meetings, and provide all-around customer support 24/7. It can be integrated with applications like Facebook, WhatsApp, and Line. The Kommunicate chatbot can provide the user with personalized answers and shopping preferences by understanding the user's information and history. Like all AI chatbot solutions.
REVE Chat
REVE Chat is a multi-channel conversational chatbot that helps engage customers and boost traffic and conversions. 
It provides solid and personalized answers to commonly asked questions. 
This chatbot provides live chat with the AI or a support person. It also offers a personalized experience to the customers and can be integrated over a variety of applications like Whatsapp, Viber, Telegram, and others without any code. It also helps to qualify leads and converts visitors to potential customers. 
Another notable feature is that REVE Chat offers a variety of templates to build your chatbot depending on the purpose they are built for. This helps the vendor to create and run a chatbot in a matter of days
Tidio
Tidio is one of the top-rated conversational AI chatbots that is mainly focused on helping small and medium businesses grow by enhancing a business's customer experience. 
This tool builds conversations with the user and provides personalized preferences by tracing the user's actions and behavior. This tool helps automate answers, defining a workflow for your business. This in turn will effectively boost your website traffic, generate new leads and help in providing greater conversion rates. 
Another factor that makes Tidio great is that this chatbot can easily integrate with a variety of eCommerce platforms and other sites like WordPress, Shopify, Mailchimp, HubSpot, etc. 
Frequently Asked Questions
How do conversational AI chatbots help eCommerce businesses?
Customer engagement is one of the most important factors in making your business stand out. By using conversational AI chatbots, you can engage customers by providing a better solution to their questions, and a personalized shopping experience based on their interests and buying habits that make the customers' buying journey more interactive.
What are some problems that can be solved by AI chatbots?
AI chatbots solve one of the most important aspects of engaging the customer and satisfying their shopping experience: they can be used to automate workflow processes, and customer service by providing relevant solutions to the customer and guiding them on their buying journey.
How are AI chatbots better than human support systems?
AI chatbots are often attributed with lesser errors compared to a human support system. They can be made to operate round the clock and can provide accurate answers to frequently asked questions. And more importantly, making use of a chatbot greatly helps in cutting the cost of customer service from the owner's standpoint. 
Closing Thoughts
Making use of conversational AI chatbots either on your website or mobile application can skyrocket user engagement and experience. These are perfect tools for eCommerce platforms to leverage their customer's interactions, behavior, and shopping experience. This will in turn lead to staying ahead of the competition because of loyal satisfied customers. 
Depending on your preference, pricing, and features the chatbot offers, choose and set up the chatbot for your eCommerce store to drive more sales and conversions.

Latest posts by Greg Ahern
(see all)