Customers are the pillars of any business and the relationship between them is a driving factor for both the success of the business and the satisfaction of the customer. By understanding customers' needs, wants, and expectations, companies can navigate heavy competition and deliver superior customer experiences, thereby maintaining long-lasting relationships. According to Statista, the revenue of CRM software amounted to about $69 Billion in 2020 and is growing steadily. 
Customer Relationship Management (CRM) aims at handling and managing customers and their interactions with businesses. To facilitate this, a variety of tools, applications, and software with different features are available all over the market. 
However, CRM suites do face some challenges with regard to customer handling and data management manually. When it comes to fostering customer relationships and their experience, there can be no better intermediary than artificially intelligent machines and chatbots. 
In the previous article, we saw the importance of AI chatbots in CRM and the benefits of integrating them into your customer relationship management. Here, let us see some additional ways of using AI chatbots to create effective strategies for CRM.
8 Strategies While Using AI Chatbots for CRM
CRM tools and software are essential in helping your business connect with your customers and scale up. Having just tools, software or processes help you, but there needs to be organized and targeted strategies to engage the customers and connect with them.
Personalizing the Customer Experience
Personalization via the help of AI chatbots is a recent trend that has been gaining traction in recent times. According to a study by Statista, about 64% of businesses trust chatbots to provide personalized experiences. Customers usually prefer businesses that remember their preferences and details when communicating with them. 
AI chatbots help with the aspect of personalization by understanding the customer's behaviors, wants, and preferences when conversing with them and using the acquired information to create a customized experience for their queries and interactions. This is made possible by collecting user data, employing machine learning techniques, testing, iterating, and analyzing the data regularly. 
All this helps elevate the customer experience and enhances engagement, making customers more easily connect with your business and brand.
Enhance Conversational Relationships with the Customer
Conversational connections build a stronghold with customers in customer service, conversational commerce, and healthcare and education. 
Implementing AI chatbots to handle conversational relationships with customers can help businesses make targeted messages, personalized prompts, and unique greeting messages to capture the customers' attention. Oftentimes, they can even handle the entire conversation without the help of human agents, remember intricate details and preferences of a customer, and successfully conclude conversations positively. 
These chatbots can converse with humans using Artificial Intelligence and Machine Learning techniques like Natural Language Processing (NLP) and Natural Language Understanding (NLU).
By enhancing conversational relationships with customers, your brands can identify customer expectations, fill in the communication gaps, build loyalty, and maintain long-lasting customer relationships.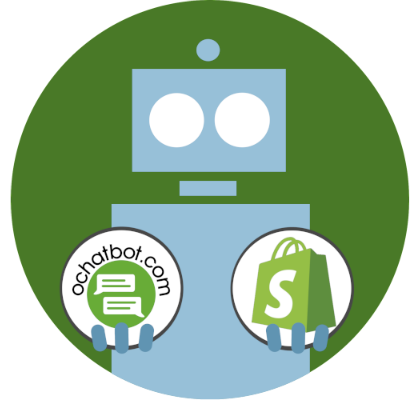 True AI to engage shoppers in conversational eCommerce. Create happy customers while growing your business!
5% to 35% Increase in AOV*

20% to 40% Increase in Revenue*

25% to 45% Reduction in Support Tickets
WE GUARANTEE RESULTS!
*When shoppers engage with Ochatbot®
Making Use of AI Chatbots in Sales and Marketing 
An overall effective business strategy encompasses the sales and marketing division. AI chatbots can help in both, marketing your brand to your visitors and making sales and conversions more enticing to existing and new customers.
As AI chatbots and their presence are something a customer sees often when they land on your page, they help establish your credibility by building and maintaining your brand identity. They also aid in sales by helping businesses gather quality leads and guiding the user through different stages of the sales funnel, one of the most common uses of CRM software.
AI chatbots integrated with CRM suites, sales, and marketing strategies become easy to strategize and implement. They can monitor, analyze, track, and gather insights easily from the users, helping you make better strategic decisions. 
The more satisfied the customers are and their expectations met, the greater the sales and the lesser the marketing efforts. 
Analyze and Make Use of the Collected Data
A business generally deals with a huge amount of data. Chatbots help not only in collecting or procuring them but also in putting them into action effectively. 
In a CRM software or suite, AI chatbots can collect data from users conversationally, from external sources, or via forms and polls. Once the data is collected, chatbots then analyze and understand the user's intent via Natural Language Processing (NLP). From there, this data can be used to perform sentiment analysis and predictive analysis to gain further insights into the user's needs and expectations. This data also helps businesses personalize their service to the user and formulate data-driven efficient strategies to enhance the customer experience. 
From the point of view of businesses, the data collected using AI chatbots can readily be made available to help them in marketing, lead generation, sales, and customer service purposes. This ensures that the potential of data collected from CRM suites and tools is used efficiently. 
Integrate AI Chatbots with CRM Tools and Platforms
These integrations can be powerful additions when designing a strategy for your CRM. Whether via traditional chatbots or the AI chatbot integrated into third-party software, they help unleash the full potential of your business and simplify the work of both business teams and customers.
When formulating strategies for CRM, primarily, it is important to identify the goals and purpose of your CRM software. Then, identify the gaps in the existing system that a chatbot integration can fill. Now, as a part of your strategy, you'd have to find the relevant chatbots that suit your business needs and expectations. Finally, integrating the existing systems with your CRM software and iterating them constantly will help you find the right integrations and make the most out of your customer experience. 
AI chatbots can also be integrated with emails, voice assistants, and social media platforms to deliver a seamless customer experience. 
Use Gamification to Enhance Engagement
Gamification is an underrated engagement metric that can help customers interact with your business more proactively. It's based on the words, gameplay. It is a process of engaging customers in a way that is like a game.
Implementing gamifying techniques into CRM can positively aid both customers and employees. For employees, this promotes a sense of friendly competition and helps them achieve business goals enthusiastically. Whereas for customers, gamification is a way to acquire data in a friendly way and gather insights into the customer's behaviors and connect with them seamlessly. 
AI chatbots integrated with CRMs provide this experience by conversing with both the employees and customers in an enterprise. They can enhance the gamification experience conversationally or employ techniques like cliffhangers, rewards, or easter eggs to connect with the customer and enhance their engagement.  
Choose the Right AI Chatbot Platform
AI chatbots are proven to enhance your CRM and your overall business strategy. But the critical part is to decide on the right chatbot platform. 
The chatbot's AI abilities, its machine learning features, ease of use, number of integrations available, and security features are some factors that can help you choose the right chatbot for your CRM that can effectively help your strategy. 
Ochatbot is one such chatbot platform that is easy to use, helps businesses with customers, and increases leads and conversions. With features like Natural Unrestricted Conversation, reporting and analytics, integrations, and certain other features, it proves to be a great assistant to customer relationships for your business. 
Make Your CRM Mobile-Friendly
As of today, more and more communications are happening via mobile phones and they are becoming a hub of almost any type of communication. Therefore, when designing a CRM strategy it is necessary to prioritize a mobile-friendly approach. 
AI chatbots can make your CRM mobile-friendly by providing a conversational and all-in-one interface to communicate with businesses. In addition, they also simplify complex functionalities, reduce the load time, and optimize the pages to help the customer communicate effectively. 
AI chatbots can introduce responsive design to the mobile-friendly CRM along with ways to optimize usage based on mobile analytics and user feedback.  
Frequently Asked Questions
How can AI be used in CRMs?
AI can be a great addition to Customer Relationship Management. Implementing AI in CRM can provide enhanced personalization, automated task management, simplified data acquisition, help businesses predict, and provide a seamless experience to the customers.
How do AI chatbots collect data for CRM?
AI chatbots can efficiently collect data from users and make use of the data in the most efficient way possible. They can collect data from the users conversationally, use polls, surveys, or fillable forms, and even collect data from external sources. 
How does gamification increase customer engagement?
Gamification enhances customer engagement by proactively making them take part in tasks and by rewarding the user. By grabbing the user's curiosity, and promoting a sense of friendly competition, AI chatbots can recur the interaction of customers along with benefits. 
Aid Your CRM Strategies Using AI Chatbots
Customer Relationship Management is an integral part of any business and making use of proper tools for client and customer communication has been proven to be inevitable that about 91% of the companies with more than 10 employees use CRM software.  
Chatbots are becoming one of the most viable sources of communication between customers and employees. And with the power of AI, they are revolutionizing customer relationships on a wider scale. These modern tools are changing the landscape of traditional customer communications, linear workflows, processes, and strategies.

Latest posts by Greg Ahern
(see all)