Artificial intelligence is becoming one of the most exponentially developing spaces of all digital trends. About 37% of organizations are using AI to enhance their processes and this statistic is expected to grow rapidly. Knowing the importance and benefits offered, a variety of industries are beginning to adopt AI chatbots into their conventional processes. 
One such industry is eCommerce. The vast world of eCommerce involves a lot of operations encompassing a variety of sectors. One sector that finds great importance in the implementation of AI technologies is the eCommerce supply chain process, and more specifically, the inventory management and logistics division. 
In this article, let us discuss the different ways AI chatbots can help inventory management for eCommerce.
AI Chatbots and Inventory Management
In any industry, the term "inventory" refers to the complete list of goods and materials in a place, commonly in a warehouse or storage location. Inventory management is the process of handling and managing the goods so that they are available whenever necessary. 
Inventory management is a crucial part of your business as it is essential to make sure the goods are not overstocked or understocked for manufacturing and distribution; overstocking means you could have wasted money on inventory that's not selling and understocking means denied sales, both of which hurt your bottom line. 
The implementation of artificially intelligent chatbots helps assist your inventory activities: performing inventory checks, tracking shipments, and analyzing order information. Additionally, conversational AI chatbots can also help to detect any abnormal activity in your overall supply process. AI chatbots can also help streamline and automate ordering and reordering processes, and manage stocks without the need for human intervention.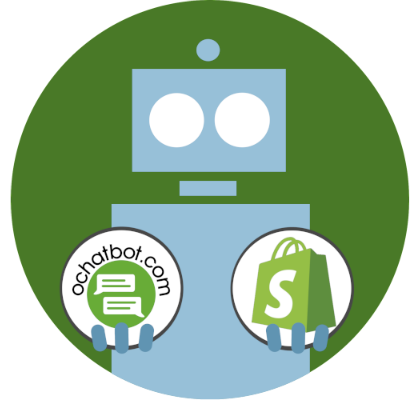 True AI to engage shoppers in conversational eCommerce. Create happy customers while growing your business!
5% to 35% Increase in AOV*

20% to 40% Increase in Revenue*

25% to 45% Reduction in Support Tickets
WE GUARANTEE RESULTS!
*When shoppers engage with Ochatbot®
Different Ways Chatbots Help in Inventory Management for Your eCommerce Store
There are a variety of ways to implement AI chatbots for inventory management in your e-commerce store. Here are some ways that chatbots can help in inventory management.
Stocks and Warehouse Management
Warehouses are an essential part of any eCommerce business. Any discrepancies like improper planning and unavailability of stock can have adverse effects on the whole supply process. AI Chatbots can play a significant role in optimizing warehouse stock management. 
Integrating your enterprise system with AI chatbots provides real-time data on your eCommerce stores' inventory levels. They can also improve the transportation metrics of the goods, leading to timely delivery of products. 
AI chatbots in warehouse management can also identify any potential issues or anomalies in the supply chain process. Analyzing and working on these issues will definitely help you optimize and streamline your supply chain process.
Provide Insights to Formulate Marketing Strategies
Data from users has always been a driving factor for eCommerce stores to generate sales and make conversions. To acquire, process, and interpret the data from users, AI chatbots can be used.
When it comes to inventory management, the data acquired from the users relating to your inventory can help formulate better marketing strategies. By analyzing the data, you can make better decisions about product demand and supply, customer mindset, changes in trends, and specific areas to focus on. Chatbots can also gather customer feedback and use them to optimize your inventory management and improve the overall customer experience.
These insights from the AI chatbot can help formulate a better marketing strategy or make corrections to the existing strategy to drive more sales and revenue to your eCommerce store. 
Improve Customer Experience
Improving the customer experience is one of the prime motives for employing a chatbot. A chatbot collects data from the user by analyzing user behavior, monitoring, and recording patterns, prompting the user with polls and surveys, and also providing solutions to user questions.  
AI chatbots can leverage this data and help you create and deliver personalized experiences for customers. Upon asking, an AI chatbot can provide the status of products, track their delivery, and show the status of out-of-stock goods and when they might be back in stock, all within a matter of seconds. A survey also shows that 83% of people prefer chatbots to answer their questions and facilitate customer support in comparison to a human agent.
Chatbots can also help the customer regarding issues in payments, delivery, and order processing. Furthermore, chatbots can show personalized suggestions and handle conversations regarding the product. 
Demand Forecasting
When it comes to inventory management, forecasting demands for supplies helps in effectively maintaining inventory stock. This prevents the goods in the inventory from being overstocked or understocked which might cause disruption in the supply process and on the customer front. 
Traditional techniques of forecasting demand and supplies had a few flaws and errors due to manual intervention. But, as customers grow, data becomes more and more accumulated, and traditional methods fail to give clear results. Here, AI-powered chatbots can help inventory management forecast demand patterns based on user feedback, reviews, location, and weather. Thus forecasting the demand greatly reduces the misinterpreted stock replenishments and reduces losses in the presence of lower consumer demand. 
Automated Procurement and Ordering
AI chatbots help maintain the balance of incoming and outgoing goods by automatically reordering the goods when they go out of stock or when a set threshold is reached. 
Employing a chatbot for your procurement processes can surpass human efforts to check, find suppliers, order, and receive the products. They can easily analyze and procure the best quotes from suppliers, and take care of the documentation involved in that process. They also help in automated stock procurement by analyzing customer behavior, changes in trends, and by looking into the stock inventory. Additionally, AI chatbots can also deliver analytics and consolidated reports to support personnel whenever needed. 
Automated reordering reduces the risk of stock running out and makes sure they are available whenever needed by the customer. This helps save a lot of time and manual effort needed to monitor and order the goods. 
Inventory Tracking 
When chatbots are incorporated into e-commerce supply chain systems and databases, they can acquire inventory data and provide real-time updates on the status of your inventory. AI chatbots can track the number of goods, the products shipped, orders made, and items that the inventory is yet to receive. Recording and tracking this information enables you to have a clear understanding of your inventory's status, helping you manage, direct and improve your operational efficiency. 
An AI chatbot tracking your inventory helps your eCommerce supply process function more efficiently and with decreased disruptions.
Classify and Categorize Products
Classifying and categorizing a company's products helps improve customer experience by showing relevant items and suggesting similar goods. Many AI chatbots can also acquire analytics on the sales performance of products sold or browsed for. 
This is possible with the help of machine learning techniques that enable the chatbot to understand, segregate and categorize the product in your inventory.
Reduce Manual Effort
Implementing AI chatbots in your eCommerce store greatly helps cut down operational costs and reduces manual effort. In inventory management too, AI chatbots deliver the same benefits. According to Business Wire, about 81% of employees state that AI chatbots enhance their performance at work.
Using an AI chatbot, you can oversee and monitor a variety of complex tasks, automate tasks, and even streamline processes. This feature of AI chatbots in inventory management can help perform repetitive tasks automatically, which in turn can help utilize manual labor for more complex tasks. It can also keep track of the goods ordered, goods that are received, goods processed and goods to be distributed without the need for human intervention. 
Related Reads: 5 Best Conversational AI Chatbot Solutions for eCommerce

Frequently Asked Questions
How are AI chatbots used in inventory management?
AI chatbots can monitor stocks in your inventory, track them, provide insights to the business, collect data, forecast demand, and reduce manual effort in your warehouse. This helps you plan your stocking process and make sure the goods are not overstocked or understocked.
What are the benefits of using AI chatbots for inventory management?
Employing AI chatbots in your inventory management has a variety of benefits. Some of them include improved customer satisfaction, streamlined supply chain processes, lesser errors, better retrieval of data, and insights about the demand and status of the goods in your inventory.
How do AI chatbots in inventory management help customer satisfaction?
AI chatbots can facilitate conversations with customers by answering questions regarding the availability of the goods: the goods in stock, the goods out of stock, and when they might be back in stock. They also classify and categorize the products which help in delivering relevant search results, product suggestions, product description, and their delivery. 
Closing Thoughts
AI chatbots are revolutionizing the eCommerce business, especially in the inventory management sector, and will continue to do so. 
By utilizing Machine Learning and Artificial Intelligence features, AI chatbots can be used in different ways from warehouse management, automated procurement, and tracking goods to providing a better customer experience, insights on user and goods' data, and reducing the errors in the supply process. 
They can be made to utilize their full potential which can deliver a variety of benefits to upscale your e-commerce business's revenue, sales, and traffic, and reduce operational costs, manual labor, and errors. With the help of AI chatbots, eCommerce businesses can improve their inventory management processes and stay ahead of the competition.

Latest posts by Greg Ahern
(see all)