A lead generation chatbot in B2B business gathers the lead information through the conversation and qualifies them as leads. Lead generation chatbot asks questions about name, e-mail, company name, and size to the customers and identifies high-quality leads for the business. LeadBot templates in Ochatbot help in appointment setting and lead nurturing through the sales funnel, a consumer-focused marketing model that illustrates the theoretical customer journey toward the purchase of a good or service.
Online business owners will be able to gather more high intent leads by choosing LeadBot templates. The data collection process in B2B business is an easy task compared to marketing funnel strategy by online business owners.
Operational Efficiency
LeadBot helps the B2B business owners simplify and streamline the lead generation process with personalized questions. AI chatbots work tirelessly and allow you to provide information about your business efficiently to the right website visitor and boost the operational efficiency of the business.
Online business owners will convert website visitors into customers 24/7 even when their sales team is not available to do the administrative tasks. The use of LeadBot templates is improving sales and customer support, and enhancing the customer experience in the business. All you have to do is to choose a LeadBot template and automate your sales funnel efficiently.
Who are Potential Leads for Your Business? – LeadBot Analyzes the Leads!
Identifying potential leads for your business is vital to increase the conversion rate and generate revenue. If you are wondering about potential customers and how to find them, LeadBot analyzes their intention conversationally.
A potential customer is a website visitor who wants to buy a service and has purchasing intent. Not all website visitors have purchasing intent, but Artificial Intelligence in chatbots interacts positively with users through preliminary communication and qualified leads. By using a lead generation chatbot, online business owners don't have to run behind a customer who has no understanding of their business. Targeting the audience should be one of the main goals of online business owners to increase the revenue organically. A lead generation chatbot helps in understanding prospects and segments them accordingly. Your business is on the right track if you use chatbots to generate more leads for your business instead of relying on conventional sales funnel.
Related : How do Chatbots Qualify Leads for E-commerce Sites?
Relevant Content for Leads
Business owners can now add surveys and forms in Ochatbot to identify user intent and provide relevant information for their leads. Segmenting is one of the chatbot lead generation strategies to provide the right content to the target audience.
Online business owners can segment customers on many criteria such as business interests, gender, and demographics to deliver marketing content at the right moment. A conversational bot is more efficient than live agents in answering questions quickly with personalized responses.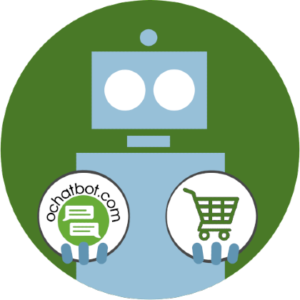 True AI to engage shoppers in conversational eCommerce. Create happy customers while growing your business!
5% to 35% Increase in AOV*

20% to 40% Increase in Revenue*

25% to 45% Reduction in Support Tickets
WE GUARANTEE RESULTS!
*When shoppers engage with Ochatbot®
Lead Generation Forms
LeadBot templates engage customers and get the information with the right qualifying questions. Visitors will not leave your websites if a chatbot engages them in the conversation and simplifies the data collecting process.
Online business owners don't have to depend on traditional lead generation forms for lead nurturing: chatbots auto-qualify leads effortlessly. LeadBot also reduces tedious tasks and targets the audience with a fitting solution.
Schedule Appointments
LeadBots schedule appointments for B2B firms, so online business owners don't have to hire a sales force that costs so much money. Lead generation chatbot reduces this tedious task for online business owners when the team is not available and engages with leads 24/7.
Chatbots decrease the bounce rate of websites and find solutions to customers' questions. If online business owners understand the customers' preferences, they can develop audience-based business. AI chatbots respond appropriately to customers by analyzing previous answers. Business owners don't have to spend more money on support tickets to handle the questions and schedule appointments.
Lead Generation Strategy
Lead generation strategy by AI chatbots is not generic; they conduct surveys, ask pertinent questions, and convey and acquire specific information to generate leads.
The human touch in the conversation makes the customers sail through the conversion funnel and brings value. Customers don't have to search for a long time to find the right answers to their questions; the qualifying questions fetch them enough information. B2B businesses can connect with prospects through this conversational commerce strategy and encourage them to take action.
Lead Generation Campaign – Marketing Campaigns
Lead generation campaign encourages the lead to give the information with authentic details about the business. These lead generation bots provide valuable content and improve customer satisfaction.
AI chatbots analyze the demographics of website visitors and generate leads by building rapport. Lead generation bot convinces the customers with a clear business objective and provides information about free trials and offers. LeadBot understands the customers' needs by analyzing previous conversations. With marketing campaigns by lead bots, online businesses will understand the customers' needs effortlessly.
User Interactions – Conversational Approach to Qualify Leads
AI chatbots generate leads and enhance customer journeys with a conversational approach. If you are reluctant to choose a chatbot for your website because of mechanical response, AI chatbots give a personalized response.
Lead generation bots are built with machine learning and Artificial Intelligence technology to understand human language. NLP(Natural Language Processing) in chatbots allows them to understand customers' conversations and collect customer data. You will never miss a lead with lead generation strategies by LeadBot.
Direct them to Sales Team
Chatbots engage with the customers and ask relevant questions in the conversation. If chatbots are unable to answer customers' questions, they direct them to the sales team to resolve issues.
Conversational Elements – Top of the funnel
Chatbots initiate the conversation by greeting and enhancing the customer experience with conversational elements. The conversational elements can be text, video, audio, and image to make the customers stay on the website.
Take Action – Middle of the funnel
AI chatbots are best to make the leads take action like signing up for newsletters and webinars related to your business.
Lead generation bots will promote your business in various ways and create brand awareness among customers. If you decide on a chatbot persona to generate leads, online business owners can effortlessly find quality leads without sales team efforts.
Encourage Leads to Purchase – Bottom of the funnel
The next step to increase the revenue of the business is to make qualified leads purchase your service. AI chatbots' questions on the top of the funnel should be similar to your business objectives.
If a customer sails through the marketing strategies of chatbots, eventually at the bottom of the funnel chatbots will help them schedule meetings. The lead generation process with AI chatbots' marketing strategies nurtures more leads.
Final Word
If an online business can grow its sales and generate more revenue with AI chatbots, why would it spend more on the sales team and support tickets?
Optimize your website with LeadBot and set it up on your website with easy customization. No matter what your niche is, LeadBots are built to grow every online business! The exciting news is that you can now purchase LeadBots for 45 days of plus plan features.
Frequently Asked Questions
How do you get leads in 2022?
Lead generation strategies are of different types- online business owners don't have to rely only on a traditional funnel to generate leads. Personalization in conversation is one of the effective marketing strategies to generate leads in 2022.
How do you make money with chatbot lead generation strategies?
Chatbot lead generation strategies reduce the time-consuming process of going behind every website visitor. An online business owner cannot track conversations with every casual visitor to convert them into leads. By understanding potential leads with lead generation strategies, online business owners can do business with them and make money quickly.
Is a cold emailing strategy effective?
Cold emailing is another effective strategy to nurture leads: online business owners can easily reach out to their target audience with a cold emailing strategy.

Latest posts by Greg Ahern
(see all)