A good Shopify store name promotes your brand and creates brand awareness among website visitors. Shopify allows many eCommerce business owners to set up their online stores and generate revenue exponentially. Every online store owner should optimize their Shopify stores to invite more potential buyers to their websites.
Setting up good Shopify store names is one of the optimizations that create brand awareness and enhance the brand name of your store. In this article, let us look into the ways to change your Shopify store name effectively.
Overview of the Content
Why is the Shopify Store Name Important
An effective Shopify store name will create brand awareness and invite more potential buyers to your online store. Online business owners can easily target the audience for their products by using the same names on all platforms.
When you are creating an online store, the first step is to enter your store name. The Shopify store name will be your subdomain. The subdomain of your Shopify account will help you log in to your account and manage it.
Shopify merchants can change the store name in the 'Settings' from the Shopify admin. Your website visitors will also have an understanding and expectation about your Shopify store. The Shopify name you set, in the beginning, will also be your store URL. But, a Shopify merchant can use a custom domain to build credibility and trust.
How to Change Your Shopify Store Name
A Shopify merchant can change the store name from the Shopify mobile app and Admin. If you want to change the Shopify store name from the Store Admin, here are a few steps to follow.
Setting Name from Shopify Mobile App
Install the Shopify mobile app and go to your store.
Click 'Settings' and go to 'General'.
In the 'Store details' option enter your store name and save.
Setting Name from Store Admin
Log in to your Shopify admin.
In the Shopify store name, click 'Settings' and 'General'.
Add your store name in the 'General'.
Click the 'Save' option.
8 Ideas to Choose an Effective Business Name
An eCommerce site owner should choose the store name by considering various factors. The store names should not be confusing and lengthy. Some names that are relatable for your brands might have already been taken by other store owners. But, creating a relatable and effective name is not as difficult as you think.
Your store names on all platforms should be similar for marketing your brand and products to your customers. While setting up Shopify store names, you should follow a few strategies and ideas to invite potential buyers. Here are a few ideas to choose an effective name and increase store visitors.
1. Use Online Shop Name Generators
There are many online shop name generators to provide names for the stores, including related keywords. A Shopify merchant can enter the keywords and generate different name ideas relevant to their brands.
With the online store name generators, an eCommerce site owner can also register the domain name and start the store on Shopify. Here are a few eCommerce name generators to come up with a perfect business name for your store,
BizNameWiz
Shopify Business Name Generator
Oberlo
AcquireConvert
BNG Name Generator
Online store name generators give you many creative and innovative options to explore. If you want to include a word in the store's name, you can add to the query and generate names. The names can be fun, catchy, and stylish. Some name generators will also provide you with domain availability.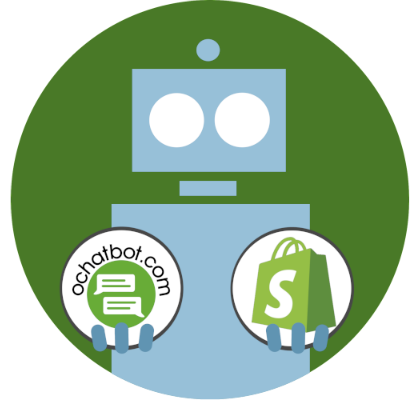 True AI to engage shoppers in conversational eCommerce. Create happy customers while growing your business!
5% to 35% Increase in AOV*

20% to 40% Increase in Revenue*

25% to 45% Reduction in Support Tickets
WE GUARANTEE RESULTS!
*When shoppers engage with Ochatbot®
2. Choose Lengthy Names
Keeping your Shopify store's name small and catchy will captivate many website visitors. The short names of your Shopify store will fit in the header and many shoppers will easily remember them.
A Shopify merchant should think from the perspective of online shoppers while choosing the name of the store. Which name will look catchy to a website visitor? How do you make the names memorable? How to link the brand's essence with the online store's name?
Choose a name that is easy for online shoppers to pronounce.
Research the popular brands' names and try to tweak the words. Some popular business names aren't real, but still, they are catchy.
Represent your products in the brands' names.
Researching the target audience is significant while choosing the brands' names
3. Be Unique
Conducting market research is significant to build your brand and increase website visitors exponentially. Your Shopify stores' names should not resemble the competitors' stores.
A Shopify merchant might feel challenged to find a name that is relevant to their products and services but that also doesn't resemble other Shopify owners selling similar items. For instance, if you are selling clothes, your competitors might have used some common terms that describe their products.
Example: 'Fashion', 'Style', and 'Fabric'.
You can avoid the common terms and describe your products in a unique way by researching other terms for common words.  Consider that the word fabric can also be cloth, material, textile, tissue, web, fiber.
4. Have a Similar Name on All Platforms
If you are active on several social media platforms, make sure the names are similar or the same. Having a similar name on all platforms will not leave your shoppers confused.
The domain name of your online store should also match the business you do. Having a similar name on every platform is web-friendly and markets your business to your potential customers.
5. Don't be too Specific
A store name shouldn't be too specific if you want to invite more casual visitors and turn them into potential buyers. An eCommerce website will expand its services in due course. So, having a specific name is not always a good idea because it can be restrictive as your business expands beyond your original vision.
The Shopify store name should encompass the long-term goals of a business owner. When brainstorming business ideas, both creative and effective names should be such that they represent the short-term and long-term vision of your company.
6. Keyword Research
Keyword research relevant to your business is necessary to choose a Shopify store name. After the funnel search, the online business owners should find keywords that match the target audience. The keywords should match your brand. Shopify merchants should avoid generic keywords and combine them with other innovative words.
Shopify merchants should understand the business market and trending ideas associated with their business. Online business owners should always remember that the Shopify store name should reflect their business ideas. Choosing a relevant business name is one of the marketing strategies to enhance your brand value.
7. Click-Worthy Shopify Website
When you change the Shopify store name, the new name should be click-worthy. One of the mistakes that Shopify owners make while selecting the store name is choosing irrelevant and non-click-worthy business names.
If your online business revolves around fashion, the store names should also reflect the same idea. The store domain name should be around 60 characters and differ from your competitors. The domain name should be the same name across all social media platforms. When you are promoting the brand across social media handles (basically your username), the customers should understand your brand.
8. Name Availability
Imagine, you have selected a unique name for the Shopify store and finalized it. What if the name you have selected is unavailable? Every Shopify owner should check the availability of the store name and match the trademark guidelines of your website.
Your Shopify store name should set you apart from your competitors. The Shopify store name should not reflect any competitors' domain name. Checking the availability of the Shopify store name is significant to stay unique and stand out from other stores.
Conclusion
Choosing a name for your Shopify store is not a difficult task. If you are a Shopify store owner, you just have to go through the above ideas and think from your customers' perspectives to establish the business.
Potential customers will search your Shopify store with the store URL, clicking on the links and searching for the products. Online business owners use social media handles to promote their products and establish their stores. While creating the online stores, the Shopify merchants should brainstorm ideas to establish the brand by using different perspectives.
Suggested Reads
Frequently Asked Questions
1. What are the popular names for Shopify stores?
Browsers delight, Giftshoppers, Artisan delights, Always Open and One Click Wonders are some popular Shopify names.
2. How can I create a logo for the online business name?
Online business owners should enter the business name and tagline in the logo generator. After generating the logo options, business owners should customize them.
3. How can I find a target audience for my business?
The target audience for the online business can be determined by gender, location, interests, and various other factors.

Latest posts by Greg Ahern
(see all)