Do you want to know the advantages of Chatbots? They automate the conversations in online shopping to provide instant solutions to customer inquiries and enhance customer satisfaction.
Chatbots with Artificial Intelligence technology automate website conversations more effectively than rule-based chatbots. Chat automation of a customer service chatbot resolves customers' questions instantly. In this article, let us look into the benefits of AI Chatbots in various eCommerce businesses.
Overview of the Content
Seamless Real-Life Interaction
Connecting Product Recommendations
Gaining Valuable Customer Insights
Helps in E-commerce Business Growth
What are Chatbots?
Are Chatbots effective? Chatbots are software that communicates like a real-life person. There are two types of chatbots that are commonly used in eCommerce websites.
Rule-based chatbots without Artificial Intelligence technology provide branch-like questions and allow customers to choose from the options.
The advanced chatbots with AI replicate human conversation through the Artificial Intelligence and Machine Learning technology behind them.
Why Chatbots?- AI and Chatbots
AI Chatbots are smart chatbots that answer customer questions instantly. Implementing these advanced chatbots on your websites means you don't have to rely on the customer support team to answer every question. AI chatbots regularly learn from the interactions with shoppers and make the conversation feel more natural; just like a real-life conversation.
Machine Learning technology helps chatbots learn from previous customers' conversations and AI helps in the decision-making.
Chatbots will direct customers through the website and recommend the relevant products through different strategies and automate customer communication effectively. Online business owners can provide seamless customer support through AI chatbots. An AI chatbot is an interactive chatbot that will easily jump from one conversation to another.
How Do Chatbots Work in eCommerce?
What are chatbots used for? – Advantages of Chatbots
An AI-powered chatbot is a powerful way for e-commerce site owners to understand their target audience and their journey. E-commerce sells both products and brand ideas to online shoppers by implementing advanced technologies in marketing strategies.
There are so many advantages of chatbots in the e-commerce business: chatbots enhance the customer journey exponentially. Chatbots' marketing strategies with advanced technologies like Artificial Intelligence generate revenue for your online sites. AI chatbots regularly learn from the interactions of humans and make the conversation feel more natural, like a real-life experience. Chatbots can simulate human conversation and understand customers' preferences. Whatever type of e-commerce business you have, you will benefit from AI chatbots in numerous ways.
Bots and Businesses – Chatbots for Marketing
Business to Consumer (B2C):
A Business-to-Consumer e-commerce business sells products and services directly to consumers. The landing pages of e-commerce B2C sites use AI-powered chatbots to understand the customers' needs and recommend the correct product for them.
B2C businesses can develop their products and services around the customers' preferences with AI chatbots. AI chatbots converse with the customers to better understand their preferences. For instance, if an AI chatbot asks customers about what they are looking for, customers can state their preferences or problems and the chatbot will recommend relevant products. If a customer doesn't find the right product on the site, the chatbot will show them other relevant products to choose from. B2C e-commerce sites can increase their sales by using AI chatbots to more fully understand their customers and what they want.
Business to Business (B2B):
B2B e-commerce businesses need influential communication with their clients. Business-to-business e-commerce makes the sales between one business to another.
We've talked about chatbots.  Let us consider Leadbots:
Leadbots with artificial intelligence technology help in generating leads for B2-B businesses. As mentioned above, AI chatbot communication is more natural than programmed chatbots and has the business objective to convert visitors into leads. One of the main objectives of lead generation chatbots is to answer questions and push visitors down the correct funnel.
AI chatbots in B2B sites get questions answered and encourage potential clients to take action. The biggest advantage of AI chatbots is reducing the time it takes business owners to qualify leads. Some of these lead qualifying questions  AI chatbots ask could be:
AI chatbots can ask about the budget range of the clients to determine whether they are a good lead for the business.
Lead qualifying questions can also look like 'What brought you here?'; business owners can understand the clients' intentions and whether or not they are a good fit.
Chatbots can also ask about any price concerns to qualify customers as good leads.
Consumers to Consumers (C2C):
E-commerce site owners use chatbots to push sales and increase customer engagement. AI chatbots increase customer engagement substantially with a natural conversation. Consumer to consumer is another type of e-commerce site that secures sales between one customer to another.
C2C business is also known as an online auction site. AI chatbots in C2C sites benefit the third-party platform to make sales by funneling customers towards the most engaging content to suit their needs. AI chatbots are similar to sales representatives and understand the latest sales trends in C2C commerce. Key advantages of chatbots in C2C commerce are:
Direct customers to the relevant products through a conversation.
AI chatbots understand sales trends with an effective conversational marketing strategy.
AI chatbots increase the sales of a C2C e-commerce site by directing customers to the product that fits their needs.
10 Chatbot Advantages: Chatbots for Business
AI chatbots for businesses are basically like online sales representatives who actively analyze the customers' preferences through conversation and give valuable insights. Have you ever wondered how chatbots understand the human language? AI chatbots learn from human conversations to respond like a real person. Natural language processing in AI chatbots helps chatbots to understand the human language.
1. Seamless Real-Life Interaction
AI chatbots enhance human-machine communication with the help of artificial intelligence. Compare this to rule-based chatbots where the response to any question is programmed and comes across as mechanical, and non-engaging.
The conversation between customers and rule-based chatbots doesn't easily jump from one question to another. AI chatbots, on the other hand, enhance human-machine communication and previous link questions to other questions. By linking one question to another, AI chatbots can give personalized responses to the customers' questions.
2. 24/7 Customer Service
Human agents behind live chats can understand the emotive questions and respond accordingly. While handling repetitive questions, humans might get frustrated, which is where AI chatbots play a vital role.
AI chatbots can handle multiple repetitive questions 24/7. You might wonder how AI can handle questions better than humans?   It's because there are only so many humans, working so many shifts per day.  Meanwhile, the AI chatbot can handle most issues, 24/7, and if the customer needs to talk to a live person, they can do that with a request.  But they may have to wait.  In general, AI chatbots handle most problems that a live human would.  And when they can't, they can defer it to a person.
3. Customer Data Security
AI chatbots track the customers' journey through the last conversation data. Apart from the various uses of chatbots, protecting the customers' privacy is also essential while collecting information from the conversation.
Online business owners should regularly test and update the AI chatbots, because as good as they are, they can sometimes ask obtrusive questions that jeopardize the customers' privacy. Consider the company Ochatbot, which is respectful of customers' privacy.  Ochatbot features can help online business owners to develop a customer-centric business by protecting customers' privacy.
4. Connecting Product Recommendations
AI chatbots should connect the product recommendations to sell the products to customers.
A website visitor might not have intended to buy a product from the e-commerce website, but AI chatbots encourage them to buy the products with effective communication. AI-based chatbots can sell e-commerce services to customers efficiently by connecting the product recommendations.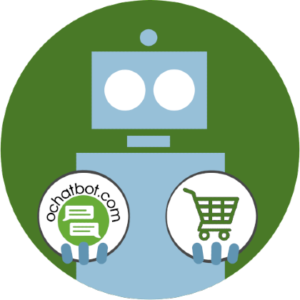 True AI to engage shoppers in conversational eCommerce. Create happy customers while growing your business!
5% to 35% Increase in AOV*

20% to 40% Increase in Revenue*

25% to 45% Reduction in Support Tickets
WE GUARANTEE RESULTS!
*When shoppers engage with Ochatbot®
5. Page Targeting with E-commerce Chatbot
AI-powered chatbots like Ochatbot engage the users in conversation by targeting multiple legitimate website pages. Chatbots ask questions to the customers based on the page where the customer is browsing.
Page targeting is an efficient way to encourage the customers to buy the service/product of an e-commerce website. Chatbots develop good customer relationships by understanding customer expectations and allowing them to take action. Online shoppers will take the action on the page with the chatbots' triggers.
Also Read: 7 Benefits of E-commerce AI Chatbots
6. Interactive Chatbot Flow
AI chatbots' conversational flow will replicate the conversation of the sales rep in a physical store. Chatbots' conversational flow starts with the welcome message and helps the customers throughout the journey. The interactive chatbot flow is one of the great advantages of chatbots.
Welcome Message
AI chatbots start the conversation by greeting the customers. The compelling greetings of an AI-powered business chatbot will engage the website visitors in conversation. Many online business owners use their logos in the conversation to create brand awareness in the welcome message.
Understanding Customers' Preferences
Through the customers' conversations, chatbots easily understand what they are looking for. At this point, the chatbot recommends relevant products to customers. If customers cannot find the products on the website, the chatbot uses cross-sell strategies and sell products to customers based on what they like.
Increase Sales
Chatbots help your business by allowing online shoppers to add items to the cart instantaneously, while still having a conversation. Thus, online shoppers will not tend to leave the chat window while adding products to the cart. This is crucial, as cart abandonment is one of the major issues that every eCommerce is facing. Chatbots reduce cart abandonment and increase sales for eCommerce websites.
Order Tracking
Chatbots also help customers in tracking their orders. Online business owners don't have to rely on the support team to help customers track their orders. Chatbots do that task efficiently and instantly with advanced technologies behind them!
7. Brand Awareness
Implementing AI chatbots on eCommerce websites is one of the ways to humanize your brand and create brand awareness among the customers.
Many successful brands use their own chatbots to create brand awareness among the target audience. AI chatbots have a bot persona with business goals: the bot persona makes your brand reach a wide audience. A live agent cannot handle multiple questions at the same time, but an AI chatbot will answer multiple, repetitive questions from customers. AI chatbots provide a great shopping experience for your customers, instantaneously.
8. Reduce Customers' Frustration
Complex navigation on the eCommerce sites is one of the frustrations of online shoppers while purchasing on eCommerce sites. Reducing customers' frustration by improving navigation is one of the primary advantages of chatbots on the website.
Customers will find their desired products on the website with the chatbots' recommendations. Your website visitors don't have to wait and surf through the eCommerce website for a long time; the chatbot provides direction and resolution of the buyer's journey.
9. Social Integration – Omni Channel Solution
AI chatbots with Facebook Messenger integration reach out to the customers on Messenger. Ochatbot is an excellent and easy-to-use chatbot that effortlessly embeds on Facebook and other eCommerce platforms such as Shopify, BigCommerce, and WooCommerce.
Facebook Messenger integration markets your products to customers on the messaging platforms. Online businesses will get more customer engagement with the Messenger integration.
10. CRM Integration
A CRM (Customer Relationship Management) integrated chatbot connects online businesses to thousands of CRM systems. There are so many advantages of chatbots with CRM integration.
CRM-integrated chatbots automate the data entry processes and simplify several tasks. Online business owners easily integrate a quality bot such as Ochatbot by using Zapier integration. Such a chatbot can collect valuable insights and enter the information into the CRM systems.
11. Gaining Valuable Customer Insights
Chatbots do not only help online business owners understand customer preferences. Additionally, an e-commerce site owner will gain better customer insights and create customer service models with the bots.
AI chatbot conversations are effective and instant. Chatbots also analyze the purchase intent and commonly asked questions of potential customers. Identifying potential customers is one of the challenging tasks in the e-commerce industry. However, an AI chatbot makes the task easy and seamless.
12. Helps in E-commerce Business Growth
Enhancing customer experience is one of the ways to improve customer service in an e-commerce store. An e-commerce store owner can evaluate how many customers have a positive or negative opinion about their products and services with an AI chatbot.
A business becomes more communication-centric and makes the customer journey smoother in an online store. Implementing an AI chatbot in an online store is one of the best ways to make your customers reach the sales funnel instantly.
13. Strong Internal Communication
Effective internal communication is one of the effective strategies to reduce your never-ending sales cycle. Many brands increased the sales of their business with strong communication.
If a brand has strong internal communication with its potential customers, it will also increase customer satisfaction and loyalty. Many e-commerce store owners strive hard to reply to multiple customers as quickly as possible. With an AI chatbot, online business owners can provide better customer service because strong communication with customers will help online business owners understand what their customers want from the brand. Hence, e-commerce store owners meet customer expectations without any time-consuming tasks.
14. Brand Voice
Every brand needs a unique strategy to represent its products and services to the e-commerce industry. A brand voice plays a vital role in increasing brand popularity. For instance, Amazon has the virtual assistant "Alexa" with a human touch.
In the same way, a chatbot with a human touch will captivate customer attention and strengthen your brand voice. An online business owner can integrate AI chatbots into popular social media messaging apps such as Facebook Messenger.
A consistent brand voice on several social platforms will create an image of your brand in customers' minds. For example, if your brand voice is customer satisfaction and positivity. Your chatbots should represent them in the conversation in which e-commerce store owners create an indelible image in their target audience's minds.
15. Cost Savings
Why should an e-commerce industry have any support tickets when chatbots can perform challenging tasks instantly? AI chatbots can handle multiple tasks more effectively than human agents, and you do not have to pay them a salary.
An e-commerce site owner can have a human intervention (Human-in-the-Loop) in the chatbot conversation. However, it is not very necessary to have several human agents to handle every task when a chatbot can perform those tasks simultaneously.
Special Features of Ochatbot
Ochatbot is an artificial intelligence chatbot whose design specifically meets e-commerce Needs. Dome of its features that help store owners to simplify the e-commerce marketing process and drive sales to the website include: 
Abandoned Cart
AI chatbots are famous for their automated human interaction. In addition to this feature, Ochatbot ensures to remind the customers who leave their carts without making purchases. People may leave their carts due to certain reasons, such as if their desired product ran out of stock.
In these cases, the chatbot will notify them once the products are back in stock. When people search for products and put them on a cart, they may feel the urgency of the constant notifications and purchase the product. This feature will increase the sales rate. 
Intriguing Product Recommendation
Ochatbot recommends products and offers to customers through up-selling and cross-selling techniques. These strategies can push them to buy more products although they do not need them. 
Up-sell – Ochatbot exhibits up-selling techniques by recommending customers the offer of free delivery for an amount a little higher than their recent purchase price. To make use of the free delivery offers, customers may try purchasing more than what their original purchase was. 
Cross-sell – Chatbots will recommend products under the tags "relevant products,"  "People also search for," and "Things that are brought together." For example, when a customer is looking for mobile phones, the bots will recommend a package with chargers and headphones of the same brand.  
Direct shopping
Users can easily search for products, add them to carts, and pay through chat windows itself. They need not navigate through the website for purchasing products. Usually, customers will land on the home page and search for products in the search tab. It will navigate them to another product page where they can browse through the products and add them to the cart. The customers may purchase these products and they will get to another transaction page to make payments and purchase the product. To simplify this process, chatbots guide users to complete their shopping journey like a casual chat. 
Order Tracking
People can check their order's current status from the chat window. The chatbots will pull your cart details and order details and reply to you with the details you are searching for. 
Independent AI
As Ochatbot comes with its own Ometric Artificial Intelligence platform, customers need not rely on social media to shop for their products. This helps users by eliminating security risks. 
Summing Up
AI-powered lead bots and chatbots benefit the different types of e-commerce businesses in understanding their customers.
The advantages of chatbots in e-commerce business can vary from one e-commerce business to another. Again considering Ochatbot, they have pricing plans for every eCommerce business. Chatbots for small businesses are cost-efficient and reduce support ticket maintenance and Ochatbot has a pricing plan for small businesses as well.
Training the chatbots and supervising the conversation with human agents enhance the customers' experience. Supervised Artificial Intelligence in chatbots connects both machine intelligence and human intelligence. If you are planning to start an e-commerce business, setting up an AI-powered chatbot is an effective way to optimize the conversion. Implementing a chatbot for support helps eCommerce businesses do multiple tasks and invite more potential customers.
Suggested Reads:
Frequently Asked Questions
1. What questions should a chatbot ask?
Chatbot questions can differ from one e-commerce site to another. Online business owners should insert their business objectives in the chatbots to help make the customers take action beneficial to the needs of the business and the customers themselves.
2. Why is Ochatbot recommended so highly?
Ochatbot has predefined user intents and provides customer support by answering every question. If a customer wants to talk with a human agent, Ochatbot directs them to live chat. With Ochatbot, your customers won't leave the website without getting answers.
3. What are some popular companies using chatbots?
Some of the popular eCommerce companies like Sephora, Amazon, and Spring Bot use customer support bots to converse with their customers.
4. What are the benefits of chatbots in healthcare?
Scheduling appointments, collecting information about the patients, immediate answers to the patients' questions, and flexible payment are some of the benefits of chatbots in healthcare.
5. What is the main goal of a chatbot?
The main goal of an AI chatbot in the e-commerce industry is to convert casual website visitors into potential customers and enhance the purchase decision process.

Latest posts by Greg Ahern
(see all)