Chatbots have proven to be a valuable addition to businesses and firms by simplifying and automating even the most mundane and arduous tasks. They are increasing in almost every sector and the usefulness they provide is cherished by both customers and businesses alike. 
Customer relationships have been a #1 priority for businesses over the past and are still a priority that every business has invested their focus on for them to glow and flourish. This is often referred to as the "Relationship Era".
To establish a thriving relationship with customers and simplify their ways of communication, businesses introduced CRM systems. And, in turn, to aid CRM systems, AI chatbots were introduced to maintain a healthy relationship with customers and satisfy them.
In this article, you'll see some of the benefits they provide and explore some reasons why integrating an AI chatbot with your CRM can be essential for your business. 
CRM and Chatbots
Customer Relationship Management, where you monitor and streamline interactions with customers, has been around forever.  You build effective relationships, you analyze and understand customer expectations and you use this information to build support, sales, and business growth.
But it's only now, in the era of chatbots, that these activities are now able to be effectively automated, saving your business time and money, while even improving your customer's interactive experience."
Why Do Businesses Need Chatbots Along With CRM?
Even today, after finding all the ways to engage customers and build relationships with them, some businesses do fail due to a lack of proper CRM adoption, arduous manual data entry, consolidation, and migration of data for businesses to make decisions and deliver a personalized experience to their customers. 
Businesses even find it hard to adopt and use CRM systems predominantly because of the need for extensive manual entry into the CRM software. This wears out customer service and sales representatives and eats up their productivity. Another challenge is the CRM's non-intuitive, non-user-friendly UX that shuns away users. This could have an adverse impact on the process efficiency affecting your revenue. 
As CRM provides a valuable addition to customer service, chatbots prove plenty of advantages to existing CRM systems.
Top 7 Reasons for Integrating Chatbots with CRM
Here are some reasons why chatbots are an important addition to your CRM system.
Automate Support and Tasks
By establishing a stable workflow, chatbots can automatically perform tasks from acquiring and analyzing data to processing requests. With the help of Natural Language Processing (NLP), Chatbots can understand customer intents and requests and provide support by resolving simple automated tasks. 
In most cases, a customer service chatbot can provide answers based on FAQs or previous customer interactions. Alternatively, a chatbot can create support tasks and assign those to the designated support personnel. 
Faster Data Access and Immediate Responses
Dealing with a huge amount of data might constrain the manual labor to pull up the data in times of need. Chatbots can do this task in a matter of seconds and about 69% of the users cherish the speed at which their queries are answered. A chatbot can keep track of user data, behaviors, and patterns to provide a personalized response to the user immediately without said user having to run through multiple complex pages. This in turn lets the support personnel focus on formulating strategies and dealing with complex queries which need their intervention.
Reduces Operational Costs
The use of CRMs and chatbots cuts down operational costs twice as much as traditional methods of customer service, reducing about 80% of the usual business costs. AI Chatbots can automatically take care of tasks, nullifying the need for a huge workforce, with the  reinforcement that they can be trained to be even better, over time. In addition, they can also take care of the arduous data entry which would require more labor. 
Increases Sales
Chatbots can understand customers' intent and supply the user with questions, forms, and surveys to gain a better insight into customer expectations, based on their answers. This helps a business identify sales opportunities, and strategize methods to effectively pitch for upselling and cross-selling services or products.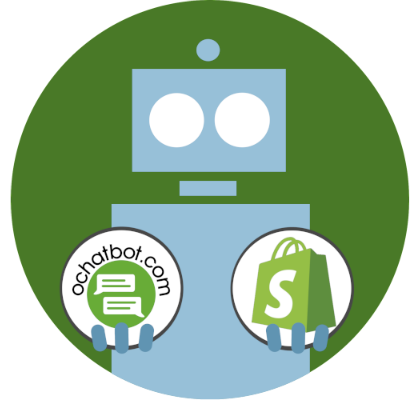 True AI to engage shoppers in conversational eCommerce. Create happy customers while growing your business!
5% to 35% Increase in AOV*

20% to 40% Increase in Revenue*

25% to 45% Reduction in Support Tickets
WE GUARANTEE RESULTS!
*When shoppers engage with Ochatbot®
Simplified Entries
One of the most common drawbacks of traditional customer relationship management is manual data entry, where the data is being entered by hand, in a tedious process, or at best, being funneled from a database that had to be programmed. Not only does it take the time and effort of manual labor, but also makes the data complex to comprehend. 
AI chatbots can simplify this process by analyzing every single detail and insight regarding all the customer information and automatically entering that into the CRM system. It can also log customer queries, complaints, and payments related to the system. 
Increased Accuracy and Efficiency
Humans tend to make errors, especially when data is very large, and this can have an adverse effect on the customer and business front, resulting in manual errors in CRM both when entering data and retrieving data.
The implementation of AI chatbots can prevent this from happening. Chatbots can collect and store data and retrieve relevant data from the database in a faster way. With faster responses and lesser errors, customer satisfaction automatically goes up. 
Monitor and Send Notifications
AI chatbots can deliver alerts, prompts, or notifications to executives or users and notify them without having to keep track of the process or navigate through the complex UI. This omits the challenging task of keeping track of tasks from the point of employees and the status of tasks from the point of users from the complex application. 
Related Reads:
8 Ways to Use AI Chatbots in Digital Marketing 
How to Design an Ideal Chatbot UX for Your Business? 10 Best Practices
How to Maximize Your AI Chatbot ROI? 7 Tips and Strategies
Frequently Asked Questions
What are some benefits chatbots provide for CRM?
AI Chatbots enhance customer relationship management systems by automating tasks, streamlining processes, providing instantaneous support, and reducing the operational costs associated with them.
Can chatbots be a part of CRM?
Yes, the addition of AI chatbot software to your customer relationship management can support major drawbacks in terms of data entry, data retrieval, and efficiency of the process. They can even enhance and smoothen customer relationships, increasing their satisfaction and driving more conversions. 
Enhance Your CRM With AI Chatbots
CRM via chatbots paves the way for businesses to connect with their customers and provide them with a seamless customer experience.
AI chatbots do make a fine integration into CRM. First, understand your customers and their requirements, then identify a chatbot with the right integrations, and the platform of deployment, and find a way to fit them into your processes. If you still are not implementing AI chatbots then you are missing out on an integral opportunity to enhance customer satisfaction. 

Latest posts by Greg Ahern
(see all)