Repeat customers showing brand loyalty are a top goal of any business; without customers, a business fails. Every process, strategy, and campaign is defined and devised by keeping them in mind. When it comes to online stores, in addition to the quality of your product or the customer service you provide, the way a customer feels toward your store can be an ideal factor in determining the success of your business. 
The enthrallment a customer feels when interacting with your store becomes a deciding factor for your eCommerce business to acquire, engage, convert, and retain customers in the longer run. 
With this in mind, a variety of eCommerce businesses and firms have taken solid steps to prioritize the customer experience and developed ways to enhance their satisfaction. 
In this article, let us see some ways to enhance your eCommerce customer experience with these 9 insights.
What is eCommerce Customer Experience?
eCommerce customer experience (eCommerce CX) refers to the experience of the customer or the level of satisfaction a customer feels from your eCommerce store. It can be deduced across multiple touchpoints from the moment they land on your store until a conversion is made, and even so, depending on the post-sales service and support you provide, all from the eyes of a customer.  
In simpler terms, customer experience can be regarded as the sum of what the customer hears, what they see, and what they feel about every single move they make in your store. Some of those methods include reviews, feedback, Net Promoter Score, and surveys, and can even be based on the number of support tickets received. 
According to research by PWC, 73% of people agree that customer experience is one of the most important factors that influences their purchasing decision, which emphasizes that businesses focus on enhancing conversions and staying above the competition. According to another study by Statista, about 88% of businesses find enhanced customer experience as a way to gain a competitive advantage over other businesses. 
9 Ways to Enhance Your Customer Experience
If you still haven't considered customer experience or have already prioritized customer experience but are not seeing the results you expect, you might want to consider working on these insights to help enhance your overall customer strategy.
Make the Best Use of AI Chatbots
The experience of a customer in an eCommerce store is directly tied to ease of navigation, their ability to find the right product, and the level at which their queries and questions are clarified. 
In a brick-and-mortar store, a live agent or a salesperson would be an ideal choice to guide the customer, solve their queries and help them identify appropriate products. Whereas, customer support agents provide services via call centers. 
According to a study by Forbes, about 70% of customers agree on having had a positive experience with chatbots. AI chatbots become an all-in-one alternative to traditional human support. By facilitating the customer's buying journey, engaging them with lucrative deals and discounts, helping them find the right product, and even providing service support instantaneously from anywhere in the world, all around the clock, this ability of an AI chatbot makes it easy on the business at a lesser cost, while still guaranteeing an elevated customer experience. 
Focus on Being Customer Centric
The customer experience is predominantly determined from the moment they visit your store until they leave. When designing an eCommerce website or devising any strategy, it is necessary to think from the point of view of a customer. 
To provide a customer-centric approach, businesses would have to focus more on customer research and data-driven strategies, keeping the customer as the focal point. 
This customer-centric approach will give you better ways to devise strategies and processes and identify areas of improvement, ascertain weaknesses and zones where your business can captivate customers and elevate their experience. With this at play, businesses with a customer-centric approach are 60% more profitable than businesses without a customer-front approach. 
Hone Your UI Design
Ever since moving out of a brick-and-mortar concept, eCommerce stores are evolving drastically in terms of design, delivery, and experience, all thanks to this digital age. 
Since customers only interact with your business and the product through the screen and the sense of seeing, touching, and feeling the products rendered useless, the UI design and UX part play a pivotal role in guiding the customer and enhancing their experience. 
Proper care must be taken when designing the eCommerce store based on UI principles such as ease of navigation, the quality of content, adherence to brand color schemes, placement of buttons, and the overall functionality of the website. Adding proper images, detailed product descriptions, and proper reviews about the product can additionally reinforce trust in the product. 
Currently, Augmented Reality (AR) has proved to be a great game-changer in the way people view products in eCommerce stores, greatly reducing the churn rate and enhancing customer satisfaction. 
Provide Personalized Support to the Maximum
Isn't it great when support or suggestions are tailored to your needs and expectations?
Customers love personalization. Especially when it comes to customer service or when choosing a product, personalization has proven to enhance the eCommerce customer experience by multiple folds. According to a study by Epsilon, about 80% of customers are likely to buy from a business that offers personalized experiences. 
 Here too, AI chatbots can save the day by analyzing customer data and delivering tailored content, providing personalized messages, prompts, and product suggestions, based on the unique actions of any given customer. 
Personalization appeals to the customer's interest and helps them find the desired result without spending too much time searching for a product or when seeking a solution.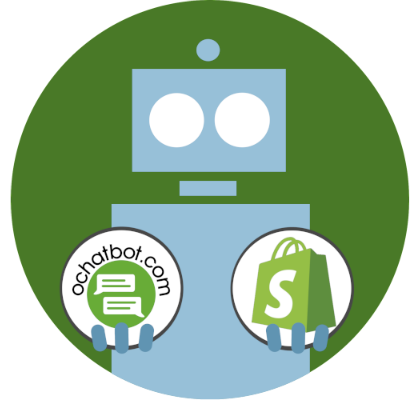 True AI to engage shoppers in conversational eCommerce. Create happy customers while growing your business!
5% to 35% Increase in AOV*

20% to 40% Increase in Revenue*

25% to 45% Reduction in Support Tickets
WE GUARANTEE RESULTS!
*When shoppers engage with Ochatbot®
Go OmniChannel and Multichannel
As much as customers want personalized product/service suggestions, they would also prefer to connect with your brand over their preferred channel. eCommerce stores that go multi-channel have greater accessibility and enable the customer to connect with you over different channels like WhatsApp, Telegram, Messenger, or through a chatbot window in your website.
And, supporting customers from multiple channels might require an increased task force with multiple agents working on queries from different channels. Going omnichannel helps synchronize the queries from different channels and consolidates them onto a single interface. This makes it easy for the service agents to provide resolutions and keep track of previous conversations when providing resolutions. 
As going omnichannel and multichannel can be both rewarding and challenging at the same time, employing measures like providing means of self-service and deploying AI chatbots can help customer services coordinate with the customer and get their queries answered. 
Optimize Your Supply Chain
A customer after ordering or purchasing will have to wait before the product reaches them. The order needs to be taken into account, shipped, dispatched, and delivered to the respective customer. And, the wait time during this can be quite unpleasant. 
eCommerce stores will have to take measures to optimize their supply chain by providing proper shipping details, and their date of delivery including the current stage of the product. In addition, eCommerce stores should take measures to prompt the user regarding the status of the product if they go out of stock, and when they'd be back in stock, making it easier for the customer to avail the product at the right time. 
Additionally, betterment of logistics, ease of payment processing, managing inventory, and enabling easier and better return or exchange policies can collectively help enhance the overall eCommerce customer experience.
Read More: AI in Logistics: 13 Benefits and Uses of Utilizing AI Chatbots
Simplify the Checkout Process
Only when a conversion is made, the visitor is turned into a customer. Most visitors even though they have an intent of purchasing might bounce off in stores with a complex navigation and checkout process, which in turn adds to cart abandonment, a potential eCommerce customer issue. 
So to deliver a better eCommerce customer experience, the store must simplify the checkout process. They can simplify the add-to-cart or wishlist options, reducing the additional account detail process and even, simplifying the payment process. 
eCommerce stores can provide customers with multiple payment options such as 'no-cost EMIs', 'Order Now, Pay Later', and 'COD' options over multiple payment gateways. Also, providing coupons, offers, and discounts at the time of checkout can guarantee a conversion.
Provide Pre-Purchase Support
Most businesses make the mistake of providing proactive support and care only if they see a potential prospect. However, beginning to provide support even before the viewer is converted to a customer greatly applies to the customer experience. 
In other words, the pre-purchase support will establish your brand image and clarify any queries they have with your product or service. This pre-purchase support might encompass activities like qualifying a lead, proposing a sales deal, and facilitating the customer journey in helping them find the right products. 
Providing proactive support and care even before the prospect is converted to a customer not only increases the likelihood of conversions but also establishes goodwill among customers and positively promotes your brand. 
Provide Post-Purchase Support
Any business aims to acquire customers and make a sale. But the duty of a business does not end once a conversion is made. Customers might need assistance with queries and doubts relating to your product post-sales. 
Post-sales support also includes the optimized supply chain process, assistance with returns, refunds, exchanges, customer service, and support with your product/service.
The level of proactiveness when providing post-sales support influences the eCommerce customer experience to an extent. Proper post-sales support builds a loyal customer base, increases the recurrence of customers, and reduces the workload on your team to find leads and convert them to customers. 
Frequently Asked Questions
How do AI chatbots provide personalized support?
AI chatbots greatly enhance the eCommerce customer experience by noting customer preferences, offering tailored product suggestions, and even answering customer questions about a product. This is possible with the help of AI and machine learning techniques like Natural Language Processing (NLP).
Is omnichannel expensive?
Multi-channel seems to be cheaper but ultimately could become labor intensive whereas omnichannel might cost a lot to start, but the synchronization and benefits are worth it.
What are some ways to acquire data from customers?
Market and customer research is one way to know about customers. However, surveys, fillable forms, polls, social media, reviews, and feedback are additional ways to acquire data from customers. 
Make Use of These Insights to Enhance Your eCommerce Customer Experience
The success of an eCommerce store begins and ends with your customer. Therefore, it is only logical to take measures that would make their purchase more memorable. 
Compared to a brick-and-mortar store, eCommerce stores have different sets of metrics that might add up to the customer experience. Taking the above-mentioned insights into account and implementing them in your eCommerce strategy will help elevate the customer experience and enhance customer satisfaction. 
The best way to build an eCommerce customer experience is to keep a keen eye on how your customers feel about your brand, consolidate that data, and refine it over time. 

Latest posts by Greg Ahern
(see all)