Shopify vs Wix, which is the best platform for your e-commerce store?
If you are an e-commerce store owner, you should choose the best platform that enhances e-commerce functionality. The best website builders are flexible and not too technical for online business owners. Website visitors visit many online stores and buy products in a store with easy navigation.
While choosing the best e-commerce platform for your online store, you should also check how it will enhance your customers' journey. This article focuses on the differences between Shopify and Wix, two popular e-commerce sites, to see which one is best for your business.
Overview of the Content
What is Shopify?
Shopify is a popular e-commerce platform that is flexible for both small business owners and prominent entrepreneurs. An online business owner should choose an e-commerce platform that is highly customizable, and Shopify is among them. When you start an online store on Shopify, you can sell both digital and physical goods through various social media channels.
The process of setting up an online store is not challenging with Shopify. You don't need to have a business license to sell on the Shopify platform. Generating more return on investment (ROI) in Shopify is one of the great advantages of the store.
What is Wix?
Wix e-commerce is a simple website builder that allows you to set up your online store easily even if you are not tech-savvy. This e-commerce platform is a suitable platform for beginners to build their brand image.
Small business owners with less than 300 products can also start their online stores on the Wix platform. The e-commerce tools in this platform are beneficial for beginners. There is no limited trial when you start an e-commerce store on Wix, and its user base is also extensive and prominent.
Wix vs Shopify
Every e-commerce owner will have doubts before choosing an e-commerce platform. If you are confused between Shopify and Wix, you should compare them with relevant categories.
The best way to do that is to identify the advantages and disadvantages of both the Shopify store and Wix e-commerce to do a better comparison.
What Should You Consider – Shopify or Wix
An online business owner should look into the SEO functionality, flexibility to build an e-commerce store, pricing plans, and theme templates to decide which is best for building their online store.
Shopify Pricing Plans
An e-commerce site owner should look into payment plans to see whether it is suitable for their budget. Shopify has various pricing plans for both large entrepreneurs and small business owners.
Basic Shopify Plan
The Basic Shopify plan is the best for small business owners. The Basic Shopify plan starts at $29 and comes with a 14-day free trial.
You may create a free standalone store in Shopify with the Basic Shopify plan. The plan comes with built-in themes to help you change your fonts and page layouts with the code.
Shopify Plan
Shopify plan will help online business owners extend their online business with consistent sales. If you plan to expand your online business, then the Shopify plan that costs $79 is the right choice.
This plan offers every basic plan feature and gives you advanced analytics to help you understand customer behavior.
Advanced Plan
Are you a large entrepreneur? If you have an established business, then an advanced Shopify plan is suitable for you. This plan has excellent features like low credit card rates and third-party transaction fees.
Advanced Shopify plan allows e-commerce store owners to create custom reports and build trust with their customers by providing the exact shipping rates.
Wix e-commerce Pricing Plans
Wix e-commerce provides four pricing plans for online business owners. This e-commerce site has exclusive features in every plan such as a Custom domain, customer support, a professional logo, social media logo files, and a visitor analytics app. The features vary based on the price range of every plan.
While comparing Shopify pricing plans with Wix e-commerce, the price range will be from $0 to $500 for the nine plans.
Free plan – $0
Combo plan – $14/month
Unlimited -$18/month
Pro plan -$23/month
VIP plans – $39/month
Business basic, unlimited, and VIP – from $23 to $49
Enterprise – $500
The above pricing plans of Wix have the following e-commerce features portfolios, priority support, content-driven blog pages, account manager, etc.
Shopify Payments
Payment gateways are significant to gaining more loyal customers and building trust in your e-commerce platform. An e-commerce platform should be flexible for customers to make their payments.
Shopify payments will not make your customers leave the website without making payments. The payment process in Shopify is flexible if you integrate the Shopify payments app in the store. Shopify payments reduce the transaction fees and help you track orders which manages every step in the payment process.
Wix Store Payments
Wix payments will help you pay through various modes such as credit cards, debit cards, iDeal, and Paynow.
With Wix Payments, you don't have to integrate a third-party app and you will get 24/7 customer support. E-commerce store owners may use the unified dashboard for payouts, refunds, and chargebacks. The quick setup will also allow you to accept payments as soon as possible.
If you set up an account once, you will receive payouts daily, weekly, and monthly. The alternative payment methods such as Paypal will also work in Wix store payments. Wix Payments will charge transaction fees. These are the following major credit cards that are accepted in the Wix payments:
Visa
Mastercard
Discover
CUP
JCB
Maestro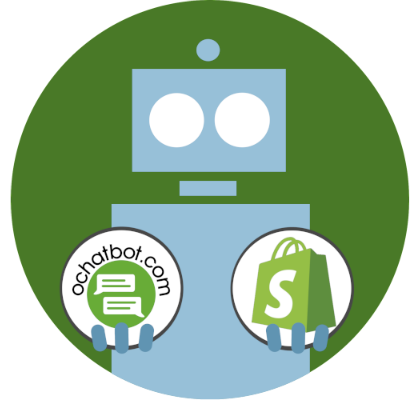 True AI to engage shoppers in conversational eCommerce. Create happy customers while growing your business!
5% to 35% Increase in AOV*

20% to 40% Increase in Revenue*

25% to 45% Reduction in Support Tickets
WE GUARANTEE RESULTS!
*When shoppers engage with Ochatbot®
Shopify Online Store Themes
Themes help you customize your store and captivate your target audience. Shopify themes will help you customize content on every page and you will create unique page layouts. You will also get enhanced app support on your e-commerce platform.
E-commerce owners will also write specialized information and your customers can filter by availability, price, and various factors. Shopify has more flexible and responsive themes. These themes are optimized for every device, like mobile and desktop. Shopify has both free and premium themes for online business owners. The performance of the Shopify website will not get reduced because of minimal code. Here are a few benefits of Shopify themes:
Shopify themes provide the best buying experience to online customers.
The web and minimal code in the themes will not reduce the speed of the website.
The Shopify free themes are light and extremely flexible.
Shopify store owners will build a third-party theme to give great customer support.
Shopify themes will help you enhance conversion flows, performance, and accessibility.
The built-in features of the Shopify store are gift cards, country, language selection, pick up, and availability.
Wix Online Store Themes
Wix's online store has five hundred templates for online business owners. This e-commerce platform has themes that support high-resolution images, videos, and other media files. Wix online store's themes are designed with a clear layout, captivating layouts, and well-defined sections.
The Wix templates exclusively have a subscription field in the template's footer. This will help you gather your customer's addresses. Wix has an exclusive theme for every shop such as tech stores, clothing stores, and accessories shops.
Wix themes are 100% customizable, and you can change the themes to your own preference.
A template should have information in a hierarchy. Your customer will know more about your online store with the hierarchy of information.
Professionalism and personalization will help you reach your target audience fast. Wix online store templates are personalized, transparent, and look professional.
If you want to create an urgency, the flashing header in the template will help you do that.
Shopify SEO
Shopify's basic SEO features are beneficial to online business owners. When you are doing a Shopify comparison, SEO stands out from the other benefits. This e-commerce platform has different built-in features and Shopify apps to increase your e-commerce functionality.
If you have a blog page on your online store, the Shopify platform will help you rank higher on the search results page.
Your online store's structure is easy to understand for Google with an XML sitemap.
Redirecting broken URLs with 301 redirections is good for search engine optimization.
Since Shopify has flexible themes, this e-commerce platform is also the best mobile-friendly platform. 
Shopify also has various SEO apps that will help e-commerce site owners boost their visibility on the search results pages. Keyword checking, image optimization, and meta tags check are some of the key features of Shopify SEO apps. When your online store is accessible on every device, this will enhance your SEO.
Wix SEO
Wix's e-commerce platform has step-by-step features that help e-commerce store owners optimize their online stores for search engines. If you are starting an online store on this e-commerce platform, you can also select the Wix SEO Wix plan. This plan will allow you to create an SEO-friendly online store to gain visibility from your target audience.
E-commerce store owners can create multiple pages at once with one template.
You can optimize every page with basic Wix SEO settings.
Since Wix is exclusive for blogging, online business owners can create blogs on their e-commerce stores to boost SEO.
Online business owners can make use of different e-commerce tools such as SEO Wiz, Accessibility, and the New Wix blog. Your content will become optimized for the search results page with these e-commerce tools.
The flexibility of Store-Set up
Starting an e-commerce store is not a challenging task. However, customizing and optimizing your online store for the target audience comes with difficulties. Both Shopify and Wix are highly customizable, so if you plan to start an e-commerce store, then you should understand which store is best for customization.
Shopify Customization
While comparing other e-commerce platforms with Shopify, Shopify's workflow is flexible for online business owners. You should look into the API support and options to customize your products for enhancing navigation on your online store.
In the Shopify platform, an e-commerce business owner can strike a balance between front-end and back-end support for customers. You need not have a coding knowledge to set up products in the Shopify store.
Online business owners can update, purchase, make a copy and add products in different channels, so your customers should have a personalized journey in your online store. If your online store is highly customizable, it is the right e-commerce platform and Shopify provides an automated e-commerce solution for customers.
Wix Customization
Wix's e-commerce platform has ADI support that will help you customize layout, text, images, and galleries.
Wix offers online business owners pre-designed layouts on the site, and it is easy to change the layouts of your e-commerce stores. Wix's e-commerce platform will help you add bullet points, hyperlinks, bold text, and font colors.
E-commerce store owners can change images on their online stores at any time.
If you want to display your images on your online store, you can add galleries in the store.
You can create a special palette and logo for your site by customizing it with your store's theme.
An online store owner can customize your site's menu based on your sections. It is easy to change various elements on your site and change the original template.
You can resize multiple elements in your online store.
Which is the Best Platform for e-commerce Store Owners?– Shopify vs Wix
While comparing these both e-commerce platforms, Wix provides the best support for beginners. This platform is beginner-friendly and helps online business owners manage products in the store. On the other hand, Shopify is best for both large entrepreneurs and small business owners. Shopify platform has enhanced SEO features than Wix e-commerce.
Wix is cheaper than Shopify, but it doesn't provide exceptional SEO and e-commerce solutions like the Shopify store. In a nutshell, Shopify is the best platform for starting an e-commerce business and developing it to the next level.
Latest Posts
9 Shopify Ideas for Online Business Owners
5 Best Shopify Payment Apps for Seamless Checkout
Best Shopify Apps to Increase Sales – 2022
All You Need to Know About eCommerce Digital Marketing
5 Best B2B eCommerce Platforms
Frequently Asked Questions
Is Wix cheaper than Shopify?
Yes, Wix is cheaper than Shopify. The basic plan for setting up an online store on Shopify is $29, whereas, for Wix, it is around $23.
Can I change my online store from Wix to Shopify?
If you are not a beginner, Shopify is the best platform for growing your visibility and gaining the attention of your target audience.
Do I need a business license for starting a business on Shopify?
No, there is no requirement for a business license to start an online store in the Shopify store.

Latest posts by Greg Ahern
(see all)