Do you know the exclusive chatbot marketing future in the e-commerce industry?
Artificial intelligence in chatbots is the future of the eCommerce business. Advanced bots with AI and machine learning technologies are inviting potential customers to websites compared to live chats and rule-based chatbots. Marketing strategies by AI-based chatbots are different. In this article, let us look into the chatbot marketing future and future trends.
What Is a Chatbot?
Chatbots are definitely not very complicated. A chatbot is a computer program that converses with the customers like a human. With natural language processing technology and Artificial Intelligence, chatbots are becoming more advanced.
Chatbots are definitely not complicated. Chatbot marketing strategies with upselling and cross-selling ideas will help online business owners generate more revenue. You can integrate your chatbots with social media messaging apps to communicate with your online business owners.
You can formulate more marketing strategies with customer preferences when you implement AI chatbots on your e-commerce website. Chatbots with the marketing team will help you enhance customer satisfaction.
What is the difference between a Rule-based chatbot and AI chatbot?
A rule-based chatbot has predefined responses and scripted dialogues. When a customer asks frequently asked questions, rule-based chatbots will respond more quickly. However, AI chatbots are more effective than rule-based chatbots and respond to questions that are not frequently asked.
The AI technology behind chatbots will answer all the questions and understand the user intent behind the questions.
Read More: Rule-based Chatbot vs Conversational AI: Which is Best For E-commerce?
AI Chatbots – Marketing Future of the E-commerce Industry
The marketing future of the e-commerce industry lies in advanced technologies. Hence, artificial intelligence-powered chatbots are more efficient since they have machine learning, artificial intelligence, and sentiment analysis technologies behind them.
Chatbots will analyze the intent of online shoppers with the previous conversation pattern.

As an e-commerce business owner, you will understand more about your customers and collect their data.

Chatbots with AI technology will help you reduce the customer service costs that you spend in hiring support tickets.
How Artificial Intelligence in Chatbots will Change the Future of Marketing?
AI chatbots are fine examples of how to enhance the customer experience in eCommerce sites. Automated responses in the AI chatbot can resolve customer questions quickly. Online shoppers tend to switch to different websites while searching for a product. If a website does not immediately answer the questions of online shoppers, they will most likely leave the website.  With training, the AI-based chatbot marketing service perfectly understands the user's intent and directs them to the right option.
Human agents cannot remember all customer conversations, but AI chatbots read every conversation and learn from it. Conversational marketing with AI chatbots is the future of eCommerce marketing since it reduces the time-consuming tasks of online business owners. Chatbot marketing future is a boon for all online business owners.
Also Read: How Chatbots Add a Touch of Humanity & Increase Your Online Sales?
Chatbot Strategy – Marketing Strategy
Chatbot integrates with messaging apps, like Facebook messenger. With the messaging apps' integration, chatbots are available 24/7. Online businesses use traditional sales funnels to convert website visitors into customers. But, chatbots reduce the task of creating a funnel by converting and using effective marketing strategies.
Upselling and cross-selling are two effective marketing strategies for an AI-based chatbot. If a customer visits your website, chatbots greet them like a human agent. AI chatbots also use page targeting strategies to recommend relevant products to customers. If a customer stays longer on a page, chatbots analyze their user intent and direct them to the products they most likely desire. This chatbot marketing future will increase sales in online businesses effectively!
1. Chatbots Understand Conversational Intent – Contextual Strategy
The first task of an online business owner is to find the right customer, a customer who shows interest in their products and services. These customers are the target audience for the business. Artificial Intelligence in chatbots understands the conversational intent of customers.
As chatbots learn from previous conversations, they can easily analyze both purchase intent and user intent. Contextual strategy is an effective way to target potential leads/customers for your online business.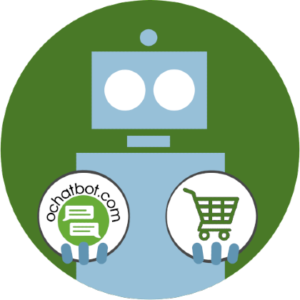 True AI to engage shoppers in conversational eCommerce. Create happy customers while growing your business!
5% to 35% Increase in AOV*

20% to 40% Increase in Revenue*

25% to 45% Reduction in Support Tickets
WE GUARANTEE RESULTS!
*When shoppers engage with Ochatbot®
2. Omnichannel Chatbot Strategy
Many online business owners use an omnichannel strategy to reach out to their customers from different platforms. As previously mentioned, chatbots reach out to customers from messaging apps, like Facebook messenger. Chatbot integrations with multiple channels are enhancing the conversational user experience.
3. Sales Funnel Strategy
A sales funnel strategy is a traditional online business strategy. Online business owners curate a sales funnel strategy to help customers sail through the top of the funnel, middle of the funnel, and bottom of the funnel.
AI chatbots enhance the basic funnel strategy through conversational experience. Through the sales funnel, online business owners can understand a customer's desire, action, awareness, and interest. Guiding customers through a sales funnel is an exhausting task for B2C(Business to Customers) business owners. Chatbots understand customers' needs and behaviors through their conversations using AI-powered marketing strategies.
Chatbot Marketing Services Today!
Helping the customers engage with your brand is one of the efficient ways to increase brand loyalty. With the help of a chatbot, customers may now be able to find solutions faster on all platforms without waiting for long periods. The personalized service of a chatbot promotes your products and services through conversations.
Online business owners don't have to worry about using different sales funnel strategies to convert customers. No matter where your customer is, integrating chatbots with messaging apps is effective for reaching out.
1. No Cold Calls or E-Mail Marketing Strategy
Remember those days when online business owners had to make cold calls and send emails to customers? AI chatbots are augmenting traditional e-mail marketing strategies now. Online business owners don't have to worry about creating brand awareness for customers. Chatbots are making the difficult tasks of reaching out to potential customers easy!
Automated customer support, handled by AI chatbots, simulates human speech and is available 24/7. If an eCommerce business uses live agents to respond to customers' questions, they may not be able to handle multiple customers, and answering repetitive questions might be tiring to the human agents. Chatbots eliminate all the conventional strategies and captivate customers through Artificial Intelligence.
2. Relevant and Useful Response – Chatbot Marketing Future
If you have read the above effective marketing strategies of a chatbot, you might wonder how a chatbot answers questions without giving a mechanical response? Chatbots learn from previous conversations, but mimicking an actual person requires a lot of training.
Rule-based chatbots handle basic customer interactions, but AI-based chatbots with regular updates can also handle complicated questions. Relevant and useful responses enhance customer engagement and direct customers toward the business objective. Chatbot marketing services are successful today because of Artificial Intelligence technology and regular training. Human-in-the-loop technology trains a chatbot to give relevant responses to customers. If a chatbot cannot handle a question, it connects the customer to a live chat agent.
3. Don't Worry about Repetitive Tasks – Automated Messages
One of the most important reasons to implement chatbots on websites is to do repetitive tasks. It is hard for a human agent to handle repetitive tasks and it is certainly exhausting, too. This is why you need an AI chatbot to automate every task.
Chatbots send automated messages to customers and give them a personalized experience. Advanced chatbot technology can do repetitive tasks effortlessly. Chatbots are not only effective in B2C (Business to Customers) businesses, they are also efficient in B2B (Business to Business) companies. Lead generation chatbots qualify leads through conversation and schedule meetings faster. Whether it is a repetitive task or a significant one, chatbots can manage everything perfectly.
4. Natural Language Processing – Chatbots Have Come Very Far!
Chatbot software mimics human conversation with NLP (Natural Language Processing) technology. Initially, many online business owners used rule-based chatbots to converse with their customers. But the branch-like questions in rule-based chatbots may not work for eCommerce businesses, since they can only handle basic questions. Chatbots have come so far from rule-based chatbots to advanced bots with AI technology.
Chatbots also reduce support ticket costs, which increases the profit margin for business owners. If you are an eCommerce site owner, you don't have to employ a lot of people to do different tasks. Implementing an AI chatbot can personalize responses and most small business owners and entrepreneurs benefit greatly from AI bots.
Latest Chatbot Trends – 2022
Voice Chatbot
Voice chatbots understand the customers' needs by analyzing the voice text. Advanced virtual assistants such as Alexa will break down the voice texts and provide great customer support.
Predicting Customer Behavior
Yes, chatbots can analyze the pattern of customer conversation. In the near future, advanced chatbots will also predict customer behavior and provide them with appropriate answers. Customer support chatbots that predict customer behavior will benefit e-commerce business owners greatly.
Industry Specific Chatbots
You can use chatbots in different industries and implement marketing basics. Industry-specific chatbots with exclusive features will personalize online shoppers' preferences and services.
HR Chatbots
HR chatbots are one of the most effective chatbots in the HR industry. With HR chatbots, you will automate conversations with applicants. Hiring tasks become easier and more flexible with HR chatbots.
Humanized Bots
Immediate responses are not only the highlight of chatbots. The instant and immediate responses should not sound mechanical. We have achieved humanized bot technology with artificial intelligence technology.
In the future, more humanized bots in different industries will help in nurturing leads and segmenting website traffic.
Summing Up
Online shoppers use multiple platforms to purchase a product. An effective chatbot should have integrations with many different eCommerce platforms. AI chatbots are the future of eCommerce since they tackle every difficult task and conversationally increase sales. A successful eCommerce business should have a basic understanding of its target audience. By understanding the target audience, a business can grow organically. This is why AI chatbots are very useful. Ochatbot has a built-in AI system and affordable pricing plans for every eCommerce business. Click here to sign up for a free trial!
AI chatbot marketing uses all strategies and optimizes online businesses in a great way. AI-powered marketing strategies are a holy grail for eCommerce businesses. With human agents, an online business can only converse with customers during business hours. Chatbots can make your online website not look dead! Chatbots can provide users with the exact recommendations they are looking for.
Latest Posts
Frequently Asked Questions
1. What is the significant use of a chatbot?
Chatbots are used in different fields. Many successful brands use chatbots to help people engage with their websites. Chatbots are popular in every field and many brands gain brand value and awareness with AI chatbots.
Related: 7 Exciting eCommerce Chatbot Examples
2. How to train an AI chatbot?
Training an AI chatbot is not a very challenging task with the proper equipment. With human-in-the-loop(HITL) technology, online business owners can train chatbots. With regular training, your chatbot will not give vague responses to customer questions.
3. Can AI replace human agents?
AI will work more efficiently with human intelligence. Even though machine learning learns everything, you always need a human in the loop to train the bot regularly. Chatbot marketing works best with both human intelligence and machine intelligence. Chatbot marketing future will change the course of eCommerce business.

Latest posts by Greg Ahern
(see all)