AI Marketing is now changing the E-commerce industry and challenging conventional practices. The sole purpose of marketing in any industry is to increase awareness of the brand and learn more about the target audience to develop their business around them. Artificial Intelligence technology is now helping many online business owners collect customer data with predictive analytics.
In 2021, retail e-commerce sales grew by 27% with artificial intelligence technology. The evolution of artificial intelligence in the e-commerce industry is broad.
AI plays a vital role in transforming e-commerce sales to another level. This article covers the technologies behind Artificial Intelligence and how it streamlines marketing effectively leading to more sales.
Overview of the Content
How Does AI Streamlines Marketing and Sales?
AI Marketing Tools in E-commerce
Benefits of AI in the Marketing
What is AI Marketing?
AI marketing has the technologies such as Machine Learning, Natural Language Processing, Natural Language Understanding, and sentiment analysis to provide valuable insights to customers.
AI is streamlining customer conversations through personalized recommendations. Many digital marketing campaigns are acing their goal of promoting their message to the right audience with artificial intelligence technology. Implementing artificial intelligence technology is the best way to boost your return on investment (ROI) in marketing campaigns.
How Does Artificial Intelligence Streamline Marketing and Sales?
Artificial intelligence streamlines marketing and sales by enhancing the customer journey on an online store.
With AI technology, online business owners can send automated messages and instant replies to customers by understanding their user intent.
 AI is the best way to customize your content and provide it to the target audience in a personalized way.
Online business owners can use different AI marketing tools to streamline marketing and sales on their e-commerce sites. The AI solutions in the e-commerce industry are AI chatbots, virtual assistants, content generators, customer-centric search, product guidance, and more.
AI Marketing Tools in E-commerce
Artificial intelligence simulates human intelligence and processes data through machine intelligence. Artificial intelligence technologies will help online business owners understand the common pattern in customer digital searches and conversations. Therefore, it's best to understand the different technologies that leverage artificial intelligence to engage customers.
Machine Learning
Machine learning algorithms learn from the high-quality data you feed to the applications. Machine learning technology will understand consumer preferences by analyzing their common patterns.
For instance, when you implement machine learning technology to converse with your customers, the technology will understand their common patterns. Many e-commerce site owners improve the accuracy of machine learning with constant human intervention.
Natural Language Processing
AI marketing is efficient in the e-commerce industry because it simulates human conversation and understands the language. Natural language processing is one of the significant technologies in the e-commerce industry that provides the ability to understand human language.
NLP technology also helps online business owners understand the user intent in the right way. When you are implementing artificial intelligence to converse with your potential customers, natural language processing technology will emulate real conversation.
Natural Language Understanding
Natural language understanding helps the technology to understand customer conversation. The main difference between natural language understanding and natural language processing is that it reads the conversations of customers and processes the sentence forms. At the same time, NLU comprehends the structure of the sentences and extracts the meaning.
Sentiment Analysis
Sentiment analysis is one of the significant AI tools that reduce machine errors by empathizing with customers. Machine learning technology helps in answering customers with collected data. However, there is a chance of providing rude responses to customers' questions without analyzing the sentiment behind their questions.
Sentiment analysis helps the machine understand emotive language in customer conversations. Online business owners segregate negative and positive opinions about their products by using sentiment analysis technology.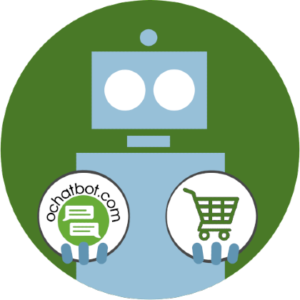 True AI to engage shoppers in conversational eCommerce. Create happy customers while growing your business!
5% to 35% Increase in AOV*

20% to 40% Increase in Revenue*

25% to 45% Reduction in Support Tickets
WE GUARANTEE RESULTS!
*When shoppers engage with Ochatbot®
Benefits of AI in Marketing
Artificial Intelligence is an effective marketing strategy that many marketing leaders recommend to online business owners. Many online business owners use AI to collect consumer data, but it is not the only task that AI may perform. AI benefits both business-to-business (B2B) business to customer(B2C) sectors.
AI brings out more information to make strategic decisions, while traditional e-commerce marketing depends on fewer data and more guesswork. The request form(survey forms in the online store feedback) is one of the conventional marketing tools that helps e-commerce business owners understand their customers. However, AI identifies trends and engages the target audience in the right way. There are unbelievable benefits of artificial intelligence in the e-commerce industry, such as:
Increase in ROI
Online business owners achieve a greater return on investment with artificial intelligence when an AI streamlines manual tasks.
 AI plays a major role in privacy, security, and customer data management. AI also collects data from the Customer Relationship Management system (CRM) and website visitors' behavior, among others.
An e-commerce site needs a customer service team to perform tasks manually. But artificial intelligence increases the efficiency of the website by automating some of these tasks. Online business owners will get an increase in ROI with AI technology.
Predictive Intelligence
An e-commerce site owner should understand what their target audience exactly wants. Artificial Intelligence helps online businesses to understand their target audience and enhance customer experiences on their platforms.
Predictive analytics collects data from consumers with statistical analysis and understanding of their preferences. While conversing with customers, predictive analytics understand the behavior of website visitors and identify potential customers' characteristics.
Online business owners will know the preferences and behavior of their target audience with predictive intelligence. The conversation pattern of potential customers is similar and can help them finish the purchase. Knowing the demographics and behaviors of potential customers will help online business owners develop a customer-centric business
Seamless Conversation
If you visit an offline store, you may have a sales rep coming to you and asking about your preferences. Finding the right product in the offline store is not a challenging task for customers with the help of a sales rep. Conversely, an online store must hold a seamless conversation with customers to find the right product.
Artificial Intelligence has a stake in generating seamless conversations with customers. Many e-commerce site owners implement AI-powered chatbots to converse with customers and understand their preferences. Machine learning technology and natural language processing in chatbots simulates the human brain and converse with customers in real-time.
Competitor insights
E-commerce site owners use artificial intelligence technology to gather marketing information. A business owner should know the industry and analyze the competition to know its market value.
AI helps in the competitive intelligence to analyze the competitor's products, services, and loopholes. With the help of competitive intelligence, an e-commerce site owner can develop their business from different perspectives. Accurate information is significant to determine the marketing strategy for future products.
Artificial intelligence collects quickly with minimal machine errors. It is always important to analyze the social media strategy pricing models of the competitors, and AI technology provides profound comparisons of prices.
Generating Content
Many digital marketing agencies use artificial intelligence technology to generate marketing content. Content is one of the effective ways to captivate your target audience and turn them into potential customers.
Keyword research is important to stand out from competitors. Many AI keyword research tools help content marketing strategists identify highly-ranking keywords. The content you create on your website should be valuable to your target audience.
E-commerce site owners create blogs on their websites to reach their target audience widely and help them understand their products. Online business owners can improve their content ROI with the proper keyword research and content generation using Artificial Intelligence technology. AI with machine learning technology helps e-commerce site owners generate humanized content with profound competitor analysis.
Website Errors
The loading speed of your e-commerce site plays a vital role in keeping website visitors on your site. Online business owners use artificial intelligence and machine learning technology to perform a site audit and identify crucial errors.
Performing an error analysis on the website will increase its functionality and help online business owners resolve major issues quickly. Machine learning, Artificial Intelligence, and deep learning will help them dive into the problems with precision. E-commerce sites will identify quality problems and resolve the issues efficiently.
Lead Qualifying Questions
AI chatbots play a vital role in both B2B and B2C sites. Many online business owners use AI chatbots to qualify leads for their businesses. Traditionally, lead qualification happens through forms and email subscribers. However, AI chatbots ask lead qualifying questions to potential customers and book appointments instantly.
Gathering leads for your business is not a difficult task with AI chatbots. They analyze the previous conversations with leads and identify patterns in the conversation. After categorizing potential leads, the chatbots will ask qualifying questions. Online business owners need not do these manual tasks, as a chatbot will qualify prospective leads instantly.
Read More: 9 Strategies: How Do Chatbots Qualify Leads for B2B Business?
Product Features Popularity
An e-commerce website will have many casual visitors on its website on a daily basis. Most casual visitors don't have enough knowledge about your products and their features. An AI-powered chatbot will create product awareness for your casual website visitors and turn them into buyers.
If an online shopper asks a question about a product, an AI chatbot will give them more information or direct them to blogs to help them understand the features. Artificial Intelligence technology will also recommend relevant products to your customers by analyzing the pattern in their search queries.
Automated Decisions
Implementing Artificial Intelligence technology in the e-commerce website is one of the effective ways to take automated decisions by understanding the user intent. AI technology understands user behavior with the conversation pattern and takes automated decisions.
An online business owner can take the decisions in an automated way without any human involvement. AI technology automates decisions by analyzing previously collected data and information. An online business will improve the consistency and accuracy of the e-commerce website with automated decisions. The automated decisions with Artificial Intelligence technology focus on factual data, hence e-commerce site owners need not worry about machine errors.
Brand Language Optimization
A unique and innovative marketing approach will always stay in the mind of your website visitors. Many popular e-commerce platforms such as Amazon have Alexa, which is one of the most effective AI applications. Humanized virtual assistants like Alexa and Siri will intrigue customers and encourage them to have a conversation with them.
If you implement a humanized AI bot on your website, you can optimize your brand language and make them reach more audiences. Artificial intelligence and its effective customer service are one of the ways to personify the brands in the mind of customers. 
Develop Your Business with the Latest Trends
Online business owners should always analyze the latest trends to attract more website visitors to their sites. AI technology also identifies the trends in the market by doing the competitors' analysis and market research.
It is always wise to develop your business with the latest trends and ideas. Developing a business with the latest trends is an influential way of telling your customers that you are functional and not outdated.
Engaging the Audience
An AI chatbot will engage the audience at the right time. Apart from identifying potential customers with the conversation pattern, chatbots will also engage with them at the right moment.
If your customers add some products to the cart and go out of the website without finishing the checkout process, the AI chatbots will pop up and encourage them to finish the purchase. Engaging with customers at the right moment will help online business owners generate more sales, and many online business owners add AI chatbots on the landing pages and product pages to increase revenue.
Personalized Experiences
Providing personalized experiences to website visitors will make them feel like you actually know them!
Chatbots know the history and demographics of the target audience by analyzing previous conversations. Even when your customers ask complex questions, chatbots can handle them well with AI technology.
You can also implement an AI chatbot on various social media channels such as Facebook Messenger to connect with customers in a more personalized way. AI bots will predict their problems and issues with their answers and questions. By understanding their intent, your bot will answer with relevant information. Many chatbots use both Artificial Intelligence and sentiment analysis to detect the users' emotive texts. Artificial Intelligence bots with sentiment analysis technology will not provide rude and mechanical responses to your customers.
Frequently Asked Questions
1. What is the future of AI in the e-commerce industry?
Online business owners will know what their customers will purchase next and their intent with the Artificial Intelligence technology. Voice search is one of the future trends that will provide a more seamless journey for the customers on the e-commerce platform.
2. Can you customize your AI chatbot?
Customizing an AI chatbot is not a challenging task anymore. E-commerce site owners have efficient code-free chatbots to operate on their websites.
3. Can Artificial Intelligence replace human agents?
Artificial Intelligence with human-in-the-loop technology will help you eliminate both machine and human errors. Artificial Intelligence technology will not replace human agents, instead, it will augment the conventional methods in the marketing process.
Final Thoughts
Many organizations use Artificial Intelligence technology to do tasks in a more efficient way. AI marketing helps online business owners take quick decisions and understand their target audience properly.
Manual segmentation of the audience and replying to them consumes a lot of time and energy. However, AI marketing reduces time-consuming tasks by engaging the right audience at the right time. Automated tasks in the e-commerce industry are a boon for online business owners to enhance their sales.
In a nutshell, AI is changing the marketing process in e-commerce but with the proper implementation and human intervention, you can increase the functionality exponentially.
Latest Posts
Chatbot Scripts: How do AI Chatbots Engage Properly
7 Chatbot Automation Tasks for E-commerce
7 Best Chatbot Practices For E-commerce Websites
Buyer Intent Keywords – How to Generate Organic Traffic?

Latest posts by Greg Ahern
(see all)