Are you planning to add a chatbot for your Shopify store to increase the conversion rate? Do you know which one is the best chatbot for Shopify stores?
The conversion rate is the percentage of website visitors that align with your business objective out of the total number of visitors.  According to the recent research, a chatbot can handle 69% of conversations in the chat window.
A Shopify store owner will devise many marketing strategies to increase conversion rate and customer satisfaction and Shopify chatbots enhance the customer experience by completing multiple tasks.
Adding a chatbot to your Shopify store has many advantages. Shopify chatbots increase sales and welcome new visitors to your site.
Embedding an AI chatbot on your website replaces your support team and informs customers about your products and you about your customers. To understand how your marketing strategies work, adding an AI chatbot is the best idea.
Overview of the Content
What are the Best Chatbot Apps?
10 Ways – AI Chatbot Increase Conversion Rate
What is Shopify?
Shopify is an e-commerce platform that helps online business owners sell their products. You can set up an online store and become a successful entrepreneur with Shopify. By using different marketing strategies by Ochatbot, you can increase the conversion rate of your small business.
Related: How to Increase Your Shopify Conversion Rate with AI Chatbots
Chatbot Implementation – Shopify Chatbot App
If you are an e-commerce site owner and are wondering how to dramatically improve your conversion rate, this article will tell you how implementing chatbots on your website will increase customer satisfaction and enhance customer experience.
The main objective of every online business owner is to get the customers to complete a transaction without leaving the website. AI chatbots use the art of conversational e-commerce to provide excellent customer service to customers. Implementing chatbots is a great investment for every online business owner.
An efficient AI chatbot will increase sales and support customers by doing multiple tasks. If you have planned to implement conversational chatbots on your website, it is best to check the advantages and disadvantages of every chatbot. Click here to learn about the best Shopify chatbot apps.
What are the Best Chatbot Apps?
An e-commerce business owner should look into the best chatbot apps to integrate into their website. Before choosing a Shopify chatbot, online business owners should research the functionalities and know how it helps their business. An AI-powered chatbot enhances conventional chatbot conversations and provides a human touch in resolving customer questions.
Ochatbot is one of the best chatbot apps that are easily customizable and reduces the number of support tickets in customer support.
Ochatbot has an independent AI that interacts like a human through text conversations. This AI-powered chatbot can switch from one topic to another topic with AI technology, to ensure your customers will not have a frustrating experience in your e-commerce store.
10 Ways – How a Chatbot for Shopify Increases Your Shopify Conversion Rate?
Chatbots with Artificial Intelligence and Natural Language Processing technology understand multiple languages and converse like a real-life agent. Online business owners don't have to worry about enhancing customer services with a support team if they have implemented Ochatbot for their Shopify store.
1. 24/7 Customer Support
Ochatbot not only engages the customers with conversational text and images, but it is also available 24/7. A human agent cannot constantly stay and reply to your customers, but Ochatbot will engage your customers effortlessly.
Online shoppers often leave a website if customer service agents are not available. Shopify chatbots pop up and answer every question your customers have, so they will not leave your website without getting their questions resolved. Online business owners can also service customers from different countries with chatbots' 24/7 support.
AI chatbots not only engage the customers with conversational text and images, but it is also available 24/7. A human agent cannot constantly stay and reply to your customers, but chatbots will engage your customers effortlessly.
Online shoppers often leave a website if customer service agents are not available. Shopify chatbots pop up and answer every question your customers have, so they will not leave your website without getting their questions resolved. Online business owners can also service customers from different countries with chatbots' 24/7 support.
2. Better than Live Chat
Shopify chatbots, such as Ochatbot, are better than live chat support to engage with your store visitors. A live chat doesn't have Artificial Intelligence technology behind it. You have to hire support tickets to communicate with your customers.
Shopify bots collect customer data through conversation and identify customer behavior patterns. You can communicate with your customers through live chat, but chatbots do multiple tasks and reduce support ticket costs.
3. Integrating into Communication Channels
You should be able to integrate your chatbots into the communication channels where your customers are active. Facebook messenger is one of the favorite customer engagement channels where you can identify and communicate with a potential customer.
Integrating chatbots into other communication channels like Facebook messenger strengthens the relationship with your customers. You can add your messenger chat to your Shopify store and communicate with your audience.
4. Tracks Order Status in Your Shopify Site
Your customer has ordered your product, now what? You have to enhance their purchase journey as well. When your customer is searching for their order status in your Shopify app store, chatbots pop up and help with tracking their order.
Your customers don't have to wait for a long time to track their order status, an AI chatbot does the task instantly. AI chatbot can pull up the order status directly or direct your customers to the order tracking system.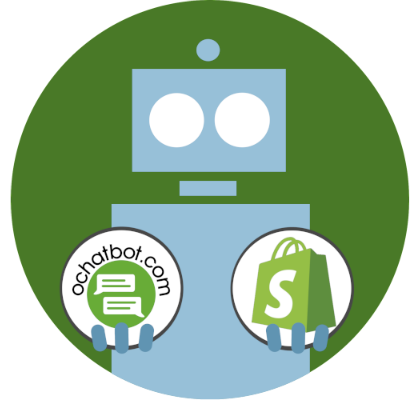 True AI to engage shoppers in conversational eCommerce. Create happy customers while growing your business!
5% to 35% Increase in AOV*

20% to 40% Increase in Revenue*

25% to 45% Reduction in Support Tickets
WE GUARANTEE RESULTS!
*When shoppers engage with Ochatbot®
5. Recommends Relevant Products
Chatbots learn from the conversations of the customers. While answering questions, chatbots analyze previous conversations. So, if your customers ask basic questions about the products, chatbots will answer effectively.
AI Chatbots recommend relevant products to your customers by understanding their preferences through their conversations. Answering a customer's questions relevantly is significant to enhancing your brand's value.
6. Code-Free Chatbots for Shopify stores
Online business owners should be able to install chatbots in their Shopify stores easily without a complex interface.
Code-free chatbots are easy to set up on your websites, you don't have to worry about the intricacies of setting up a chatbot for your website. Compared to the other AI chatbots, Ochatbot has a less complex interface and is convenient to e-commerce site owners.
7. Cart Abandonment
Imagine visiting an online store, adding a product to the cart, and not being sure whether to buy that product or not. This is why customers tend to abandon their carts, abandoned carts are one of the biggest challenges every e-commerce website owner faces.
AI chatbot encourages customers through conversational text to purchase products, helping them not leave your website without purchasing your products. Artificial Intelligence-powered chatbots understand your user intent with built-in AI. By responding to the standard intents effectively and popping up with triggers, chatbots will resolve their questions and help them take an action without abandoning carts.
Also read: Role of Ochatbot in Abandoned Cart Recovery
8. AI Chatbots Respond Immediately
Chatbots with artificial intelligence technology answer frequently asked questions immediately since they know the conversation pattern. AI-powered chatbots stores the conversational data of customers with purchase intent. If customers ask complex questions, chatbots with AI and machine learning technology will handle them easily.
9. Announces Product Availability
An e-commerce website will have many website visitors every day. Every casual website visitor who doesn't know about your product availability and discount codes can receive help from an AI chatbot, They will help your website visitors know product availability and allow them to purchase their desired products. Online shoppers will get a better conversational experience with AI-powered chatbots.
10. Automate Returns
AI-powered Shopify chatbots will reduce multiple tasks for e-commerce business owners, so if a customer wants to return products, chatbots will help in automating the tasks. E-commerce business owners need not use support tickets to manage these significant tasks.
A Shopify chatbot will encourage customers to make an exchange instead of returning the products. A chatbot will collect reasons why customers want to return products and similar products in exchange. AI chatbots streamline the return process effectively in the e-commerce business.
Did you Know about Ochatbot's Free Plan? – Chatbot for Shopify
Ochatbot has four amazing pricing plans for online business owners. If you are a startup, you can start a free trial to implement Ochatbot on your website. Ochatbot has pricing plans for small businesses, startups, and large businesses.
Ochatbot also helps B2B (Business to Business) owners with generating leads. If you want to enhance your customer service and increase sales on your website with an AI chatbot, Ochatbot can help you more effectively!
Final Word
Enhancing customer support is significant for both small and large businesses. By adding Ochatbot to your website, you will invite more website visitors and convert them into potential customers. You don't have to depend on the help desk to collect customer data through the conversation. Ochatbot saves you time and increases your sales organically.
You can create new questions and intents inside Ochatbot and adding surveys and forms in Ochatbot will help you understand your customers' feedback and design your products based on their preferences. Get Ochatbot and increase the conversion rate of your Shopify website exponentially!
Read Our Latest Posts:
How AI Chatbot Customer Service Will Transform Your Business In 2022?
7 Benefits of Shopping Assistant Chatbots in E-commerce
Ultimate Guide to Get Started With AI Marketing
Chatbot Scripts: How do AI Chatbots Engage Properly?
7 Best Chatbot Practices For E-commerce Websites
Frequently Asked Questions
What are chatbot templates?
Chatbot Templates are pre-built bots that are code free and help you implement them on e-commerce sites without any difficulty as a chatbot template will help you create task-specific bots for effective conversations with your customers.
Do chatbots gather customer feedback?
Yes, survey chatbots collect feedback from the customers through sentiment analysis, conversational forms, and interactive conversation.
Why do stores use Shopify?
Shopify has exceptional features for online business owners to customize their sites and reach out to customers. Many stores use Shopify to manage their products, payment, and shipping easily.
What is user intent?
User intent is understanding your audience and their preferences. Online business owners should first understand what a customer is searching for before they can provide results.
What is the difference between Live Chat and AI chatbot?
Live Chat has human agents who speak with customers and provide good customer service. Whereas chatbots with Artificial Intelligence technology converse with the customers naturally without help from humans.

Latest posts by Greg Ahern
(see all)