Do you know how Shopify integration enhances the functionality of your store? The eCommerce store owners navigate various innovative ideas and use effective integrations to improve customer experience. Shopify is one of the most flexible and easily customizable platforms that help both small and large business owners to grow their businesses.
Many of the built-in features in a Shopify store enhance the customer experience. Shopify integrations help you streamline the marketing process in the store. Shopify app store has various app integrations that are easy to set up in an eCommerce store.
These third-party apps enhance the sales process of your online store and reduce multiple tasks. In this blog, let's learn some extraordinary Shopify integrations that help you grow your business.
What Is a Shopify Integration?
Shopify integration is a list of apps embedded in online stores in the Shopify platform. You can find the different types of Shopify apps to enhance your checkout process, change the layout of your store, increase the functionality of your customer support, and customize the product pages by integrating them.
By integrating third-party apps in your Shopify store, you can immensely improve the productivity of your store. You need not perform multiple tasks manually if you are an eCommerce store owner. The third-party app integration will also boost customer satisfaction in the store.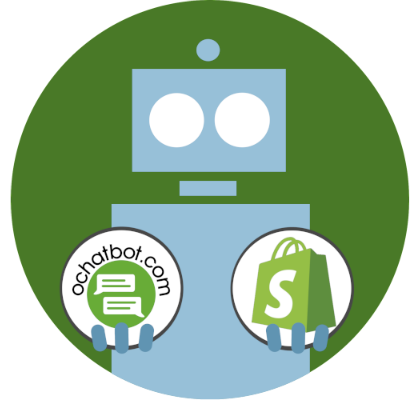 True AI to engage shoppers in conversational eCommerce. Create happy customers while growing your business!
5% to 35% Increase in AOV*

20% to 40% Increase in Revenue*

25% to 45% Reduction in Support Tickets
WE GUARANTEE RESULTS!
*When shoppers engage with Ochatbot®
What Is a Shopify App Store?
Shopify app store has different collections of apps and helps online business owners to choose them with the pricing plans.
For instance, if you want to change the layout of your online store, you can choose the customizable templates in the apps and change them entirely. You can also manage inventory and sales channels through plenty of apps in the Shopify app store.
11 Shopify Integrations to Improve the Functionality of Your Shopify Store
1. Email Marketing Apps
Email marketing apps help you sync your Shopify data and segment your audience based on their demographics. Online business owners need not strategize multiple plans to proceed with email marketing campaigns if they integrate this app in their Shopify stores.
Email marketing apps also provide you with different automation, such as back-in-stock, price drops, or coupons.
You can also personalize your marketing texts to your target audience with email marketing apps. Here are the significant tasks that an email marketing app performs in your Shopify store,
Boost engagement on the site by creating hyper-targeting segments.

Generate newsletter campaigns, and streamline abandoned checkout.

Reduce cart abandonment, and personalize the messages by segmenting contacts.

Create pop-up notifications, and push notification triggers.
Read More: 11 Best Marketing Apps for Shopify
2. Cart Abandonment Apps
Cart abandonment is one of the exasperating issues that many online business owners face in the eCommerce industry.
Many potential customers add the products to their cart but don't checkout. In this case, you have to strategize different plans to reduce cart abandonment and increase revenue. That is how cart abandonment apps play an important role.
By implementing a cart abandonment app on your site, you can send push notifications to remind your customers about their abandoned carts. The creative and intriguing push notifications will encourage your customers to proceed with the checkout process.
The notifications by cart abandonment apps should nudge your customers to purchase products. Many cart abandonment apps in the Shopify store will also provide you with excellent analytics to segment your customers, and help you understand the common reason for cart abandonment.
3. Email Template Apps
Have you ever wondered what the significance of personalizing the shopping experience of your customers is in your Shopify store? The simple answer is that personalization will help you stand out from the competition, and make your store look unique. Email template personalization is one of the most effective ways to attract your target audience.
Online business owners can choose email templates based on their brand color and elements to increase brand awareness among the audience. With the help of the email templates app, you can create professional designs and customize your brand logo. Customization in the Shopify store becomes an easy task with the help of the email templates app.
4. Product Filter Apps
Finding the desired product in your eCommerce store should not become a difficult task for the customers. By applying several filters on the product page, your customers can easily add the products to the cart and proceed with the checkout.
Product filter apps in the Shopify store help you segment products based on size, color, price, and delivery date to accelerate the rate of purchase. This app also provides auto-suggestions and dynamic filter options to customers. Sometimes, your customers also type a long phrase(a long tail keyword in SEO) to find the product in the store, in this case, product filter apps help you find products fast. You can also choose the product filter apps based on your brand's themes that effortlessly fit into your online store.
Read More: Shopify Product Filter: The Ultimate Guide for 2022
5. Shopify Chatbot App
One of the most important aspects of improving the functionality of your Shopify store is enhancing customer support.
Constant and efficient interaction with your customers can boost customer loyalty and generate more repeat customers to your online store. Chatbots with advanced technologies, such as artificial intelligence and machine learning interact with customers like real-life agents to resolve their problems in real-time. A Shopify chatbot also recommends relevant products to customers by segmenting them based on their conversational patterns.
Machine learning technology in the Shopify chatbot app can help bots understand the pattern in conversation and streamline their interaction. Ochatbot integrates with all popular eCommerce platforms such as Shopify, Woocommerce, Bigcommerce, and Magento to enhance the customer experience in online stores.
6. Product Review Apps
Do you know how brands gain trust and loyalty from their customers? If a customer has immense trust and is satisfied with the product or service in an online store, they will most likely return to the online store to make more purchases.
One of the main reasons to increase brand trust is customers' reviews. Adding more reviews to your site can help your customers understand how the products and services have helped others and immediately purchase products. Product review apps help to add SEO-friendly review scores to your sites. You can also publish, hide, and filter the customers' reviews quickly. Also, a Shopify store owner can send review request emails to customers based on the plans that they choose.
7. Shipping Rate Calculator App
Shopify store owners can reduce various tasks in the purchase process by adding the calculator app to their stores. Your customers can view the shipping rates on the checkout page and it increases the transparency of your store.
The real-time shipping rates and accurate delivery rate estimation will enhance the functionality of your store. Did you know that showing the shipping rates earlier in the purchase process reduces cart abandonment on your site?
Yes, displaying the shipping rates increasingly reduces both cart and website abandonment on the site. Many shipping rates calculator apps are easy to install and you don't need to learn coding to set up the apps on your store.
Frequently Asked Questions
1. What apps can you integrate with a Shopify store?
Shopify is a flexible eCommerce platform that allows you to integrate many credible apps into the store. You can add every app that is listed in the Shopify app store. Even if it is a third-party app, you can effortlessly link them with Shopify.
2. Why is Shopify the best platform for eCommerce businesses?
As an eCommerce business owner, you can easily start a Shopify account easily and customize the store if you are not tech-savvy.
3. What is API integration in the Shopify store?
The API integration in the Shopify stores helps you integrate third-party apps, and enable them in the store.
Summing Up
The key features of Shopify third-party apps immensely increase the performance of your store. If you are a Shopify store owner, you can't afford to not integrate these most popular apps into your store.
In this blog, we have listed the seven best Shopify integrations that your online store needs to improve its functionality. By making use of the flexibility of the Shopify platform, you can actively accelerate the performance of your store. 
Latest Posts

Latest posts by Greg Ahern
(see all)