Setting up an e-commerce website is not a simple affair. E-commerce site owners should develop a website with easy navigation that enhances the customers' journey. Before setting up an e-commerce website, you should understand what your target audience is looking for in e-commerce websites.
As an e-commerce store owner, you should look into the technical and business aspects to develop your e-commerce website. You should think from the perspective of users and how your website design will intrigue them to navigate more. This article looks into 14 exclusive ideas for you to develop your e-commerce website and skyrocket your business.
What is E-Commerce Website Development?
E-commerce website development is enhancing both the front end and back end of websites and optimizing product pages. Apart from designing the site, you should also focus on choosing a perfect hosting platform, eye-catching domain URL, and privacy settings.
There are many e-commerce website development services that allow you to build your website easily. You should choose a credible service if you select an e-commerce development company to design the store. While developing the website, many e-commerce store owners will also concentrate on search engine optimization to boost the ranking of the website on search results pages.
What are the Steps in E-commerce Site Development?
E-commerce business owners should develop their websites on a flexible platform. There are many e-commerce store development platforms with effective services such as Shopify, Magento, Bigcommerce, and WooCommerce. Comparing different platforms will always provide an idea to online business owners to choose the best one for their business. There are five crucial steps to developing an e-commerce site and increasing sales exponentially.
Choose an e-commerce development platform.

Identify the presence of your target audience on social platforms.

Purchase a domain name and captivating URL.

Decide on a website design that at least slightly matches your brand.

Design and optimize the landing, collection, and product pages.

Implement a strategy for customer engagement in the online store.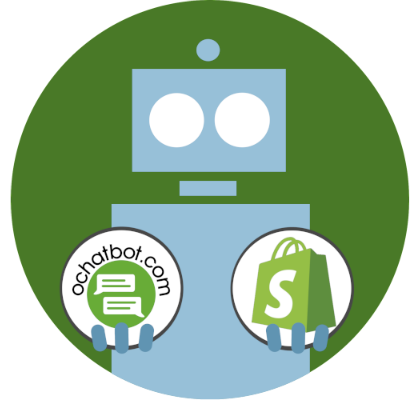 True AI to engage shoppers in conversational eCommerce. Create happy customers while growing your business!
5% to 35% Increase in AOV*

20% to 40% Increase in Revenue*

25% to 45% Reduction in Support Tickets
WE GUARANTEE RESULTS!
*When shoppers engage with Ochatbot®
14 Ideas For E-commerce Website Development
If you want to enhance the business of your online store, you should first approach your audience with familiarity. The target audience should know your brand and what problems it will solve.
For instance, many online business owners presume that e-commerce website development is about improving the technical aspects of e-commerce websites. On the other hand, creating brand familiarity with website development is the first and foremost step. There are innovative ideas to build your e-commerce website.
1. E-commerce Platform Scalability
When you are building an online store, you should choose the most flexible e-commerce platform. Sometimes, you will migrate from one e-commerce platform to another platform. If you are choosing a complicated e-commerce platform, migration becomes challenging.
Hence, choosing an e-commerce platform is a crucial step. You should look into the scalability of an e-commerce platform and choose one accordingly. An e-commerce platform should accommodate the business' growth and needs. The demands of your target audience will expand every day, so e-commerce platforms should have the flexibility to change.
2. SEO Functionalities
Search engine optimization (SEO) is significant for every online business to increase its website visitors and reach more target audiences. While looking for an e-commerce website to migrate, you should look into the SEO functionalities and capabilities of the platform.
E-commerce websites will appear on the search results page if they have better keyword density with higher search volume. Apart from the keyword density, you should also optimize the website to captivate your target audience. Hence, the platform should be flexible for change.
Your e-commerce store should be flexible to optimize the website according to SEO relevancy. The more clicks you get on your website, there are more chances to increase sales.
Read More: Buyer Intent Keywords – How to Generate Organic Traffic?
3. Flexible Payment Options
Many e-commerce store owners will lose their website visitors if the checkout process is not smooth.
Every online shopper will have different modes to make payments for the products they want to buy. It is important to start your online store on a platform where there are more payment modes. Multiple payment options decrease the likelihood of your customers abandoning the cart or leaving the website without purchasing any products.
4. Setting the Business Model
E-commerce store owners should set the business model to enhance sales in online shopping. Setting up the business model includes identifying their target audience, and making their products unique to stand out from the competitors. Business owners will devise strategies to enhance their products' functionalities and reach the target market swiftly.
Many established e-commerce companies will also refurbish their outdated business models to stay with the latest trends in e-commerce businesses. The business models differ for both B2C (business to consumer) and B2B (business to business). In the development process, you should first differentiate your business and properly set up the model.
5. Identifying the Target Market
Understanding your target market is necessary to boost the sales of your online store. If you don't understand your target market, you will not fulfill their needs and preferences. Eventually, you cannot solve the pain points of the online shoppers which will lead to many website abandonment. For e-commerce website development and customization, you should first know your audience.
It boosts the credibility of your product and promises online shoppers to resolve their pain points and deliver what they expect.

Identifying your target market will help you customize your e-commerce website and build the curiosity of online shoppers.

Knowing your target audience will help you differentiate between casual website visitors and potential customers.

Brand loyalty is crucial to building more customers for your brand. Knowing the target audience will help you personalize your brand and build more customers.
Also Read: 10 Tips for eCommerce Product Marketing
6. Content Marketing
Many online business owners choose to create their online store in the content management systems such as WordPress with a powerful plugin. WooCommere is a perfect example of building an online store in the content management system. Recent research revealed that 60% of online shoppers purchase products after reading it through the blog. 
While building an e-commerce store, you should also build a blog. Not every website visitor knows about your products and services and some casual website visitors may not understand your product or services. In this scenario, blogs will benefit your store with articles explaining your services.
Online business owners can write blogs about the benefits of their products, how their products work and why customers should choose their products. The articles in the blog section will help in creating brand awareness and encourage customers to purchase your products with the relevant CTA (Call to Action) button at the end of the article.
7. User-friendly Website Design
E-commerce website navigation is significant to accelerate the purchasing process. If your online store has complex navigation, your website visitors will struggle to find their desired products and add them to the carts.
Online stores should not have several irrelevant pages on the website. If your online store has many redirections, website visitors will not reach the right destination i.e. purchasing products. Hence, you should reduce the irrelevant pages and links in both landing and product pages.
E-commerce websites should be accessible from all devices. At times website visitors browse products from one device and purchase from another so the website should be mobile-friendly.

Product pricing should be transparent and clear for online shoppers. While adding the pricing lists and filters for the product, it should be visible to website visitors.

When online shoppers search for a product on e-commerce websites, the suggestions should be relevant, so that they will instantly click on them and view the products.
8. Optimize Website Speed
E-commerce websites should have a good loading speed so that website visitors will complete their purchasing process easily without any difficulty.
Some e-commerce websites have a slow loading page which makes online shoppers leave the website to browse another. Optimizing website speed will increase the average time on the website, organically convert casual website visitors into potential customers, increase the click-through rate, and reduce the bounce rate. Here are a few ways to increase and optimize the website speed.
Reduce the size of your images.

Extra plugins on the websites.

Overuse of graphic elements.

Rectifying white spaces in the website code.

Revamping the old content on the website.
9. High Data Security on the Websites
Online shoppers will only purchase from websites and become returning customers when they trust your brand. Security and privacy in e-commerce websites play a vital role to gain more loyal customers.
As an online business owner, you should protect your website data and payment information with high data security methods such as antivirus, firewall, encryption, and cyber security to protect the website from cyber attacks.
10. Proper Customer Conversation Flow
Customer conversation flow will increase engagement on your site. An e-commerce website should have proper customer service agents to converse with your online shoppers and answer them instantly.
Having an effective AI chatbot and Live chat will help you interact with your customers and resolve their pain points in the e-commerce journey. For instance, if you are implementing an AI chatbot on your website, you should add captivating conversations to improve the conversion rate and sales on e-commerce websites.
When compared to live chat, AI chatbots increase the response rate and help you monitor the metrics with chatbot analytics.
11. Advanced Marketing Strategies
Updating your e-commerce store with advanced marketing strategies will outpace your competitors and help you create a unique identity for your brand.
For instance, email marketing strategies are outdated in the e-commerce industry. Instead of sending abandoned cart emails to shoppers that left items in their cart, e-commerce stores can notify shoppers with chatbots and different apps. For instance, Shopify is an e-commerce platform that has many advanced apps to optimize your online store. You can select apps from the Shopify app store and boost your online business.
12. Social Media Marketing
We previously went over several strategies such as increasing the visibility of your products through search engine optimization.
Apart from the SEO strategies, social media marketing will also increase your product visibility and help you reach your target audience without any challenges. With social media marketing, you can improve community management, build brand awareness, increase traffic for your site and develop your e-commerce website and its functionality. Before implementing a marketing strategy on social media platforms, you should first analyze the social media presence of your target audience.
13. Strong Back End Support
Back-end information in the e-commerce industry is important since it stores all customer data, payment information, transaction details, etc.
While you are developing your e-commerce website, you should have strong back-end support so you will not lose crucial information and avoid technical glitches in your e-commerce store. Back-end support will also manage inventory and orders. If you have strong back-end support in your e-commerce website, you will increase the conversion and customer retention rate organically.
14. Add Crucial Pages to the Website
An e-commerce store is not only a place to sell your products to online shoppers. You should add crucial pages such as a blog, product page collection page, landing page, etc.
Product images in the e-commerce collection and product pages should not be blurry or not include your brand logo. While adding pages to your e-commerce website, you should also include clear images of your products to make your site look perfectly optimized. If you have a lower converting page on your e-commerce store, you should use quality CTA buttons to increase your conversion rate.
Read Our Latest Posts
Final Words
Developing an e-commerce site technically is certainly a challenging process, but more than the technical side, the sales side of e-commerce website development will fetch you more potential customers and boost your sales.
In this article, we have summed up the important points to note while developing your online store. From here, you may implement the points that suit your business type and increase your sales organically.
Frequently Asked Questions
1. What is important to develop an e-commerce website?
Knowing your target audience and business model is important to develop your online store.
2. What are the best e-commerce builders?
Shopify, Wix, WooCommerce, and BigCommerce are the four best e-commerce development platforms.
3. Is Amazon an e-commerce site?
Amazon is not an e-commerce platform, it is an extensive e-commerce marketplace that gathers sellers and buyers. 

Latest posts by Greg Ahern
(see all)